GrooveAsia.cm Launch Event: This Exclusive 36-Hour LIVE Virtual Summit On 12th - 13th June Will ONLY Happen ONE TIME!
About this event
FINALLY — Discover How To Join The #1 FREE Digital Marketing Community In The World At The Most HISTORIC Launch Event Online... LIVE!
Who Else Wants FREE Access To The EXACT System, Tools & Strategies We Used To Generate Over USD $100,000 A Day?
Featuring True Internet Marketing Pioneers & Their Expert Team That Built A USD $50 Million Dollar Company Within Just The Last Year Alone!
The GrooveAsia® Launch Event is a 36-hour virtual summit marathon that will introduce you to the #1 digital marketing community and technology in the world.This exclusive event will feature the top experts of the company who has built a USD $50 million dollar business in their first year... in the middle of a pandemic.These experts will reveal all their secret strategies and tools that contributed to their achievements.But more importantly…
All of them will focus the entire event on teaching you how to replicate those results, and even providing you access to the exact same platform and software they used to make it happen... For FREE.
That's right. You will be taught the step-by-step methods for starting (and subsequently growing) your own online business, regardless of which stage you are in.
Steps that can be replicated in this business… a new business… or any business.
2020 Was An Amazing Business Year For Us, And Now, It's Your Turn!
"Give a man a fish, and you feed him for a day. Teach a man to fish, and you feed him for a lifetime."
If you're nodding your head in anticipation, then let's make it happen for you within this year.
And by "it," we mean...
Finally, launch that business you've only been dreaming of – even if you aren't quite sure what that is yet.
Or create that landing page that you've been stuck on.
Or have the confidence to get on camera and get more sales with webinars and live-streaming.
Because - from building profitable websites to automating your entire online business - we will even provide you with the necessary software to make it all possible.
So, Are You Ready To Make "It" Happen?
Just imagine, finally seeing it all come together…
...and the sales, the commissions, the results, all come in.
But how? You may be wondering...
Well, my friend, I'd like to introduce you to the GrooveAsia® Launch Event, where you will discover how to finally make it happen and get started online.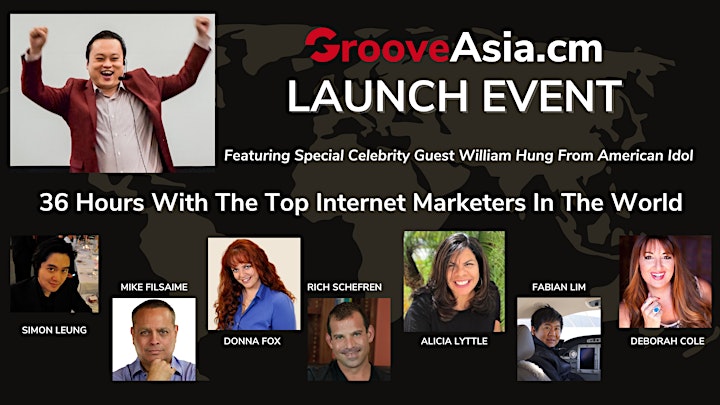 Register Now To Secure Your Spot For The Most Revolutionary Virtual Launch Event In History!
Organizer of [PG One-Time Only] GrooveAsia.cm Launch Event: 36-Hour Virtual Summit