Description
PFS Co-op Presents: Fish Harmonics EP Release with special guest Mike Block (of Yo-Yo Ma's Silk Road Ensemble)
Friday, January 25, 2019
Doors 7:30pm | Music 8pm

$10 for Members
*While Supplies Last*

| $12 Not-Yet-Members | $15 Doors
PFS is a BYO venue. $2 BYO Wristband (21+ with ID)
---
Join PFS as we celebrate the release of "ONE," an EP of original music by Rob Curto with his ensemble, Fish Harmonics, featuring adventurous American roots music that takes you on a whirlwind, toe-tapping ride.
Influenced by celtic, old time, and modern bluegrass sounds, the band brings a unique free-wheeling and improvisational energy to both classic tunes and original compositions. "ONE" features Curto's mastery of the piano and diatonic accordions, coupled with rhythmic arco bass playing by Chris Coyle (bass); old-timey strings by Brennen Ernst (banjo, guitar), Isaac Stanford (dobro), and Mazz Swift (fiddle); and groove-oriented drumming by Doug Hirlinger.
"ONE" is a musical journey in itself, documenting the discovery of a new place, new music, and new collaborations in Philadelphia. Listening to the album will leave you with no doubt that you've just heard some of the best players around make something special. The irony? "One" listen isn't enough. (Handy note: CDs of "ONE" will be available at the show for $10!) See Fish Harmonics play here.
Special guest Mike Block (Yo-Yo Ma's Silk Road Ensemble) will start the evening off with a solo performance on cello. Block is a cello player, singer, and composer who is a Grammy Award-winning member of the Silk Road Ensemble. Block's solo show features a mixture of original compositions and songs, arrangements of traditional folk music, and classical selections that draw inspiration from his diverse collaborations with artists such as cellist Yo-Yo Ma, fiddler Mark O'Connor, Indian tabla player Sandeep Das, and pop stars such as will.i.am, Stevie Wonder, and Bon Iver.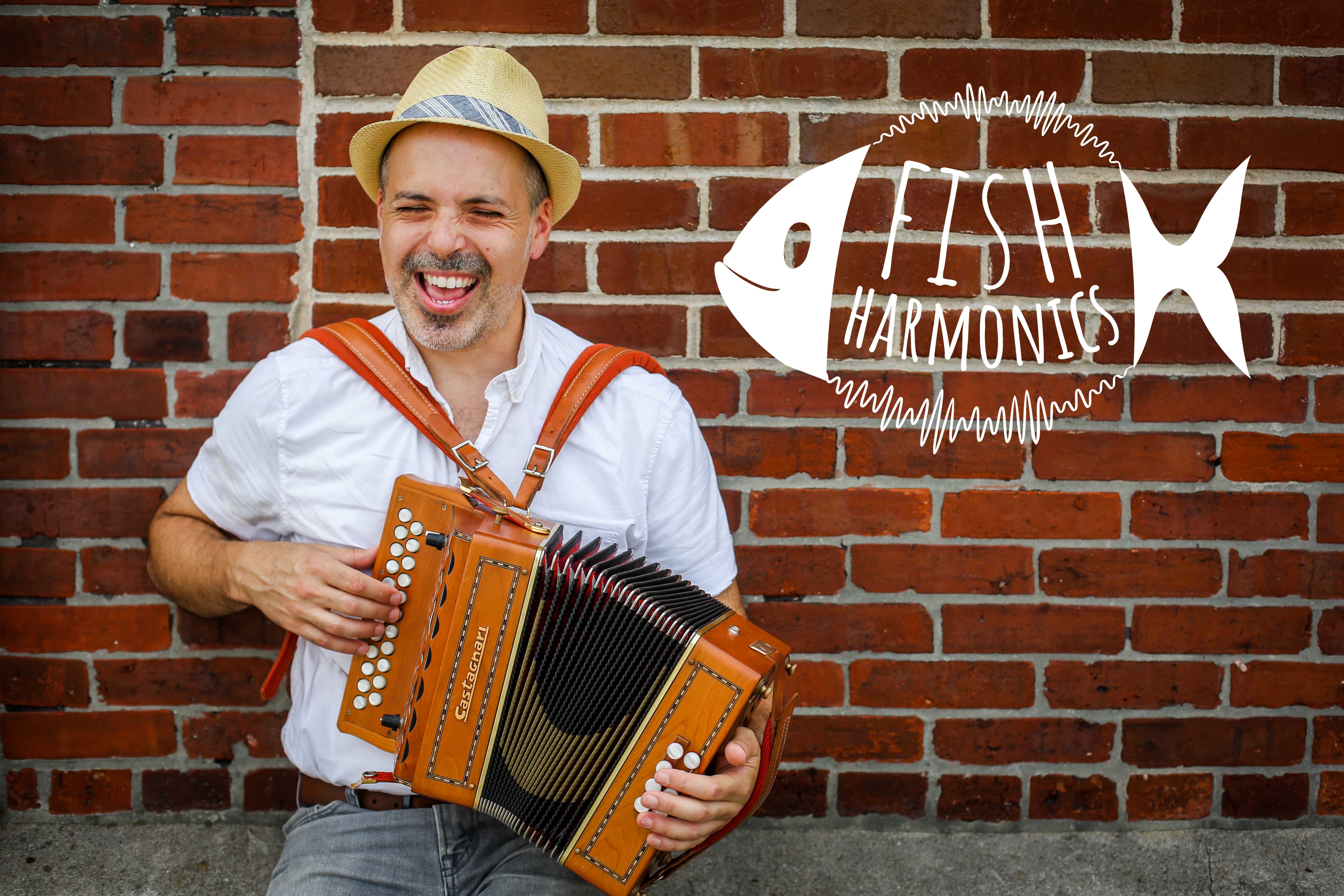 About Rob Curto & Fish Harmonics
Rob Curto (composer, pianist, and accordionist) has spent the last 8 years touring extensively with his band Matuto, known for its distinctive "Brazilian-bluegrass" sound. Mixing the roots Americana stylings of the great Bill Monroe with rhythmic and melodic elements from Brazil, Curto has been part of a movement to establish the accordion as a versatile and important instrument in contemporary roots music.
In addition to Brazilian music, Curto has gained a reputation as an all-around master of the accordion and has been in high demand across genres. His musical collaborations include performing and recording with Latin Grammy award winner Lila Downs; Klezmer clarinetist David Krakauer; trumpeter/composer Frank London; Punjabi Indian singer Kiran Ahluwalia; and icon of Brazilian Forró, the great accordionist Dominguinhos. Curto is also an enthusiast of Irish button accordion and studies with acclaimed B/C box player, Billy McComisky.

Curto has toured internationally including across parts of Europe, Asia, and Africa, and has represented the United States State Department abroad. He has been a staple at festivals like Wintergrass, Red Wing Roots, and Rhythm and Roots, and made his Philadelphia Folk Festival debut with his band Forró for All in 2018.
Fish Harmonics is the new project of Curto, featuring an exciting and unusual blend of roots influences and deeply informed by Curto's own rootings in jazz and improvisational mastery. True to form, the accordion is at the forefront of the group's sound and there's no denying the excitement of Curto's flying fingers once the band starts a groove--and groove they do, with an impressive line-up of some of Philadelphia's best musicians including Chris Coyle on acoustic bass, Doug Hirlinger on drums, and Brennen Ernst on banjo/guitar. The combination of arco bass with groove-oriented drumming and old-timey strings played with dizzying skill along with the accordion create a sound that's somehow both familiar and new... and always an adventure. www.fishharmonics.com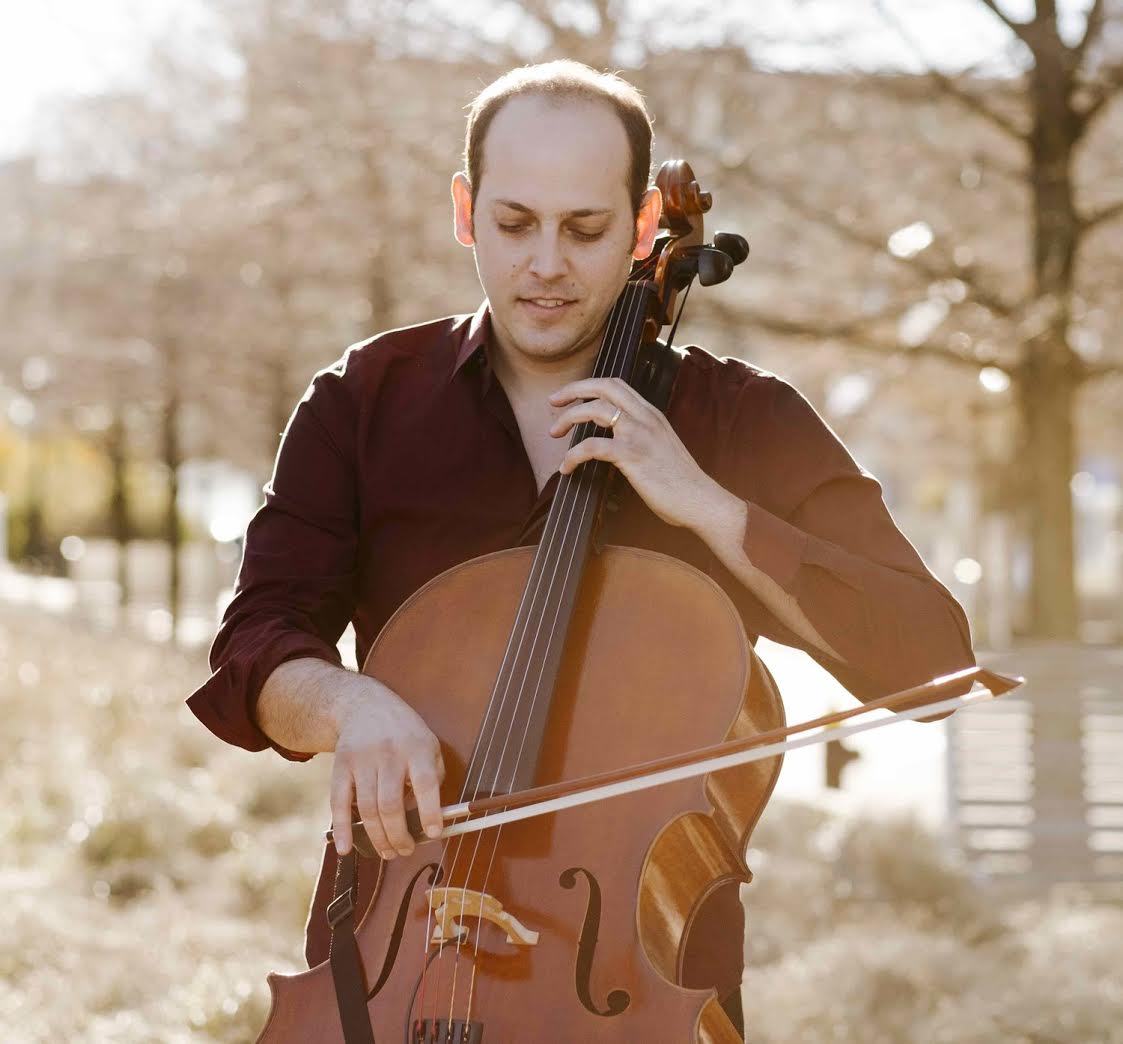 About Mike Block
Mike Block is a pioneering cello player, singer, composer, and educator, hailed by Yo-Yo Ma as the "ideal musician of the 21st-Century." Passionate about cross-cultural collaboration through music, Mike is committed to inspiring individuals and connecting communities. At home in a wide range of musical styles, through a multi-genre approach to composition, performance and education, he seeks to inspire audiences and empower musicians to find joy in the full world of music.
Mike is member of Yo-Yo Ma's Silk Road Ensemble (SRE), having joined in 2005 while a student at The Juilliard School. Touring extensively throughout the world with SRE, he has been featured as cello and vocal soloist, contributed arrangements and compositions, and earned a Grammy Award in 2017 for their album, Sing Me Home. Mike also served as Music Director for SRE's acclaimed opening concert of New York City's Central Park SummerStage 2011 season "Night at the Caravanserai: Tales of Wonder".
Acclaimed by the NY Times for his "vital rich-hued solo playing," Block's solo performances offer a rich mixture of core classical repertoire with original compositions. He has collaborated in performance and recordings with a variety of diverse musicians, including Will.i.am, Edgar Meyer, Stevie Wonder, The New York Philharmonic, Bon Iver, Zakir Hussain, Rachel Barton Pine, Allison Krauss, Mark O'Connor, Bobby McFerrin, Darol Anger, and Julian Lage. Mike is an active recording artist of original material, folk music and cross-cultural collaborations. He has an ongoing project to record all of the Bach cello suites in acoustically glorious bathrooms of famous concert halls, BachInTheBathroom.com.