Event Information
Location
Pflugerville Community Church
1214 Pfennig Lane
Pflugerville, TX 78660
The free Pflugerville Seniors Conference returns with health screenings, informative talks, complimentary lunch and Resource & Info Fair.
About this event
AGE of Central Texas is again partnering with the Pflugerville Community Church to host the free Pflugerville Seniors Conference on Thursday, May 19th, taking place at the Pflugerville Community Church from 8:30 a.m. to 2:00 p.m. The 7th annual community event will feature area experts discussing topics that include long-term care, financial planning, and memory loss.
Registration will begin at 8:30 a.m., and the Resource & Information Fair will also open and run continuously through the conference. The healthcare staff of Baylor Scott & White Medical Center Pflugerville will also be offering free health and wellness screenings from 8:30 a.m. to 10:00 a.m.
From 10:00 a.m. to noon, participants can attend two informative one-hour workshop sessions. Attorney at Law Virginia Sampson will discuss "Navigating the Aging Process" at 10:00 a.m. Then at 11:00 a.m., Michael Gill, President of Texas Senior Living Locators, will discuss "Paying for Long-Term Care."
At noon, participants will be able to again explore the extensive Resource & Information Fair along with the complimentary lunch. During the lunch, health care experts from Baylor Scott and White Health will discuss positive techniques for dealing with stress.
The Pflugerville Community Church is located at 1214 Pfennig Lane, Pflugerville, TX 78660. For more information, visit www.AGEofCentralTX.org.
2022 Pflugerville Seniors Conference Schedule:
8:30 – 10:00 a.m.: Registration and the Resource & Information Fair
10:00 – 11:00 a.m.: "Navigating the Aging Process" with Virginia Sampson, Attorney at Law
11:00 a.m. – 12:00 p.m.: "Paying for Long Term Care" with Michael Gill, Texas Senior Living Locators
Noon to 12:30 p.m.: Resource & Information Fair and Complimentary Lunch
12:30 p.m. – 1:30 p.m.: "Overcoming Stress" with Baylor Scott & White Health
1:30 p.m. – 2:00 p.m.: Resource & Information Fair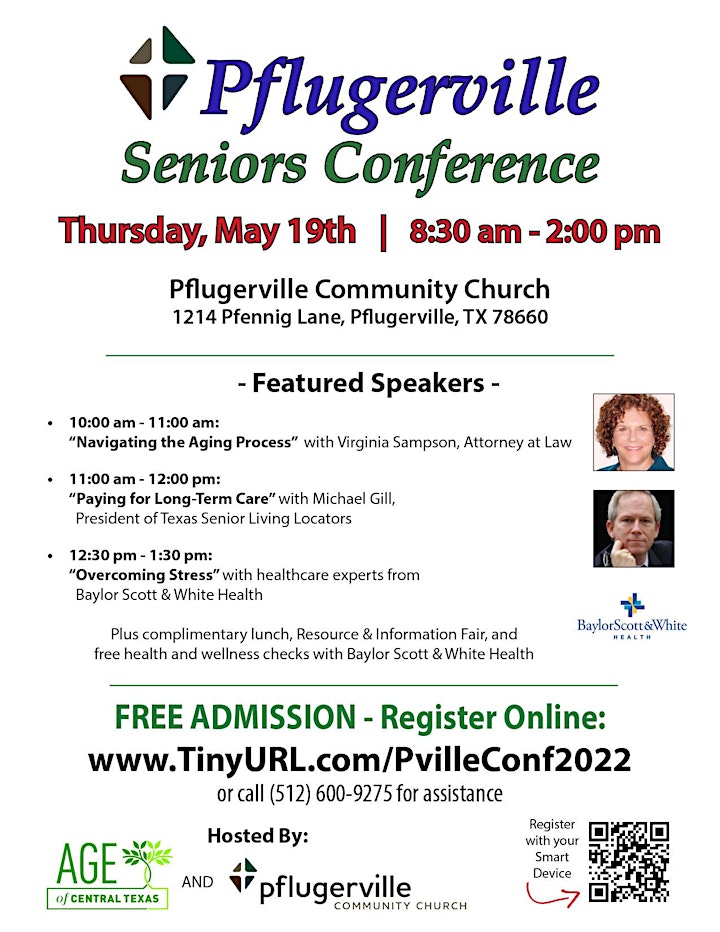 Date and time
Location
Pflugerville Community Church
1214 Pfennig Lane
Pflugerville, TX 78660