Due to Covid we offer online peer support group for LGBTQ+ people, family, and friends. Sometimes we will have a guest speaker.
About this Event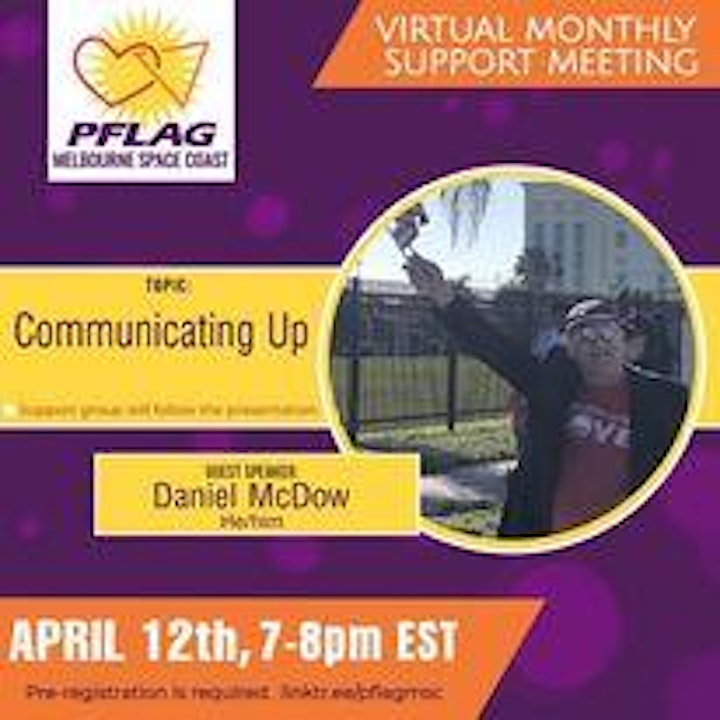 We miss you all, so with in-person meetings currently on pause we are setting up our monthly support meetings on Zoom!
This month's topic is Communicating Up with Daniel McDow (he/him). Please welcome in joining the honorable council member from West Melbourne (first openly gay elected official in Brevard), Daniel McDow, who is also the President of the LGBTQ Democratic Caucus and business owner ,come speak with us . Communicating up with focus on education targeted at the "adult world", what needs to be said and heard, the current state, specific to legislative and local HRO.
You can contact Daniel here.
Guest speakers will start at the beginning of the meeting and regular peer support part will follow after. We look forward to seeing you!
PFLAG Space Coast Melbourne is inviting you to a scheduled Zoom meeting. Once you register we will send out the Zoom link and password the day before the meeting. By registering, you agree to the following:
-You will not record any part of the audio or video of the meeting.
-You agree that "what happens in PFLAG stays in PFLAG"
-You agree not to share the meeting link or password with anyone else. If you know someone wishing to join then they must register too.
-Please include your pronouns in your name on Zoom.
-Anyone not acting in good faith or with good intentions will be removed from the meeting.
- Having video turned on when you enter the chat, after entering the chat you may turn off your video if you are more comfortable. This is a safety precaution.
**Please reach out if you have any tech issues. As always we would like to remind everyone PFLAG offers peer support that is available at no cost and open to all who wish to participate in a safe and confidential space. If for any reason you are in need of support but don't feel comfortable joining the virtual meeting please feel free to reach out to us at anytime through our Facebook, Instagram, Twitter, or our website . You are never alone.
Please make sure you have Zoom downloaded ahead of time on the device you plan to use. To see how to download on your device please visit here.