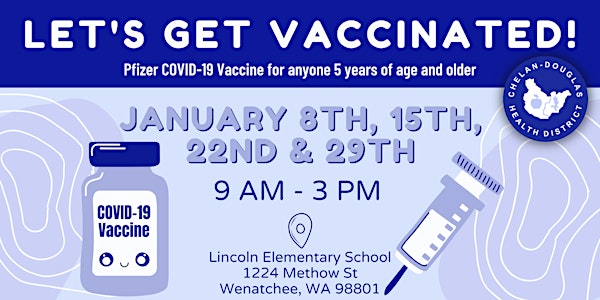 Multiple Dates
Pfizer Drive-thru COVID-19 Vaccine Clinic at Lincoln Elementary
Chelan- Douglas Health District will be offering Adult and Children's Pfizer COVID-19 Vaccine
About this event
Pediatric and Adults Pfizer COVID-19 Vaccine for those 5 years of age and older.
Para Español Vea Abajo
**READ ALL INSTRUCTIONS, BEFORE REGISTERING**
Do these things.....
Register for the vaccination.
Print out and complete the COVID-19 Pre vaccination Screening Form. CLICK HERE
Do NOT arrive, if you feel ill.
Please wear a mask!
Wear clothing, so that your upper arm or thigh can be exposed.
Following all these instructions will ensure the drive thru line moves smoothly and efficiently as possible.
If you need assistance in making an appointment, call (509)886-6487
Pfizer Vaccination Resources
**LEA TODAS LAS INSTRUCCIONES, ANTES DE REGISTRARSE**
ACTUALMENTE, LA VACUNA PFIZER COVID-19 AUTORIZADA POR LA FDA PARA USO DE EMERGENCIA EN NIÑOS DE 5 A 11 AÑOS
Haga las siguientes cosas....
Regístrese para la vacuna
Imprima y complete la Evaluación de Paciente para la Vacuna OPRIME AQUI
NO SE PRESENTE, si se siente enfermo/a.
Porfavor use una máscara!
Use ropa, de modo que su brazo o muslo puedan quedar expuestos.
Siguiendo todas estas instrucciones se asegurará de que la línea de conducción se mueva sin problemas y eficientemente como sea posible.
Si ocupa asistencia en hacer la cita puede llamar, (509) 886-6487
Organizer of Pfizer Drive-thru COVID-19 Vaccine Clinic at Lincoln Elementary