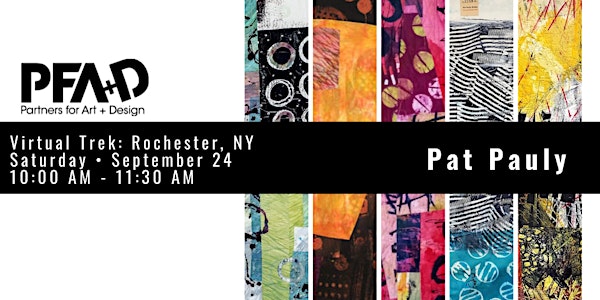 PFA+D Virtual Trek: Pat Pauly - Rochester, NY
PFA+D Virtual Trek: Pat Pauly - Rochester, NY
About this event
PFA+D invites you to join us for our new season opening virtual trek to meet contemporary fiber artist, Pat Pauly at her studio in Rochester, New York.
Known for her improvisational technique, Pat Pauly uses bold color and unusual juxtapositions of printed and painted fabric. Her workshops on the contemporary art quilt carry the same qualities as her work—energized, spontaneous, and artistic. With a mastery of diverse construction techniques, Pat uses textiles as a medium of choice.
In addition to her work in textiles, her work as an exhibition designer allows a breadth of experience in design. This exposure to work in exhibitions with collections as different as dinosaurs to Impressionist paintings to Tiffany glass, lead her to design as well as curate in 2004 "Quilts Uncovered: Treasures from the Genesee Country Village & Museum." The exhibition of 100 historical quilts soon refueled her work with contemporary textiles, and she has redefined her textile art. Pat served as the guest curator and exhibition designer of the State University of New York at Oswego College's exhibition in 2008 of the invitational "A Personal Landscape." Pat also curated "The Almighty Dollar: Contemporary Art Quilts" and "The Exquisite Corpse: Contemporary Art Quilts" in 2010, and "Parallax: Views of Contemporary Quilt Artists." In 2015 Pat curated and designed the exhibition "Quilts 20/20: Traditional Roots / Contemporary Art" was shown in Harrisburg, Pennsylvania. She is a frequent consultant for designing and curating textile exhibitions.
Zoom information to follow.