PF Academy

Multiple Dates

San Francisco, CA
Event Details
PF Academy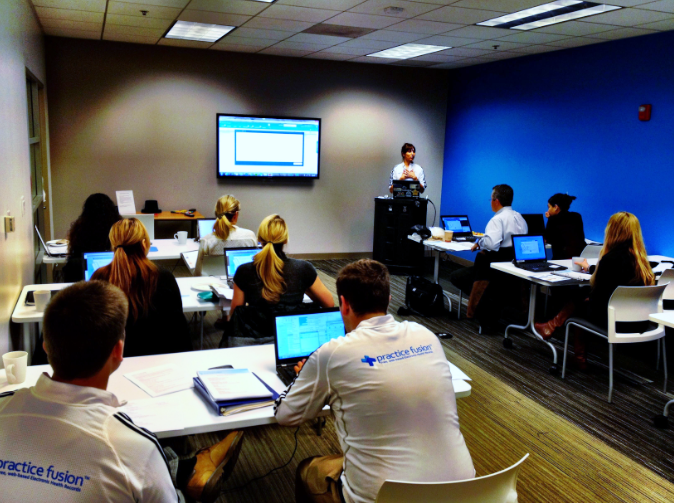 Live in-person premium training

Conducted by Practice Fusion expert Trainers

Learn the whole EHR in one 8-hour immersion training class

Save your practice time and money by increasing efficiency
*Special Limited Time Offer! Send additional members of your practice to PF Academy for only $249 per person. See FAQ #3 below for more details.
FAQ
1. What is PF Academy?
PF Academy is Practice Fusion's premium in-person training class offered at Practice Fusion HQ in the SOMA neighborhood of San Francisco. This class covers all aspects of the EHR, including setting up your account, scheduling, charting, customizing templates, e-prescribing and integrations with labs, imaging centers, billing partners, and more. Attendees can expect to leave PF Academy with a thorough knowledge of the EHR, saving your practice time and money by increasing efficiency.

2. What experience level is PF Academy intended for?
PF Academy will cover all aspects of the EHR and is intended for users who are unfamiliar with Practice Fusion's functionality. 
3. How much does PF Academy cost? 
The cost per person to attend PF Academy is $499.
We are currently offering a special promotion for practices who send more than one person. Buy one ticket to PF Academy for the full price of $499 and send any number of additional members of your practice for the special discount price of $249 per person. If you have already attended PF Academy, this offer can be extended to additional members of your practice.
Please note: users who take advantage of this special discount will need to purchase tickets in two separate orders. The first order should be for one full priced $499 ticket for the first member of the practice. The additional tickets can be purchased in a second order using promotion code PFA50. This will reduce the ticket price to $249 for each additional member of your practice.
4. Who is training me? 
PF Academy is facilitated by Practice Fusion's expert training staff. 
5. How do I sign up?
Select a session and click the green Order Now button at the top of this page.
6. Can I bring my staff? 
Yes! Practice Fusion Academy is open to all members of your practice, including doctors, NPs, PAs, nurses, and practice staff. Please keep in mind the cost of the class is per person.
7. What do I need to bring? 
All materials for the training will be provided including laptops and Practice Fusion test accounts to practice with. Breakfast and lunch meals are provided and included in the cost of the class. Comfortable clothing is advised. All classes begin at 9:00 AM and conclude at 5:00 PM. 
8. Will I get help setting and customizing my Practice Fusion account? 
While we will be working in a test account that we have already created for you, you will learn how to set up and customize your own practice. The session includes a trainer-led lecture and demonstration while you follow along in a test account. During class breaks, our PF Academy trainers will able to provide 1:1 assistance as needed. 
9. Does Practice Fusion offer free training?
Yes, Practice Fusion offers free and unlimited web-based training.  Visit the Practice Fusion Learning Center to access our full video tutorial library and learn at your own pace:
www.learn.practicefusion.com
10. How is PF Academy different from a Certified Consultant?
Our Certified Consultants come onsite to your office and charge their own hourly rates. Often, your Certified Consultant will visit your office several times to help you get started with Practice Fusion.
Have additional questions? Contact us at pfacademy@practicefusion.com for more info.
Where


Practice Fusion HQ
650 Townsend St.


San Francisco

,

CA

94103

Organizer
Practice Fusion
Practice Fusion is the largest cloud-based electronic health records (EHR) company in the U.S.  The Practice Fusion EHR is free and secure, and getting started is quick and easy with our unlimited free support.