ARE YOU READY TO GET PETTY?
About this event
ITS TIME FOR THE HOTTEST PARTY OF 2021!
Join Beauty Beyond Drag and our ALL STAR cast of royalty as we put on a drag benefit show for A.Y.A. Youth Collective!
Petty's Haus Party: A Drag Benefit for AYA Youth Collective
Petty Divine hit the stage with her first drag performance right here at Harmony Hall on November 2018. Since then, she was crowned Miss Beauty Beyond Drag and has taken the drag world by storm. She returns right back here where it all started for a star studded lineup of all QPOC entertainment that will leave you breathless!
DATE: December 11, 2021
LOCATION: Harmony Hall, 401 Stocking Avenue, Grand Rapids
TIME: 8PM Showtime
TICKETS: $15 and can be purchased via Eventbrite
::HOSTED BY::
DeeDee Chaunte
Tequila Sanchez
::PERFORMANCES BY::
Petty Divine
Asio Aviance
Fernando Fierce-Sanchez
La Reine Divine
A.Y.A. Youth Collective creates safe spaces for youth in crisis to belong, be themselves and build a future. We create circles of support for 14- to 24-year-olds facing homelessness or instability—from drop-in opportunities to rest, recharge and meet everyday needs in a caring community to safe, affordable housing with peers and mentors who partner in their transition to stability. A portion of proceeds from the evening will be donated to AYA Youth Collective.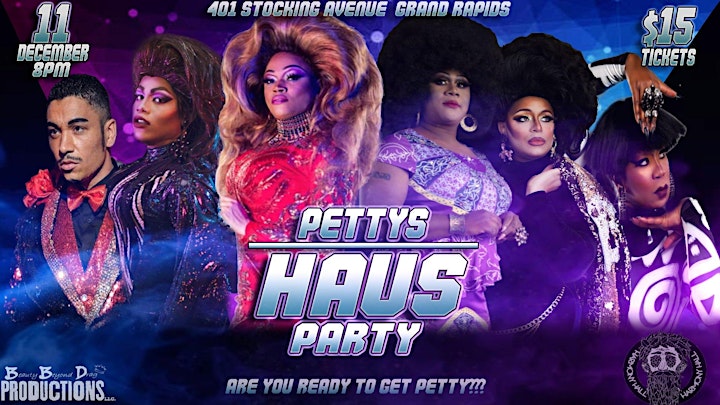 Organizer of Petty's Haus Party - A Drag Benefit for AYA Youth Collective