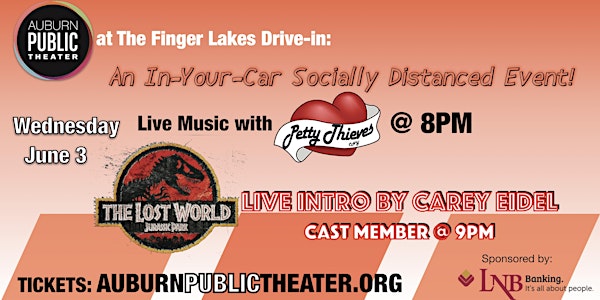 Petty Thieves & The Lost World: Jurassic Park
APT at The Finger Lakes Drive-In
Location
Finger Lakes Drive-In
1064 Clark Street Road
Auburn, NY 13021
Live Music & Movie Night: An In-Your-Car Socially Distanced Event!
About this event
APT at The Finger Lakes Drive-in Presents: LIVE MUSIC AND MOVIE NIGHT!
An In-Your-Car Socially Distanced Event, every Wednesday in June.
Music starts at 8pm, movie at 9pm. Ages 12 & up $10, children ages 5-11 are $4, children 4 and under are free. Purchasing tickets online in advance for ages 5 through adults is encouraged, please have tickets pulled up on your phone to scan at your car window when you enter. You do not need to reserve free tickets for ages 4 and under in advance. Tickets for all ages can be purchased at the gate on the night of the event, dependent on availability.
Movie: The Lost World: Jurassic Park (1997)
Rated PG 13, 134 minutes. Starring Richard Attenborough, Jeff Goldblum, Julianne Moore, Vince Vaughn - and an appearance from our very own Carey Eidel!
Carey will introduce the film and share some stories from working on set with Steven Spielberg.
Music: Petty Thieves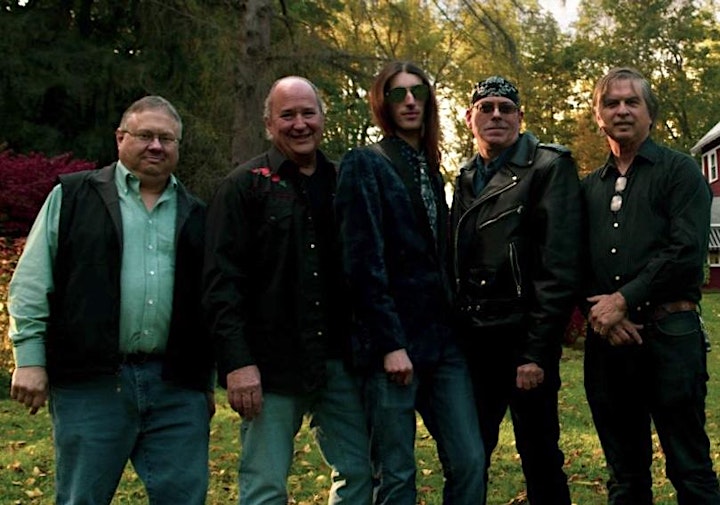 For the past three years Petty Thieves has been providing Auburn NY and the surrounding area with live performances featuring the music of Tom Petty as well as of his friends and influences.
The band is a product of Auburn Public Theater's Tuesday open mic night. Lead singer and guitar player JD Balloni met guitar player and vocalist Sam Pruyn as well as keyboard and harmonica player Loren Miller. That trio formed in the Spring of 2017 and quickly added Rich Howard, a drum instructor and fill in player for many local groups. Finally Bassist Elliot "Oz" VanDerVeer was added completing the group.
The band played it's first show in August of 2017 and has since become one of the area's busiest groups. The band has played many area Festivals, Bars, Breweries, Wineries and Restaurants. A regular in the annual Tomatofest line up and before the shutdown could be seen once a month at Auburn's Next Chapter Brewpub.
Upcoming Movie Schedule:
June 10 - Harriet
June 17 - Muppets Take Manhattan
June 24 - Victor Victoria presented in partnership with Auburn Pride 2020
Sponsored by: Lyons National Bank