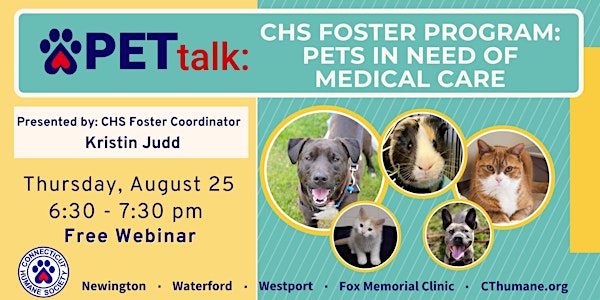 PETtalk: CHS Foster Program - Pets in Need of Medical Care
Do you have a special interest in pets who need a little extra care? Sign up for this free webinar today!
About this event
If you've been wondering what to do with that extra space in your home...if you've been looking for a way to make a difference for pets...if you wish you could have a temporary pet...this is for you!
Some pets at the Connecticut Humane Society need extra care from the veterinary team. And while they're on the mend, they need a comfy home to recover in. That's where you come in! Foster families welcome these pets into their homes while they heal.
Join the Connecticut Humane Society's Foster Coordinator, Kristin Judd, to learn all about fostering a pet undergoing extra medical treatment. From pets with minor medical issues such as an upper respiratory infection, to pets with pre-existing or newly diagnosed medical conditions like allergies or thyroid disorders, and those in need of surgical procedures such as lump removals or dental surgeries, foster families make all of the difference!
Pets often heal and recover faster in a foster home compared to a long-term stay in a shelter. You can be a part of their healing and a bright new forever when you become a foster family.
We hope to "see" you there and look forward to your family joining our foster team!
Please note that while anyone is welcome to attend this free, informational webinar, only applicants residing in Connecticut will be considered as foster parents.
About the Speaker
Joining CHS in 2015, Kristin is currently the Foster Care Coordinator at CHS' Newington Pet Wellness and Adoption Center. Prior to her time at CHS, Kris worked in the human medical field and manufacturing management before landing at a local animal shelter as a kennel technician and finally realizing her passion for animal welfare.
The skills she gained from her previous careers have helped her in coaching new foster parents in their role, coordinating the movement of CHS pets into foster care, and in developing creative new programs that change pets' lives.
Kris is from Connecticut and shares her life with her wife, three dogs and two cats.