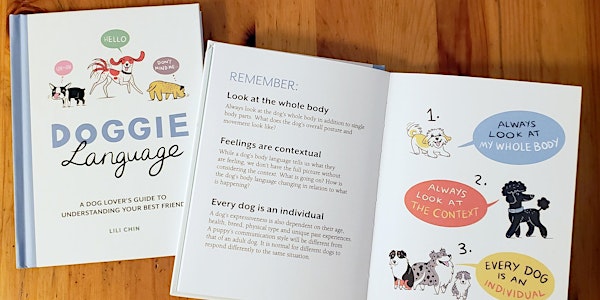 Petminded Presents Book Discussion of Doggie Language: A Dog Lover's Guide
Join us to discuss Illustrator Lili Chin's new book: Doggie Language - A Dog Lover's Guide to Understanding Your Best Friend
About this event
Dogs communicate with so much more than barks and tail wags, and misreading doggie body language makes life challenging for dogs and their humans
Lili Chin's new book is your perfect illustrated guide to seeing and understanding the subtle visual cues used by your beloved pup to express how they're feeling in different situations. The more we notice and listen to what our best friends are telling us, the better chance we have of helping them feel safe and happy.
Join us for a book discussion with the author, we'll ask Lili to share what inspired her to write this book, share some of her favorite excerpts, and take audience Q&A.
BONUS: Jennifer Philips from Broadway Dog Training will also be joining us for this conversation! Jennifer has worn many hats in the animal industry: zookeeper, wildlife rehab, educational docent, raising baby toucans. She is now a dog trainer in the Los Angeles area and works primarily with reactive dogs and puppies.
She is a graduate of the Karen Pryor Academy and holds certificates in Applied Animal Behavior, canine fitness, and Fear Free handling. She shares her home 2 mixed breed dogs, 3 African Grey Parrots, 2 Green Aracaris (small toucans), and 8 Poison Dart Frogs. We will ask Jennifer to share her perspective on how understanding doggie body language can improve training.
You can purchase the book here: https://www.doggielanguagebook.com/