Actions and Detail Panel
PETITE MODEL OPEN CALL AUDITION FOR NEW YORK CITY FASHION SHOW
Sat, April 29, 2017, 5:00 PM – 6:00 PM EDT
Description
PETITE MODEL - OPEN MODEL CALL AUDITION
PETITE FEMALES 13 TO 35 YEARS OLD
$6,120 in PRIZES TO THE PETITE MODEL WINNER
Show Website - www.modeloftheyearcompetition.com

Company Website: www.Plitzs.com
Instagram: www.instagram.com/plitzsfashionmarketing
Facebook: www.facebook.com/PLITZS
Models – Amateur or Professional, looking to break into the glamorous world of modeling this is the chance of a lifetime!
JUST APPEAR IN PERSON TO THE OPEN MODEL CALL
At CHELSEA STUDIOS
151 West 26 Street
Between 7th Avenue & 6th Avenue
6th Floor
NEW YOR CITY
AUDITION ATTIRE:
WOMEN - Wear 2 Piece Swimwear Bikini under Fitted Skinny Blue Jeans and Fitted Plain White T-Shirt Top with Minimum 3 inch Stiletto Heels.
Female Models must be between the ages of 13 to 35 years old and height 5-0 to 5-7 and dress size 0 to 6.
The winners of the the "Fashion Model of the Year Competition & The Emerging Model of the Year Competition" will win $6,120 in PRIZES and will be a featured model in "PLITZS New York City Fashion Week" show.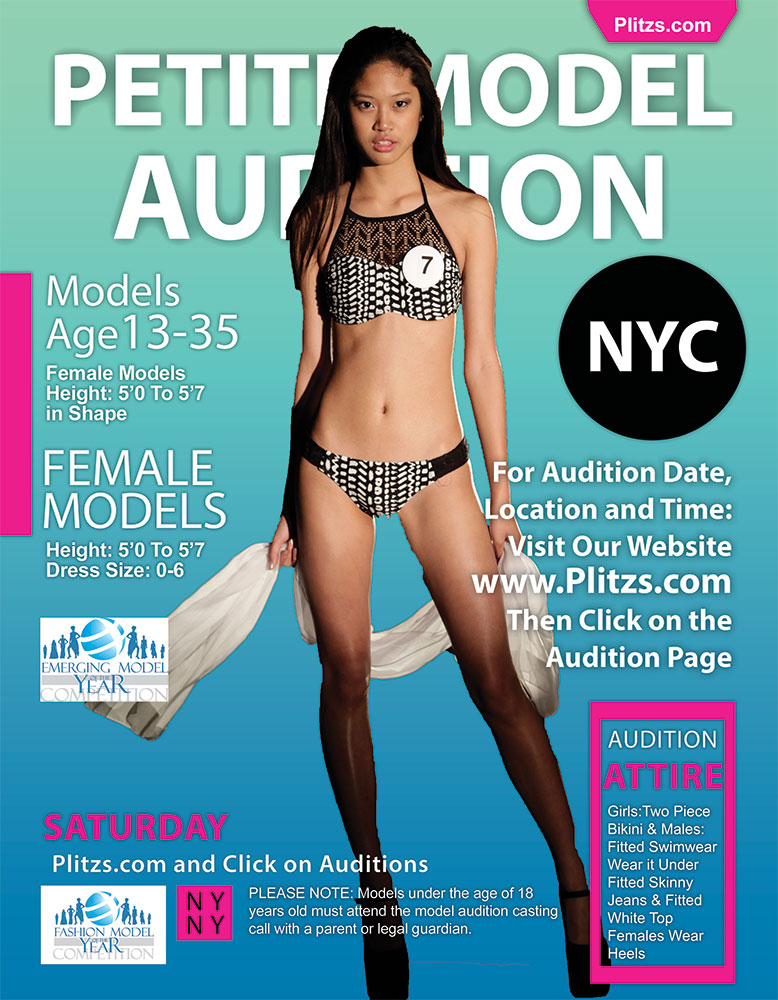 Date and Time
Location
CHELSEA STUDIOS
151 West 26 Street
Between 7th and 6th Avenues On the 6th Floor
New York, NY 10018