[Peterson Speaker Series] Inspiring Tomorrow's Business Leaders: Clif Bar C...
Description
Co-hosted by Clif Bar, the Berkeley Haas Center for Responsible Business, and the Net Impact Berkeley Undergraduate Chapter
Inspiring
Tomorrow's
Business Leaders: Clif Bar Co-owners Gary Erickson and Kit Crawford
In 2000, Clif Bar co-owners Gary Erickson and Kit Crawford walked away from a $120 million buyout from a larger food company. Contrary to popular opinion, they were determined to prove Clif Bar could succeed—not by selling to the highest bidder—but by inventing a new business model with five bottom lines focused on sustaining the business, its brands, its people, the community and planet. Today Clif Bar & Company remains proudly family and employee owned. With people, planet, and communities in mind, Clif continues to thrive while operating responsibly and influencing other companies to do the same.
Join Gary and Kit for a fireside chat with Haas Social Impact Fellow and food innovator, Will Rosenzweig, as they dive deeper into the company story and reflect on what it means to run a company that doesn't just focus on profits, but also strives to create a healthier, more sustainable world. Gary and Kit will also share details of Clif's new program, the Business with Purpose Scholarship, designed for graduating college seniors who want to pursue a purpose-driven business career.*
The first 50 students to arrive will receive a Clif-branded gift!
*Are you a soon be graduating senior interested in the Business with Purpose Scholarship? If so, please fill out this interest form.
---
Agenda
12:00 PM
| Light lunch served (
Please arrive on time to enjoy lunch)
12:30 - 1:30 PM
| Fireside chat with Kit Crawford and Gary Erickson of Clif Bar
---
The Speakers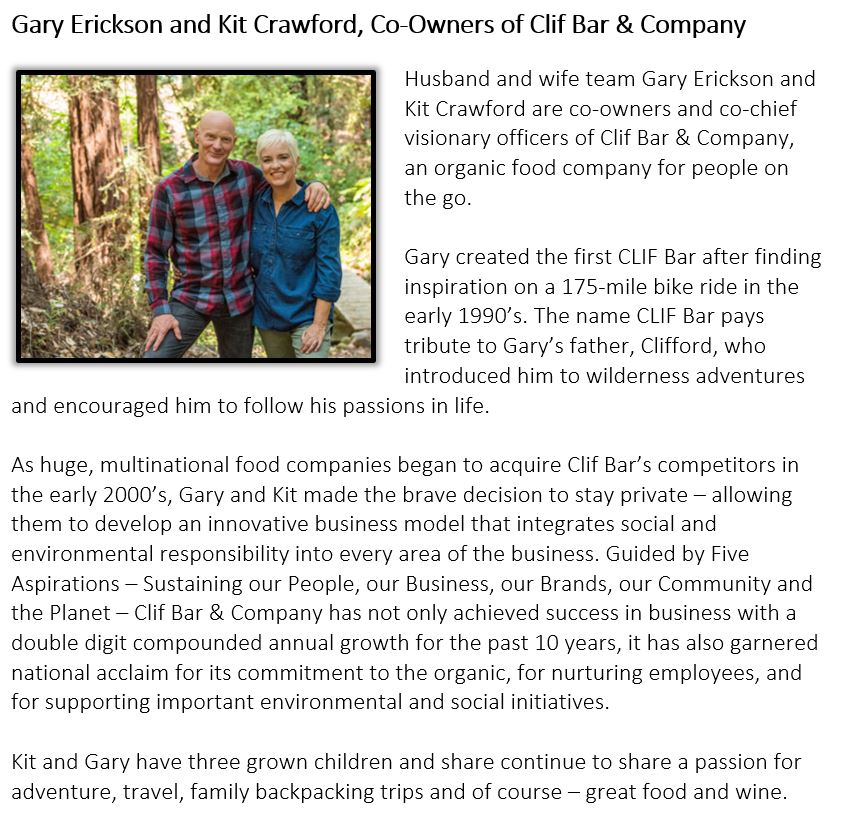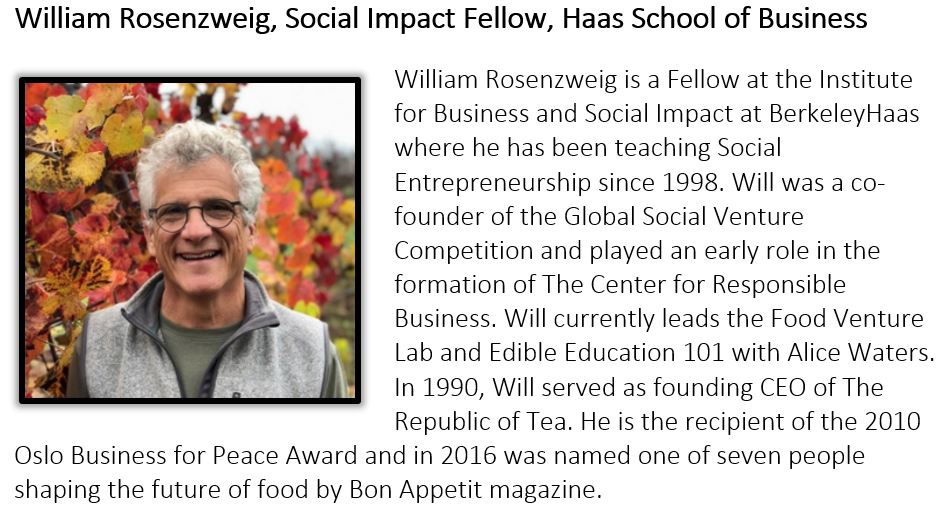 ---
About the Peterson Speaker Series
The Peterson Series is the Center for Responsible Business' flagship speaker series. It convenes future business innovators, forward-thinking academics, and distinguished business leaders to discuss and move us forward toward a sustainable future. Each semester Peterson Series events explore emerging areas requiring vision and leadership from Berkeley-Haas MBA students, corporate partners, and faculty members.
The Peterson Series is an embodiment of the man it is named for, Rudolph Peterson (1904-2003): bold, forward-thinking, and possessing a resolute view that businesses should be productive and ethical contributors to society.