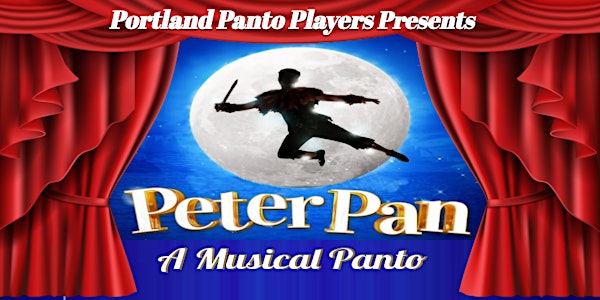 Peter Pan: A Musical Panto
Portland Panto Players Presents... Peter Pan: A Musical Panto
When and where
Location
Alberta Abbey 126 Northeast Alberta Street Portland, OR 97211
About this event
From the Event Organizer
Peter Pan, the Musical Panto is a boisterous, family-friendly theater event filled with slapstick, witty dialogue and a few wink-wink jokes for the adults. Every Panto is based on a well known story adapted to include popular songs along with funny and outrageous characters who will get both kids and adults shouting, laughing, and having a wonderful time.
Our production this year follows the classic adventures of Peter Pan, Tinker Bell and Wendy. Cheer for Peter, Boo at Captain Hook and root for the outrageous Dame as she pursues her quest for love.
Panto is wildly popular in England because it is truly an all-ages holiday show. You will be hard-pressed to decide if it is a kid's show that also appeals to adults, or the other way around.
Additional Information
-- HOW TO APPLY A DISCOUNT CODE
1. Click on the red "select a date" red bar at the top right of this page.
2. Select the date and time of the show you want to purchase tickets for by clicking on the red "Tickets" box next to your selected date
3. On the top left of the page click on the words in blue that say "enter promo code". Enter your discount (promo) code word and click "apply". This will reduce the ticket prices shown on the page
4. Select the number of adult or kid/senior tickets you want to purchase then click on the red check-out box and complete your purchase
-- GROUP SALES
If you purchase 10 or more tickets as part of the same transaction you can receive a $5 per ticket discount and reserved seating for your group. Contact us at pdxpanto@gmail.com to obtain the group discount code and/or to obtain seat allocations for your group after you have reserved. Please note that group seating is allocated in the order groups reserve.
-- REFUNDS
All sales are final and no refunds are provided. However, if performances are canceled due to any new Covid-19 restrictions, patrons will receive a full refund.
-- COVID RULES
The Portland Panto Players no longer require patrons to provide proof of full COVID-19 vaccination or a negative test at entry. Patrons are encouraged to wear masks in the theater, but it is not required.