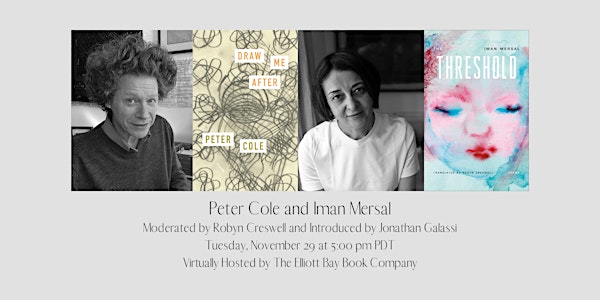 Peter Cole, Iman Mersal, and Robyn Creswell
Poets Peter Cole and Iman Mersal launch new collections with editor and translator Robyn Creswell.
Refund Policy
Contact the organizer to request a refund.
About this event
Tonight, we virtually welcome two poets with new collections: Peter Cole's Draw Me After and Iman Mersal's The Threshold. They overlap in regional affinity, with Peter dually based in Jerusalem and the US and Iman hailing from Egypt and now residing in Canada. They also share the literary influences of Robyn Creswell, editor of Draw Me After and translator of The Threshold, with whom they'll discuss their new work. Jonathan Galassi, former president of FSG and poetry editor for the press, will introduce the night's speakers. Together, they are certain to have an enlivening conversation on poetry and publishing, collaboration and translation.
About the Books
Peter Cole's luminous new book is in many ways his freest and most moving to date. In Draw Me After, Cole evolves a supple, singular music that charts regions of wonder and danger, from Eden as a place of first response and responsibility to modern sites of natural and political catastrophe.
At the heart of the volume lie two remarkable series: one translates drawings by Terry Winters into a textured language spun from the material abstractions of Winters's art; the other winds through the book in dreamlike fashion, offering prismatic and often haunting meditations on the letters of the Hebrew alphabet—in kabbalistic tradition, the building blocks of existence. Inventive and receptive, physical, metaphysical, and playful, Cole's poetry disturbs and enchants with "a quiet, streaming power . . . that leads the reader back to it over and over again" (Ray González, The Bloomsbury Review).
Iman Mersal is Egypt's—indeed, the Arab world's—great outsider poet. Over the past three decades, she has crafted a voice that is ferocious and tender, street-smart and vulnerable. Her early work captures the energies of Cairo's legendary literary bohème, a home for "Lovers of cheap weed and awkward confessions / Anti-State agitators" and "People like me." These are poems of wit and rage, freaked by moments of sudden beauty, like "the smell of guava" mysteriously wafting through the City of the Dead. Other poems bear witness to agonizing loss and erotic temptation, "the breath of two bodies that never had enough time / and so took pleasure in their mounting terror." Mersal's most recent work illuminates the trials of displacement and migration, as well as the risks of crossing boundaries, personal and political, in literature and in life.
The Threshold gathers poems from Mersal's first four collections of poetry: A Dark Alley Suitable for Dance Lessons (1995), Walking as Long as Possible (1997), Alternative Geography (2006), and Until I Give Up the Idea of Home (2013). Taken together, these works chart a poetic itinerary from defiance and antagonism to the establishment of a new, self-created sensibility. At their center is the poet: indefatigably intelligent, funny, flawed, and impossible to pin down. As she writes, "I'm pretty sure / my self-exposures / are for me to hide behind."
About the Authors
Peter Cole was born in Paterson, New Jersey, in 1957. He has written several previous books of poems, including Hymns & Qualms and Rift, and he has also translated widely from Hebrew and Arabic works—both medieval and modern. He is the recipient of many honors, including a Guggenheim Fellowship, an American Academy of Arts and Letters Award in Literature, the PEN Award for Poetry in Translation, a National Jewish Book Award, and a MacArthur Fellowship. He is dually based in Jerusalem and New Haven.
Iman Mersal is the author of several books of poems and a collection of essays, How to Mend: Motherhood and Its Ghosts. In English translation, her poems have appeared in The Paris Review, The New York Review of Books, The Nation, and other publications. Her most recent prose work, Traces of Enayat, received the Sheikh Zayed Book Award for Literature in 2021. She is a professor of Arabic language and literature at the University of Alberta, Canada.
Robyn Creswell is Associate Professor of Comparative Literature at Yale University, author of City of Beginnings: Poetic Modernism in Beirut, and translator of several books from Arabic and French. His honors include fellowships from NYPL's Cullman Center, the American Academy in Berlin, and the Guggenheim Foundation, and he previously served as poetry editor of The Paris Review.
This event is co-hosted with Books and Books, Seminary Co-op, Community Bookstore, McNally Jackson, Brookline Booksmith, Rain Taxi, and Words without Borders.
Founded in 1982 by Miami Beach native Mitchell Kaplan, the locally-based, independently-owned Books & Books was named Publishers' Weekly Bookstore of the Year in 2015. Books & Books has grown from a 500 square-foot building in Coral Gables to become a Miami cultural pillar with 5 locations. Books & Books hosts more than 60 events each month, including virtual and in-person author talks and signings in both English and Spanish, book club discussions, programming for children and families and a variety of diverse community-based events in partnership with local civic, educational and cultural organizations. Visit www.booksandbooks.com for more information and follow us on social media.
The Transnational Literature Series focuses on stories of migration, the intersection of politics and literature, and works in translation and is hosted by the independent bookstore Brookline Booksmith in Massachusetts.
Community Bookstore is Brooklyn's oldest operating bookstore, celebrating over 50 years in Park Slope. For more upcoming events, visit our website.
McNally Jackson, founded in 2004, is a New York City-based Independent Bookstore with four locations across Manhattan and Brooklyn. Our stores offer a unique selection of books from around the world, as well as in-person and virtual events programming featuring award-winning authors.
Rain Taxi is a nonprofit literary organization based in Minnesota. In keeping with its drive to celebrate and support aesthetically adventurous literature, Rain Taxi publishes a quarterly book review and sponsors both virtual and in-person author events. Check out their upcoming events here.
The Seminary Co-op Bookstores, Inc. comprises two independent bookstores. Founded in 1961 and located in Chicago's Hyde Park neighborhood, the Seminary Co-op is renowned as an exemplary academic bookstore, attracting customers nationally and internationally. Its sister store 57th St. Books was established in 1983 and caters to the literary interests of the greater South Side community. With a world-class children's department, a deep backlist selection, and an enthusiastic staff, 57th St. Books has established itself as a gem among independent bookstores. Both stores are unique and valued places of discovery, cultural institutions where browsing and conversation are nurtured. In 2019, the Seminary Co-op Bookstores, Inc. became the country's first not-for-profit bookstores whose mission is bookselling.
Words Without Borders is the premier destination for a global literary conversation. Founded in 2003, its mission is to cultivate global awareness by expanding access to international writing and creating a bridge between readers, writers, and translators. Visit the WWB website to learn more: https://wordswithoutborders.org/