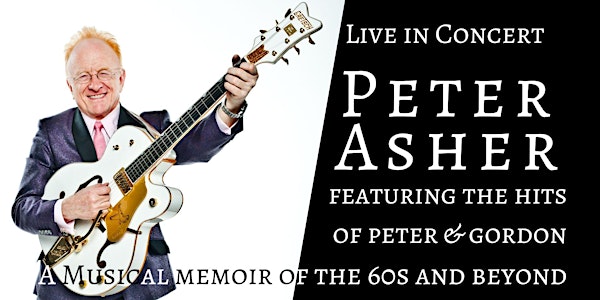 Peter Asher: A Musical Memoir of the 60s & Beyond...2 p.m. show
PETER ASHER: MEMOIR "…the exuberant Mr. Asher knew anyone who rocked and everyone who mattered." –Wall Street
When and where
Location
An Unlikely Story 111 South Street Plainville, MA 02762
About this event
PETER ASHER: A MUSICAL MEMOIR OF THE 60S AND BEYOND
Entertainment legend Peter Asher--whose voice, as one half of Peter & Gordon, "literally soared through Carnegie Hall" (Fox News)-- brings his 4 piece ensemble to the event space of Plainville's An Unlikely Story for a JUST ADDED 2 p.m. live performance in the book store's first ever concert event.
"…as Mr. Asher regaled a delighted audience with stories… he conjured history in the making, before it was set in stone." – Stephen Holden, New York Times
"…the exuberant Mr. Asher knew anyone who rocked and everyone who mattered." –Wall Street Journal
"An all-around charming and delightful fellow — he reminisces about his whole career and it is highly entertaining" – Steve Martin
"Everybody should go and see it — I've seen it myself twice" – Linda Ronstadt
"The Man, The Myth, The Legend! ...and a true friend! Great wit and music. A true storyteller! What more could you possibly want? Don't miss this!"--Hans Zimmer
We first came to know him through the global smash "World Without Love" as one half of the British Invasion duo Peter & Gordon. He returns--now a Commander of the Most Excellent Order of the British Empire-- in "Peter Asher: A Musical Memoir of the 60s and Beyond" which brings a multimedia experience to the stage of An Unlikely Story., hosted by the two-time Grammy winner for Producer of the Year. Peter Asher moved effortlessly from his role with Peter & Gordon to Music Executive with the Beatles' Apple Records, then famously- (as in cover of Rolling Stone magazine level famous)- to Producer and Manager, handling the careers of James Taylor, Linda Ronstadt and a host of others. Books abound, documentaries with half-truths (and worse) are all too common, but, now, finally, Mr. Asher tells first hand his tales from the eye of the cultural hurricane in this intimate evening in Plainville, Massachusetts.
"Memoir" includes film footage and photos from Peter's considerable personal archive, brought to life with a storyteller's gift, transporting audiences back to the heart of 60s popular culture. Icons such as Mick Jagger, John Lennon, Paul McCartney, Marianne Faithful, Yoko Ono, Carole King, James Taylor and Linda Ronstadt are among the cast of characters in this narrative – along (of course) with the greatly missed Gordon Waller. The evening is filled with the music of Peter & Gordon, including "I Go to Pieces," "True Love Ways," and "Lady Godiva." The songs given to Peter & Gordon by Paul McCartney are also front and center: "Woman," "I Don't Want to See You Again," Nobody I Know," and "World Without Love," all of which were US Top 40 hits. Peter presents these timeless classics along with other old favourites from that golden era.
The show brings the audience through the earliest days of Peter's journey all the way to the present day, and projects including his SiriusXM radio show on the Beatles Channel, "From Me to You" . Peter's book based on the show, "The Beatles A to Zed" was released by MacMillan on October 29, 2019; the book is already in it's third printing. Peter takes you behind the curtain of the Rock and Roll Hall of Fame induction ceremony, where he inducted two old friends, the Rolling Stones' first manager Andrew Loog Oldham and the Beatles' Manager Brian Epstein. The PBS special "Buddy Holly: Listen to Me -The Ultimate Buddy Party" is still being aired regularly, and its sister CD, "Listen to Me: Buddy Holly" remains a favorite. His work on soundtracks ("Amazing Spider-Man 2," "Man Of Steel," "Rush.", etc), alongside the legendary Hans Zimmer, is touched on also, as well as the 2017 "Hans Zimmer Live!" tour of the USA and Europe that Mr. Asher Directed.
Peter remains a sought after producer, and Memoir delves into that part of his life as well. The Peter Asher-produced CD by Steve Martin and the Steep Canyon Rangers, "The Long Awaited Album", was released September 22, 2017; it's one of several production efforts Steve Martin has asked Mr. Asher to oversee. including a 2018 PBS TV special with Martin Short and the Steep Canyon Rangers. Covered also is Peter's production of the "Love has Come for You" CD by Steve Martin and Edie Brickell — the title track a Grammy Winner in 2014- and the stage show based on it, "Bright Star," which garnered 5 Tony nominations in its run on Broadway in 2016. A project celebrating Elton John's songwriting partnership with Bernie Taupin saw the light of day in 2018, "Revamped" ; among the highlights was Ed Sheeran's take on Candle in The Wind", produced by Mr. Asher. The celebratory collection was a follow up to the Peter Asher-produced special edition of "Goodbye Yellow Brick Road" -released in March 2014 – which featured Ed Sheeran, Imelda May, Fall Out Boy, and others covering songs from that classic album.
August 6, 2021 saw the release, on Compass Records' Red House imprint, the Peter Asher produced "Why Wait!" from Kate Taylor. James' "Sister Kate" is backed by Albert Lee, Danny Kortchmar, Russ Kunkel, Leland Sklar, Waddy Wachtel, Victoria Asher, Scarlet Rivera and more. Look for many of the same cast to work on the new album by the Bangles' Susanna Hoffs-- Mr. Asher is producing and aiming for a late 2022 release.
Now, twelve years on, "Memoir" continues to thrill, as the reviews attest. On a more personal note, friends such as Liza Minelli, Eric Idle, Paul Shaffer, Ray Davies, Bill Wyman, Ken Follett, Edie Brickell, Billy Connolly, Jeff Lynne, Paul Simon, Bob Balaban, Joan Collins, Steve Martin, Ed Sheeran, Tony Shalhoub, Linda Ronstadt, and Michael Feinstein have been among the audiences in New York, San Francisco, Los Angeles, and London that have given standing ovations to "Peter Asher: A Musical Memoir of the 60s and Beyond."