About this Event
Friday Night Folk [this year on Saturday] Presents the 7th Annual Pete Seeger Tribute Concert, Saturday February 1, benefiting the CT Immigrant Bail Fund.
Musicians donating their time and talent include Geoff Kaufman, the Rivergods, River Run Band, Hugh Birdsall and Clayton Allen, Nick Evento and Karen Ethier Waring, Baird Welch-Collins, the Carolans, Sue Frankewicz, and Gilead Road. The performers will share Pete's songs, songs about him, and songs he loved. Geoff Kaufman, who spent time with Pete over many years aboard the Hudson River sloop Clearwater, will emcee the evening as well as perform.
Pete Seeger was a fearless warrior for social justice and the environment. "For nearly 70 years as a performer, Pete embodied the ideals of folk music: communication, entertainment, social comment, historical continuity, inclusiveness…. Pete's political activism has become the template for subsequent generations of musicians and ordinary citizens with something to say about the world." PeteSeegerMusic.com
Why the bail fund? Friday Night Folk chose the Immigrant Bail Fund as the beneficiary after hearing this story first hand. José (23) walked from Honduras to the Texas border, where he was arrested and put into a detention center. He was moved to MA, then CT. There, Jose met with an Immigrant Bail Fund lawyer about asylum. The lawyer found he had a very good case and found faith communities to sponsor him. With that support, the judge approved bail. The non-profit organization frees Connecticut residents from immigration prison so they can fight deportation from a place of freedom. While 97% of people in ICE prison without counsel are eventually deported, 68% of those who bond out prevail in their cases.
The concert will be held in Unity Hall at All Souls UU, 19 Jay Street, New London. Reservations are required--click Register. Free, but donations requested. Suggested donation $20.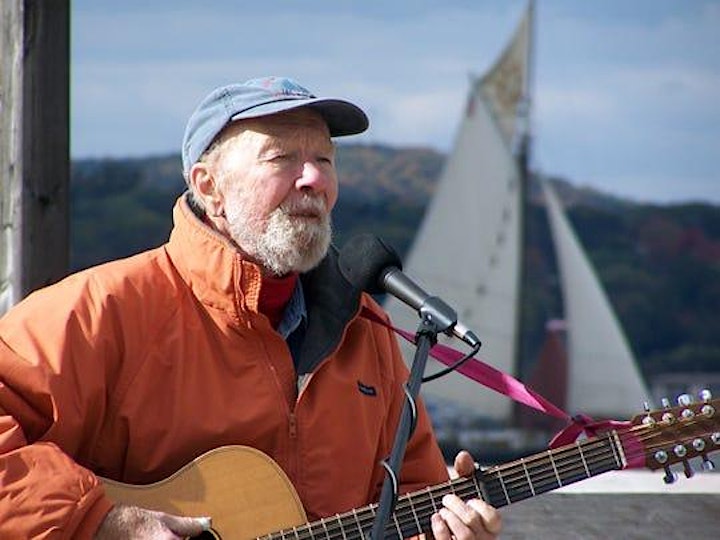 Pete singing, with the sloop Clearwater sailing on the now-cleaner Hudson River in the background.