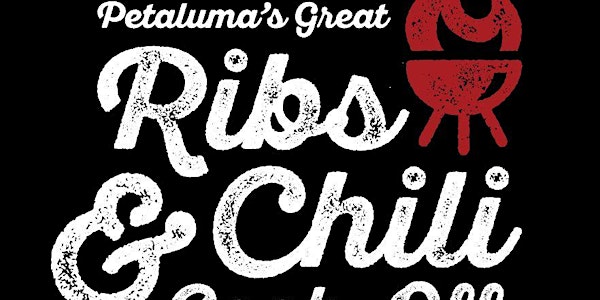 Petaluma's Great Ribs and Chili Cookoff - Competitor Sign-Up
This page is for competitors to submit their entrance fees for Petaluma's Ribs and Chili Cookoff (formerly Ribs for Kids)
By Active 20-30 Petaluma #30
Location
Herzog Hall 175 Fairgrounds Drive Petaluma, CA 94952
Refund Policy
Contact the organizer to request a refund.
Eventbrite's fee is nonrefundable.
About this event
Please select the desired entrance type and pay the corresponding competitor fee. There are three competitor fee options:
- Ribs Only: $150 ($125 if purchased before May 1st)
- Chili Only: $25
- Ribs and Chili: $150 ($125 if purchased before May 1st)
NOTE: This ticket is to only pay your entrance fee. You will still need to sign and submit the Competitor Entry Form, available here:
Ribs or Ribs and Chili:
https://docs.google.com/document/d/1hRmovJ_jmsL0cG3Eg_V2NaECyA1kgYez/edit?usp=sharing&ouid=115718219955489918073&rtpof=true&sd=true
Chili Only:
https://docs.google.com/document/d/1FUhmlG0VENGrzb-Bt66WVlIAb4dpjg-v8jSILlWFBL8/edit?usp=sharing
Please submit the form by email to petaluma2030r4k@gmail.com, or by mail to:
Petaluma Active 20-30 #30, PO Box 2764 , Petaluma, CA 94953
If you ended up on this page and are looking for tickets to attend the event, they are available here: https://www.eventbrite.com/e/petalumas-great-rib-and-chili-cookoff-tickets-557479765987
About the organizer
We have found that many young adults want to get involved in their community but have trouble finding a good outlet.If you live in the Petaluma area, we just may be answer.
Some benefits of joining Petaluma Active 20-30:
• Help local disadvantaged children. our help has never been needed more than it is now.
• Get involved in the community. One of the great things about Petaluma is the sense of community. Take an active role in making it better.
• Develop leadership skills. Take on a club...
(read more)
Mission:"One never stands so tall as when kneeling to help a child."