Pesticide Training in Spanish: Entrenamiento para tomar la Licencia de "Limited Commercial Certification Landscape Maintenance" ["Roundup" Certificate] and CEUs. Instructor Cesar Asuaje

Friday, August 28, 2015 from 7:45 AM to 5:00 PM (EDT)
Event Details
Para obtener estas planillas usted puede llamar a Cesar Asuaje al 561-233-1727. 
A quien le puede interesar:
A todas aquellas personas que estén trabajando o sean propietarios de una compañía de mantenimiento de áreas verdes (Landscaping).También está dirigido a personas que deseen aumentar conocimientos en principios básicos en Horticultura ambiental o jardinería comercial.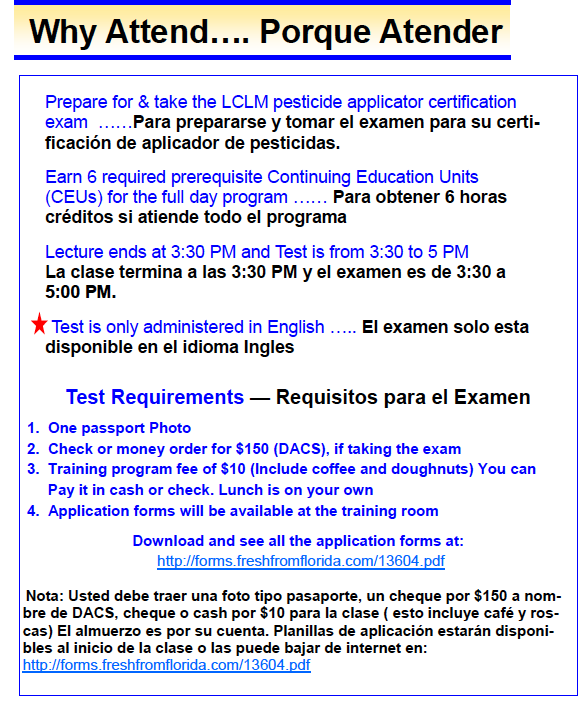 AGENDA:        7:30 to 7:55: Come early to have your paperwork checked.
COST: $10 Training program fee

8:00 to 8:50:   1 Core CEU. Licensing Requirements, Renewing with CEU's & Enforcement. 

9:00 to 9:50:    1 Core CEU. Safety Issues-Protecting the Applicator and the Environment.
10:00 to 10:50: 1 Category CEU. Principles of Weed Management and Common Weed ID.

11:00 to11:50:   1 Category CEU. Principles of Insect Management and IPM.

12:00 to 12:30:   Lunch is on your own
12:30 to 1:30:    1 Category CEU. Common Woody Ornamental Plant Diseases.

1:40 to 2:30:      1 CORE CEU. Interpreting Labels & Review for the Exam.

2:40 to 4:40      Exam: Limited Commercial Landscape Certificate test. Test is optional.
*** NOTE: For those taking the Limited Category Exam after the 6 hour class: You must have completed the DACS 13604 application form  will need your picture ( 1.5" x 1.5")  and check for $150) You may take the 80 question, multiple choice test (only offered in English) within a year ($150 each time) after this class or take the 6 hours over again if you wait more than a year. Please contact the Bureau of Entomology and Pest Control at (850-921-4177),  or us, for an application packet.


 Please register 3 days before class
 CEU's available (6 maximum):
3 each: 487 or 482 General Standards/Core; O&T Limited Urban Fertilizer; LCLM; LL&O and CPCO L&O

Have questions about Pesticide Training in Spanish: Entrenamiento para tomar la Licencia de "Limited Commercial Certification Landscape Maintenance" ["Roundup" Certificate] and CEUs. Instructor Cesar Asuaje?
Contact UF IFAS Extension Collier County
When & Where

UF/IFAS Collier Extension, Naples FL
14700 Immokalee Road
Naples, FL 34120


Friday, August 28, 2015 from 7:45 AM to 5:00 PM (EDT)
Add to my calendar
Organizer
UF IFAS Extension Collier County
University of Florida/IFAS Extension Collier County
The University of Florida's Institute of Food and Agricultural Sciences (UF/IFAS) is a federal-state-county partnership   dedicated to developing knowledge in    agriculture, human and natural   resources, and the life sciences, and enhancing    and sustaining the   quality of human life by making that information    accessible. While   extending into every community of the state, UF/IFAS has    developed an   international reputation for its accomplishments in teaching, research and extension.  Because of this mission and the diversity of  Florida's climate and agricultural commodities, IFAS has facilities   located    throughout  Florida. 
IFAS provides research and development for  Florida's agricultural, natural resources and related food industries, which in  2010 made value-added contributions of $108.7 billion to the gross domestic  product of the state economy.
Pesticide Training in Spanish: Entrenamiento para tomar la Licencia de "Limited Commercial Certification Landscape Maintenance" ["Roundup" Certificate] and CEUs. Instructor Cesar Asuaje