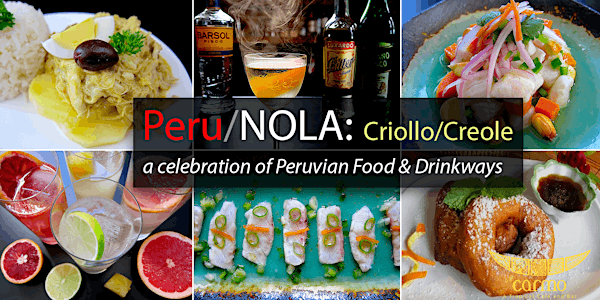 Peru/NOLA: Criollo/Creole
When and where
Location
Carmo 527 Julia Street New Orleans, LA 70130
Refund Policy
Refunds up to 7 days before event
Description
Featuring Peruvian Chef/Mixologist, Nico Vera
Born in Peru and based in San Francisco, California, Nico Vera is a food writer, photographer, mixologist and chef specializing in Peru's drink and food culture. This is the 4th in a series of classes and popup and "Spirited" dinners that Nico of Pisco Trail and Dana Honn of Carmo have collaborated on. For more information on Nico, please follow this link: http://www.piscotrail.com/
Peruvian Cooking Class & Pisco Cocktails Event — Friday August 24, 6:30 pm
In this hands-on cooking class you will prepare traditional seafood dishes from Peru, NOLA style, paired with Pisco cocktails: a Pisco Negroni and a Pisco Sour variation. After enjoying each dish and cocktail during the class, you'll sit down for a Sudado de Pescado fish dinner with a Chilcano pisco highball.
Oysters a la Chalaca (steamed oysters with spicy salsa criolla)
Ceviche Classico (fish, salt, limes, onions, hot peppers, sweet potato, cilantro)
Tiradito Nikkei (ginger, garlic, celery, jalapeño, habanero, lime, sesame oil, scallions)
Sudado de Pescado (fish, red onions, tomatoes, aji amarillo, fish stock, rice, salad)
Negroni Blanco de Pisco (pisco, carpano bianco, luxardo bitter)
Pisco Sour Nikkei (pisco or syrup infused with nori)
Chilcano (pisco, lime, syrup, ginger ale)
Peruvian Criollo Dinner — Saturday August 25, 7:30 pm
Discover Peru's culinary creole culture, and its connection to NOLA's foodways, in this 5-course dinner paired with Pisco cocktails. Start with an oyster dish paired with a Pisco Negroni, then a Japanese-Peruvian Nikkei ceviche with a Pisco Sour, followed by a pickled fried fish with a Pisco highball, leading to a traditional pulled chicken stew with aji amarillo and paired with wine. The evening will end with picarones, sweet potato fritters made popular by the Afro-Peruvian community.
Oysters a la Chalaca (steamed oysters with spicy salsa criolla)
Ceviche Nikkei (ginger, garlic, celery, jalapeño, habanero, lime, sesame oil, onions, cilantro)
Fish Escabeche (fried fish, sweet potato rounds, pickled sauce with onions, carrots, celery)
Aji de Gallina (with potato rounds, rice, side salad)
Picarones (sweet potato fritters with spiced syrup)
Negroni Blanco de Pisco (pisco, carpano bianco, luxardo bitter)
Pisco Sour Nikkei (pisco or syrup infused with nori)
Chilcano (pisco, lime, syrup, ginger ale)