About this Event
This is a standing show with an open floor. To request seating or other access accommodations, please go to our Access page.
General Admission tickets are available online, by phone, Electric Fetus, and at The Cedar during shows.
Two-Show Pass admits you to both Friday, February 28th and Saturday, February 29th, 2020 Pert Near Sandstone's Winter String Band Gathering concerts at The Cedar at a discount! You can find those, here.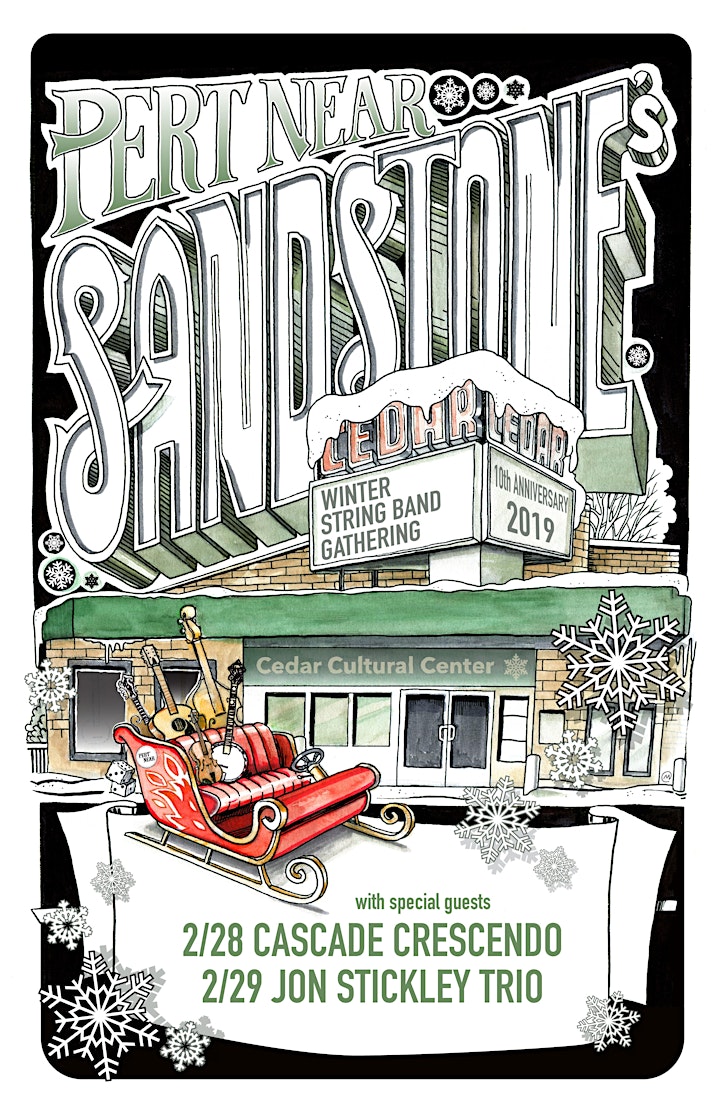 About Pert Near Sandstone
It was roughly a decade ago that Pert Near Sandstone first gathered around a microphone in a Minneapolis basement to record their debut album, 'Up And Down The River.' So much has happened since then: highs and lows, personal struggles and artistic triumphs, new faces and new sounds. The winding road they've traveled over the years makes it all the more meaningful for the band to come full circle on their dazzling new release, 'Discovery Of Honey,' which finds them once again recording in a basement and reuniting with founding member Ryan Young, who's spent the past seven years touring the world playing fiddle with bluegrass stars Trampled By Turtles.
"Besides playing with us, Ryan was also our first recording engineer back when we were just starting out," says mandolin/fiddle player Nate Sipe. "Working with him again on the new album, we were able to recapture that feeling of lightning in a bottle from the early days."
"We all learned how to do this together," adds banjo player Kevin Kniebel. "We have more tools in our kit now and we've evolved as musicians and songwriters, but what hasn't changed is the chemistry between us."
That chemistry has been abundantly clear from the very first days of Pert Near Sandstone, when the band—whose current lineup features Sipe and Kniebel, founding guitarist J Lenz, bassist Justin Bruhn, and clog & fiddle player Matt Cartier—burst onto the American roots music scene in a flurry of fiddling, picking, and stomping. They followed their debut record with a string of four critically acclaimed albums that had No Depression hailing them as "stellar" and The Minneapolis Star Tribune praising their songs as "masterfully and jubilantly plucked." NPR's Mountain Stage celebrated the band's "Midwestern stamp on Appalachian [sounds]," while The Current described their live performances as "a frenzied string shredding spree that takes audiences under its spell."
"People get really wrapped up in genre and labeling," explains Kniebel, "but Blue Ox allows us to showcase all these different aspects of roots and American music that are really important to us and to the fabric of folk music today."
Musical fearlessness is part of what makes the group so difficult to pin down and also such perfect stewards for string band music in the 21st century. The sweetest honey awaits those brave enough to risk being stung, and the band reaps the rewards of their musical courage here in spades. 'Discovery Of Honey' is Pert Near Sandstone's finest work to date, and that's buzz you can believe in.
Pert Near Sandstone performing "Animal Instinct" courtesy of JamGrass TV's YouTube channel.
About Cascade Crescendo
Cascade Crescendo is a high-energy bluegrass, jamgrass and Americana band hailing from Portland, Oregon. The group formed in 2013 with original members Hunter White (lead vocals, guitar), Taylor Skiles (upright bass) and Aden Beck (mandolin, vocals). Duluth, Minnesota's native son Harrison Olk (banjo, vocals) joined the band in 2015. Cascade Crescendo's debut album, "Caught in the Rain," appeared in 2016 to warm reviews. The group has been touring throughout the United States since 2017, expanding their fanbase well beyond their Pacific Northwest home. Cascade Crescendo has performed at festivals across the country including Boats and Bluegrass in Minnesota, YarmonyGrass in Colorado, River City Roots Festival in Montana and Northwest String Summit in Oregon, among others.
In February of 2019, Cascade Crescendo released their second full-length album, "Chasing the Sun." The album features returning guest performances from Allie Kral (fiddle, Yonder Mountain String Band) and Nick Werth (drummer, Galaxe; formerly of Yak Attack), as well as dobro work from Anders Beck (Greensky Bluegrass) on the single, "Every Little Thing". Cascade Crescendo has toured throughout 2019 in support of their new album with major festival appearances including Bender Jamboree and Blue Ox Music Festival.
Cascade Crescendo performing "On the Other Side" courtesy of Cascade Crescendo's YouTube channel.
Performers
Date and Time
Location
Refund Policy