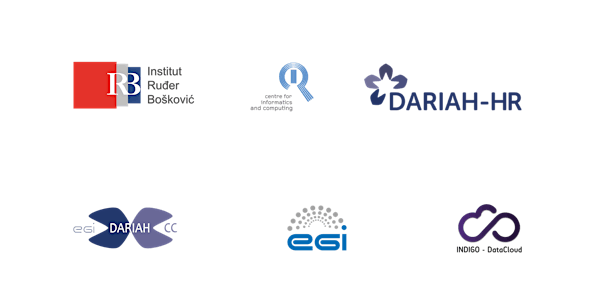 Perspektive digitalne humanistike u europskom znanstvenom oblaku
Description
U sklopu dvaju europskih projekata iz programa Obzor2020 – EGI-Engage i Indigo-DataCloud – Centar za informatiku i računarstvo, Instituta Ruđer Bošković, sudjeluje na razvoju novih računalnih alata za brzu i jednostavu pohranu, pretragu i analizu različitih tipova digitaliziranih kolekcija podataka iz područja digitalne humanistike. Cilj projekata je unaprijediti postojeća i potaknuti nova istraživanja iz područja digitalne humanistike uz pomoć novih računalnih tehnologija, kao što je računalni oblak (engl. Cloud).
Cilj ove radionice je predstaviti nove računalne alate i usluge, razvijane tijekom ova dva europska projekta. Na radionici će se polaznici upoznati s DARIAH znanstvenim portalom, a moći će se i pobliže upoznati te isprobati računalne alate razvijene za potrebe digitalne humanistike. Za kraj radionice održat će se diskusija o mogućnostima primjene demonstriranih alata i tehnologija u radu i istraživanjima polaznika, njihovim potrebama te budućim suradnjama DARIAH-HR zajednice u digitalnom europskom istraživačkom prostoru.
Program:
10:00 – 10:15 Uvodni govor – prof.dr.sc. Karolj Skala
10:15 – 10:30 Europski istraživački prostor i digitalna humanistika – dr.sc. Davor Davidović
10:30 – 11:15 Hands-on: Znanstveni portal za DARIAH zajednicu – dc.sc. Davor Davidović, Eva Cetinić
11:15 – 11:30 Pauza
11:30 – 12:15 Hands-on: Pohrana, pretraga i analiza digitalnih sadržaja – Eva Cetinić, dr.sc. Davor Davidović
12:15 – 13:00 Panel diskusija o budućnosti i potrebama digitalne humanistike u Hrvatskoj – prof.dr.sc. Karolj Skala (moderator)
Contact:
Davor Davidović
davor.davidovic@irb.hr
Organiser of Perspektive digitalne humanistike u europskom znanstvenom oblaku
Scientific research, development and maintenance of the infrastructure, technology and logistics for contemporary multidisciplinary (RBI) and multi-institutional (global) scientific research, based on modern computer science, technologies, informatics, which have resulted in the development of eScience technologies on the basis of Science Information Communication Technology—ICST.