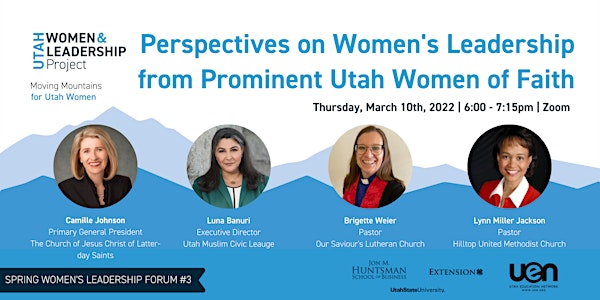 Perspectives on Women's Leadership from Prominent Utah Women of Faith
The UWLP invites you to join us for our third Spring Women's Leadership Forum focused on hearing from prominent Utah women of faith.
About this event
The Utah Women & Leadership Project invites you to join us for our third Spring Women's Leadership Forum.
Utah is home to many prominent women leaders within a variety of faith traditions. This Forum will bring together four of these individuals to discuss their perspectives on women's leadership and why, where, and how women today are needed to influence, impact, and lead in all settings. They will also discuss how girls, young women, and women can prepare now to become leaders themselves. Dr. Susan R. Madsen, founder of the Utah Women & Leadership Project, will moderate this engaging panel of community leaders. Come prepared to ask questions and to listen and learn from these influential women! This event is open to all girls/women and those who influence them (this includes men too).
Sponsors: Jon M. Huntsman School of Business and Extension at Utah State University & Utah Education Network (UEN)
Panelists
President Camille N. Johnson is the 14th General President of the Primary for the Church of Jesus Christ of Latter-Day Saints. Camille Neddo was born September 12, 1963, to Hal and Dorothy Neddo in Pocatello, Idaho, USA. She married Douglas R. Johnson on July 31, 1987 in the Salt Lake Temple. They raised their family in Salt Lake City and have three sons and five grandchildren. She graduated from the University of Utah in English in 1985 and from the University of Utah S. J. Quinney College of Law in 1989. She practiced law for nearly thirty years at a Salt Lake City law firm where she served in firm leadership including as the firm's president. Camille and her husband served as Mission Leaders for the Church of Jesus Christ of Latter-Day Saints in Arequipa Peru from 2016 – 2019.
Reverend Brigette Weier is an ordained pastor in the Evangelical Lutheran Church in America and currently serves the congregation of Our Saviour's Lutheran Church in Holladay, Utah. She holds a bachelor's degree in education and a Master of Divinity. Before her call into ordained ministry, Rev. Weier was an early childhood professional as well as a social worker. During these years she founded an early childhood educational program, a faith resource website, and a worshiping community for people with cognitive disabilities and their families. Rev. Weier has served on a variety of community boards and committees in various states, such as an interfaith community advocacy group in Colorado, Holliday Interfaith Council, Family Promise Salt Lake, United Today Stronger Tomorrow, to name a few. She also serves her denominational body on committees such as campus ministry and faith formation, in addition to being a keynote and workshop leader for conferences. Rev. Weier is an avid distance runner, loves hiking the gorgeous Utah terrain with her husband, Mike, and the challenge of puzzles. She and her spouse have two grown children who inspire her, teach her, and give her hope every day, and one deceased child who is loved and missed.
Luna Banuri, Executive Director of the Utah Muslim Civic League, is a seasoned consultant with 25 years' experience in non-profit and for-profit sectors in both strategy, and community and organizational development. Banuri has been recognized for advocating and fostering social justice policies based on diversity and inclusion. Her legal education and expertise evolved into a distinguished consulting practice for organizations such as UNDP, UNICEF, ADB, and World Bank. She has held multiple leadership roles managing corporate multicultural/inclusion initiatives, and was appointed to the Mayor of Salt Lake City's Human Rights Commission in 2018 and to the Governor of Utah's MLK Commission on Human Rights in 2019. She is founder and director of TeleTaleem, a nonprofit enterprise that utilizes technology, innovative approaches, and partnerships to solve the toughest global development challenges in education in her native country of Pakistan. Luna is a fellow of the Salt Lake Chamber of Commerce "Leadership Utah" program and is a graduate/fellow of the American Muslim Civic Leadership Institute at USC. Her greatest passion, though, remains her three children who are currently pursuing college degrees outside of Utah.
The Reverend Lynn Miller Jackson has been in ministry with the Mountain Sky Conference of the United Methodist Church since 2014. In her initial appointment, Pastor Lynn became the first female Senior Pastor of Scott United Methodist Church in Denver, Colorado. In 2019, Pastor Lynn became the first African American and first female Senior Pastor of Hilltop United Methodist Church in Sandy, Utah. She continues to seek and support many partnerships and serves on many boards, coalitions, and committees locally and nationally. For example, Pastor Lynn serves on the Mountain Sky Conference Leadership Development Team, the Racial Justice Ministries and Movement Taskforce, the Board of Ordained Ministry as liaison, and she Co-Chairs the Residency in Ministry Team. Prior to ministry, Pastor Lynn had a successful career in commercial property management. Pastor Lynn is married to Mark Jackson and share a blended family of five adult children, four grandchildren, and a dog named Griffon. She earned a Bachelor of Arts degree in Economics and Mathematics and a Master of Divinity degree with concentrations in Peace, Justice and Conflict Transformation, Christian Education, and Women, Theology and Ministry.