Perspectives on DNA and Adoption

Saturday, September 29, 2018 from 1:00 PM to 3:00 PM (PDT)
Event Details
Perspectives on DNA and Adoption 
A Panel Discussion  
Saturday, September 29, 2018, 1:00PM - 3:00PM
DNA Testing is transforming genealogical research and is having a huge impact on families with adoptions.  Our Five panelists' perspectives reflect adoptees, parents of adopted children, and consultants, including a ProGenealogist from Ancestry.com. They will share their experiences with different research methods and from different cultures.  Learn about using this advancement for genealogy, as well as guidelines and personal insights for dealing with the emotional and ethical issues that arise. The panel will be facilitated by Linda Harms Okazaki.  
OUR PANEL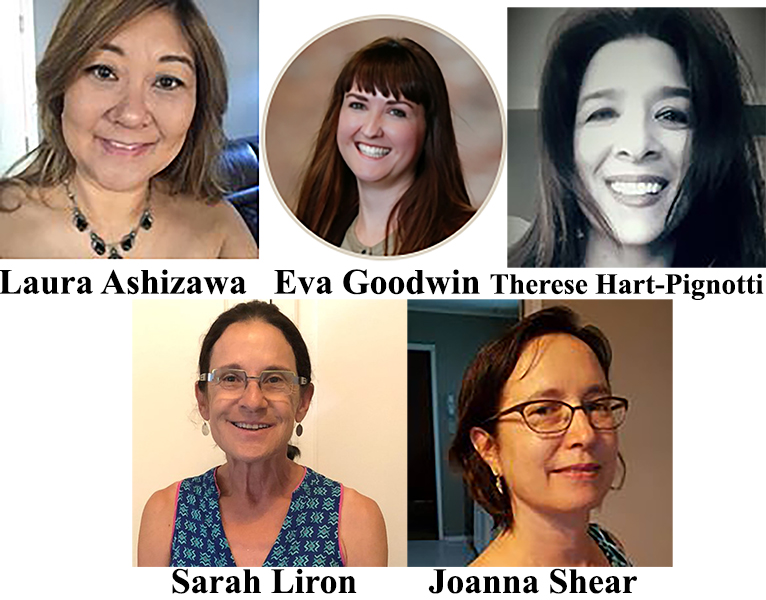 Laura Ashizawa was raised knowing she and her brother were adopted. When a family tree homework project stalled with their grandparents, Laura began learning about the family's genealogy. Sifting through genealogical records online, Laura found her birth mother and then located her birth father through DNA and a connection with two paternal relatives.  
Laura studied at Sacramento State and California State University, Northridge and was a special education teacher before moving to Pleasanton and now is an Independent Special Education Consultant.
Eva Goodwin grew up in Upstate New York and is a graduate of Mount Holyoke College. She has had a life-long fascination with genealogy and began documenting her own family's genealogy as a teenager. She lived in Munich, Germany, for two years and has lived in the San Francisco Bay Area for almost a decade.
Working professionally since 2012, Eva specializes in breaking down ancestral "brick walls" and investigating long-held family mysteries. Since joining AncestryProGenealogists in January 2015, Eva has also done a significant amount of genetic genealogy research, including adoptions, and she has contributed to research for the Who Do You Think You Are? TV series. 
Therese Hart-Pignotti is a fourth generation Walnut Creek-er and the adopted only daughter of a Marine Corps Colonel.
Therese has a BA's in Communications from JFK University and Business Mathematics from the University of South Australia.  Therese has worked as a paralegal for over 20 years. There she develops family pedigrees for her firm's attorney who serves as an expert witness. on division of property without a known heir.
Sarah Liron was adopted at birth through a closed adoption at a Jewish adoption agency in New York City. Through contacts in adoption circles she was able to identify and locate her birthmother and then embarked on a search for her birth father. After traditional search methods yielded no results, she employed DNA testing. Since then she has identified hundreds of people in her paternal family tree and connected with scores of cousins.
Sarah began her career as a CPA and later became a genetic counselor after obtaining her MS in genetic counseling from UC Berkeley.
 Linda Harms Okazaki is a fourth-generation San Franciscan with a background in education. She is a member of the Association of Professional Genealogists and the Genealogical Speakers Guild. Linda currently serves as past President of the California Genealogical Society.
Her column, Finding Your Nikkei Roots, is published bi-monthly in the Nichi Bei Weekly. She is a contract researcher at AncestryProgenealogists, and in 2015, she and her husband founded the genealogy research company, Linda's Orchard. An active member of the genealogical community, she is passionate about teaching people of all ages to research, document, and share their personal family histories.
Joanna Shear began researching her family history in 2008 and was soon hooked on genealogy. Traditional research uncovered living family members thought lost in the Holocaust, while DNA testing led to ancestral villages for immigrant great grandparents. She has experienced the powerful influence that knowing details of family history can make on sense of identity for herself and through work for others. She is an adoptive mother in open adoption.
Joanna is a member of APG, NGS, and CGS. She is a graduate of Boston University's CPE Genealogical Research Certificate Program. She holes a B.S. in physics and a M.S. in operations research. 
REGISTRATION INFORMATION:
Pre-registration is required. Class size is limited so register early. 
CGS members enjoy free admission.
Non-member admission fee is $45.00* and can be applied towards a new one year CGS membership the day of the class.
  *Registration fee is non-refundable.
Save This Event
When & Where

California Genealogical Society & Library
2201 Broadway, Suite LL2
Oakland, CA 94612


Saturday, September 29, 2018 from 1:00 PM to 3:00 PM (PDT)
Add to my calendar
Organizer
   Connecting people to their diverse family heritage

Whether you have Gold Rush ancestors or have no family connection to California, you will find extensive support for your genealogy research at the California Genealogical Society (CGS) in Oakland. The society offers research services, online indexes and databases, and a research library housing over 38,000 reference materials from California, the United States, and around the world. CGS is a 501(c)(3) nonprofit corporation. The library is conveniently located in Uptown Oakland, one block north of the Paramount Theatre, at 2201 Broadway, Suite LL2. We are three blocks from the 19th Street BART Station.
Phone: (510) 663-1358 
Non-Discrimination Statement
The goal of the California Genealogical Society is to connect people to their family heritage and to promote a spirit of diversity and inclusivity for our members and patrons. The California Genealogical Society does not tolerate discrimination in any form. 
Courtesy Request
In order to maintain a welcoming and healthy environment, please refrain from using scented products at CGS events or in the library.
Photography Notice
California Genealogical Society (CGS) may take photographs, audio recordings, and video footage in our library, classrooms or events for historical records or publicity purposes.  If you do not want to be photographed or filmed, it is the individual's responsibility to 'opt out' by notifying the event leader or photographer at the event.