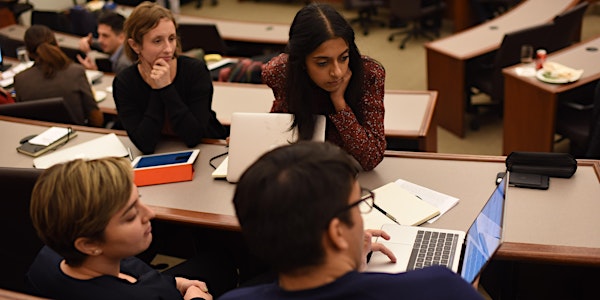 Perspectives in Social Entrepreneurship: Market Mechanisms
By Rustandy Center for Social Sector Innovation
Date and time
Thursday, October 17, 2019 · 11:45am - 1:15pm CDT
Location
Harper Center 5807 S. Woodlawn Ave. Room C10 Chicago, IL 60637
Description
Are you interested in learning how to apply business fundamentals to create social impact? Our event series, facilitated by University of Chicago faculty members, is designed to offer research-based insights on topics ranging from market-based mechanisms to large-scale data and machine learning that can be applied to social impact work within education, healthcare, economic development, and more. Participation in this series will be considered for anyone interested in applying for the John Edwardson, '72, Social New Venture Challenge (SNVC) startup competition.
This session will be led by Professor Canice Prendergast who will discuss market-based mechanisms to address social problems.
Session 1

Market-based Mechanisms to Address Social Problems with Professor Canice Prendergast

October 17, 11:45 a.m. - 1:15 p.m., Harper Center, C-10
---
Session 2
Big Data and Machine Learning with Professor Sendhil Mullainathan and Harris Professor Jens Ludwig
October 31, 11:45 a.m. - 1:15 p.m., Harper Center, C-10
---
Session 3

Operations Management to Drive Social Impact with Professor Baris Ata
November 6, 6 - 7:30 p.m., Booth 455, Room 130
---
Session 4

Startup to Scale with Expert in Residence Joe McCannon
November 13, 6 - 7:30 p.m., Booth 455, Room 130
---
Session 5
Exploring Behavior and Behavior Change with Professor Anuj Shah
November 21, 11:45 a.m. - 1:15 p.m., Harper Center, C-10
About the organizer
The Rustandy Center for Social Sector Innovation is the destination at the University of Chicago Booth School of Business for people committed to helping solve complex social and environmental problems. As Chicago Booth's social impact hub, the Rustandy Center offers hands-on learning opportunities, supports innovative courses, and pursues research—all with the goal of developing people and practices with the potential to solve the world's biggest problems.