Sales Have Ended
Ticket sales have ended
Professional Development will never be the same, it's all about what you do in your profession.
Sales Have Ended
Ticket sales have ended
Professional Development will never be the same, it's all about what you do in your profession.
Description
TELL YOUR STORY (Click Here For Video)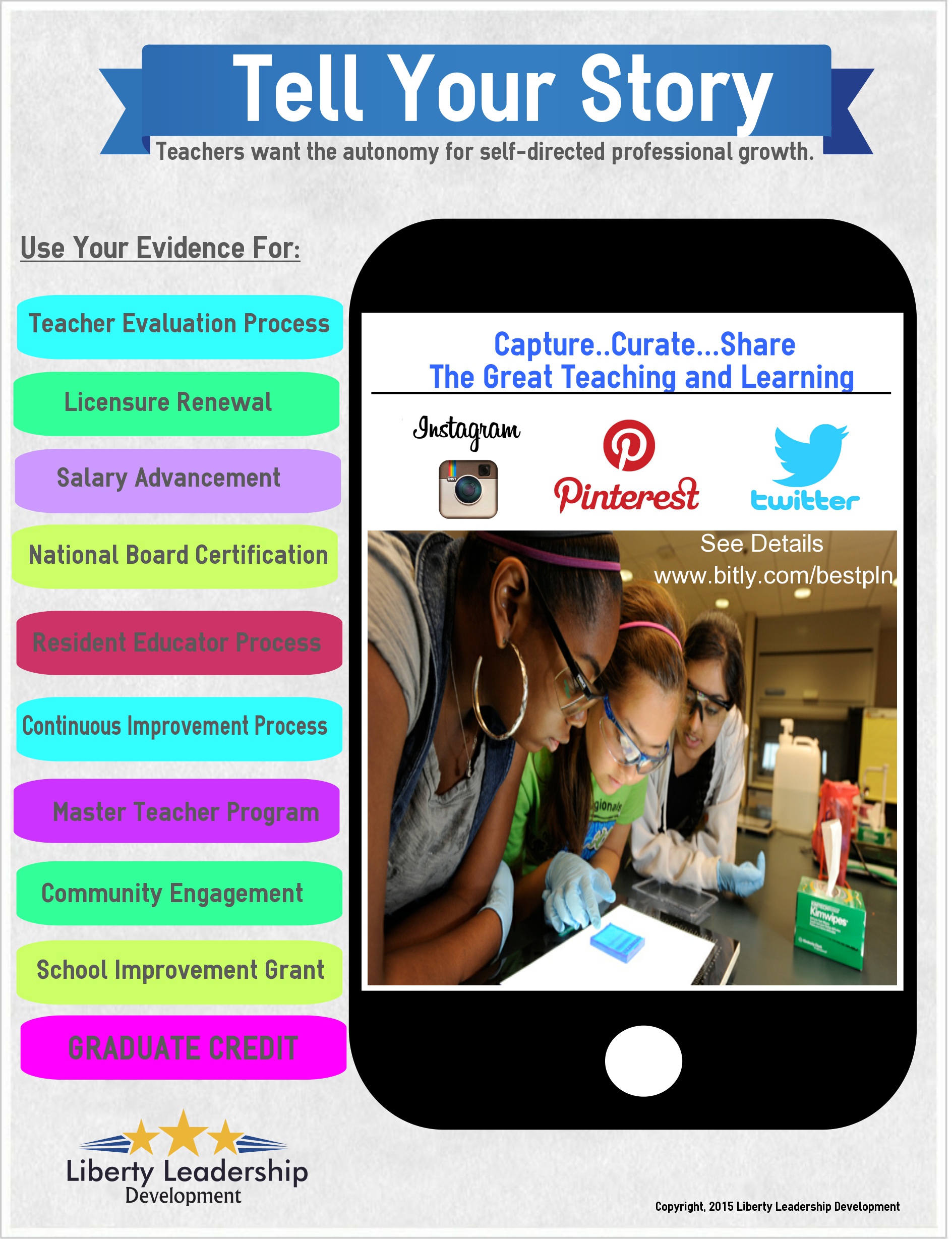 Tell Your Story is a two-day individualized professional development process that focuses on learning in the classroom. Through the use of digital technology (Twitter, Instagram, Pinterest, Digital Camera, etc.), teachers will be able to capture, curate and share meaningful classroom teaching and learning practices, professional conferences or workshops. Educators are becoming Edutographers.
Educators will be able to capture the evidence for their evaluation process; earn low-cost graduate credit toward licensure renewal or salary advancement; and meet their important community engagement requirements. Tell Your Story Professional Development is about teachers teaching, not gurus preaching. This innovative professional development process is squarely focused on the students' learning tasks and what is done in the classroom by students. Tell Your Story is more cost-efficient, time saving, empowering and engaging for teachers. Professional Development is completed during the workday, by capturing what teachers do in the classroom. Purchase a low-cost ticket and complete your self-directed professional development process in as quickly as two-days or in two weeks. You are in control of your professional growth time and process. Upon the successful purchase of the "Tell Your Story" ticket, step-by-step detailed information will be emailed to the teacher. Once you successfully complete the course, you will be awarded one graduate credit.
-"Tell Your Story or someone else will tell your story for you."
Organizer of Personalized PD - Tell Your Story
Libertly Leadership provides Personalized PD as a way for learning teams to connect anytime to high quality self-directed professional development. The commodity of "time to collaborate" seems to be the one item that all learning teams need and want the most. Personalized PD provides teachers with the autonomy for self-directed growth. Teachers engage in self-directed PD that matters the most to them.