| | |
| --- | --- |
| Personalized PD - Tell Your Story | |
Event Details
Personalized PD is about teachers having the autonomy for self-directed professional growth, while using digital devices such as cell phones, tablets or laptops. Through the use of Personalized PD, teachers will capture, curate and share the great teaching and learning occurring in their classrooms, breakout sessions or conferences. Teachers can take pictures/videos through the use of Twitter, Instagram, Pinterest or Remind.
Course requirements for graduate credit:
Capture a minimum of 64 pictures/videos of the learning process

Complete a self-assessment quiz

Submit your time log (i.e. 8am-3:30 pm)
This is the most meaningful professional development opportunity available because you have control of the process. Once you sign up, all of the course details will be emailed to you.
Key Benefits:
Self-directed and self-paced

No additional meetings required before, during or after the course

100% Job-embedded 

Share your work with parents and colleagues 

Use social media (Pinterest, Twitter, Instagram or Remind)

Autonomy to align your Personalized PD with teacher evaluation process, district and school initiatives 

Graduate credit is awarded within 24-48 hrs of course completion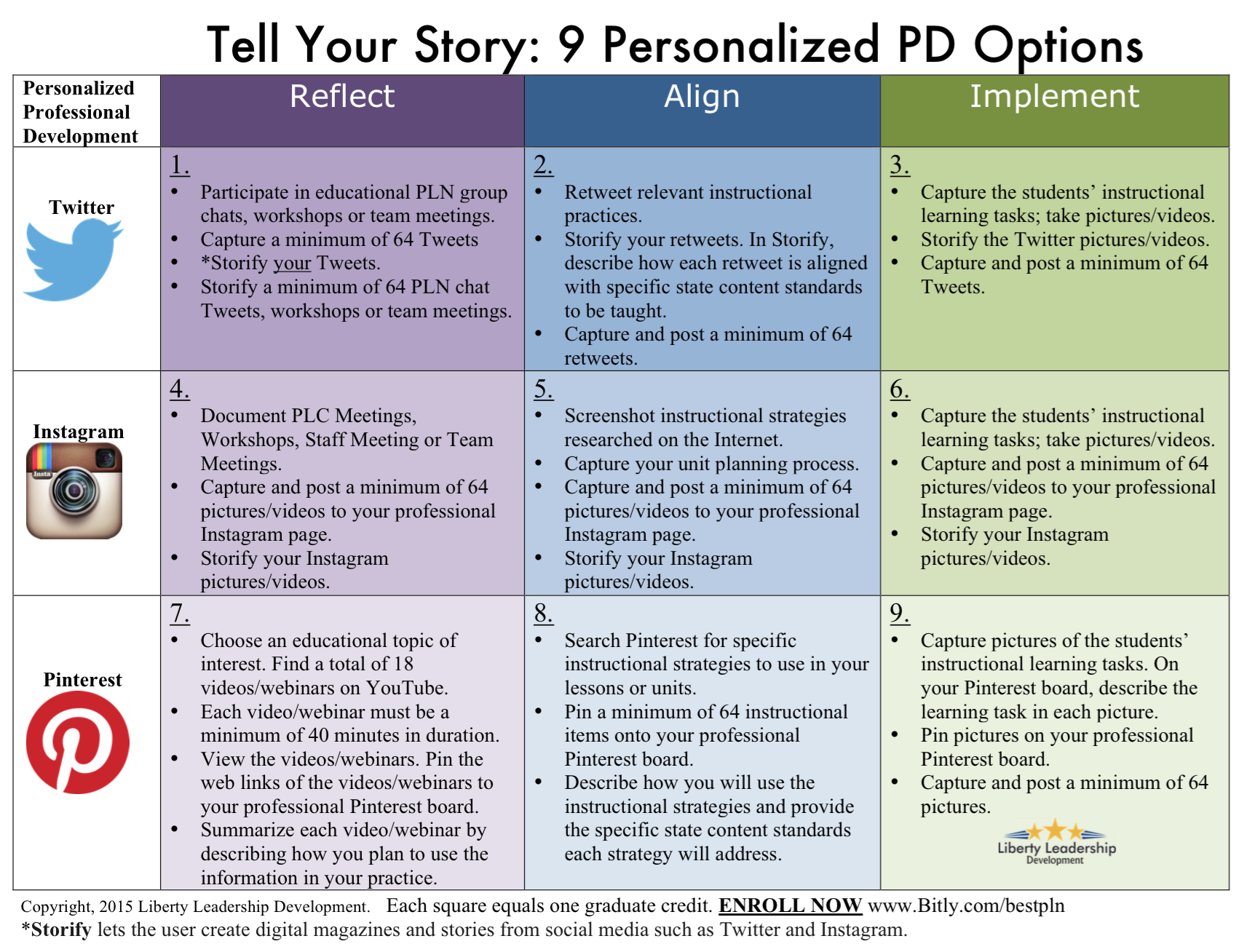 When & Where
Your classroom



Organiser
Libertly Leadership provides Personalized PD as a way for learning teams to connect anytime to high quality self-directed professional development. The commodity of "time to collaborate" seems to be the one item that all learning teams need and want the most. Personalized PD provides teachers with the autonomy for self-directed growth. Teachers engage in self-directed PD that matters the most to them.