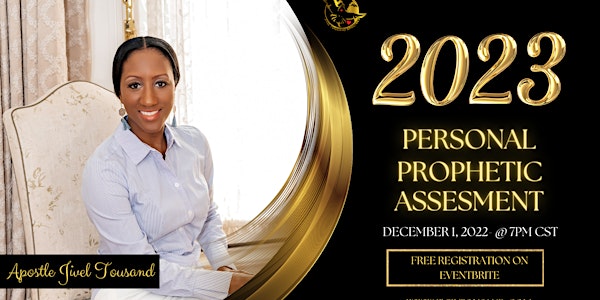 Personal Prophetic Assessment
The Holy Spirit longs to give you insight w/ instruction. Get a jump on the NEW YEAR through supernatural revelation provided prophetically.
Refund Policy
Contact the organizer to request a refund.
Eventbrite's fee is nonrefundable.
About this event
Join me for insight for the year 2023.
Click Here to join me LIVE on Facebook
SUBSCRIBE TO OUR YOUTUBE CHANNEL
The new year is fast approaching and God wants you to know what to expect. What can you look forward to? What should you look out for? What does God expect from you specifically and how do you align yourself with His will in order to have a fruitful year? All of these questions and more will be addressed and answered LIVE on Facebook and YouTube, Thursday, December 1, 2022, starting at 7:00pm. In accordance with Acts 2:17, Apostle Jivel Tousand will partner with the Lord to provide each listener with a personal prophetic assessment for 2023.
Come expecting the Holy Spirit to work through Apostle Jivel to give you spiritual insight, prophetic revelation, and divine direction in an effort to help push you towards your God-ordained purpose.
THIS IS AN EVENT YOU CAN'T AFFORD TO MISS!!!
Why Should I Donate?
Your donation is for you. As a bible-based ministry, we understand the power within the weight of sowing a seed. According to the word of God, when you sow a seed into fertile soil, it breeds blessings of abundance in multiple areas of life. The bible tells us that when we give, God not only gives back what we have sown, but He multiplies it to the point that the sower will not have room enough to hold everything that God has given (see Luke 6:38).
Genesis 26:12 (KJV) states, "Then Isaac sowed in that land, and received in the same year an hundredfold: and the LORD blessed him." Sowing is a form of showing honor to the Holy Spirit for what He has done (Proverbs 3:9). When you honor the Prophet that God is using to speak into your life, you are showing honor to Him. We encourage you to seek the Lord and ask Him how much you should give. Then, give whichever amount you feel with joy and expectation, knowing that God is going to use your gift to not only increase you, but to also do great things within the body of Christ.
"Every man according as he purposeth in his heart, so let him give; not grudgingly, or of necessity: for God loveth a cheerful giver." - 2 Corinthians 9:7 (KJV)