Refund policy
Contact the organizer to request a refund.
Eventbrite's fee is nonrefundable.
IMPROV PLAYGROUND w/ Adam Rudder Interactive series that facilitates self mastery & boosts confidence using improvisation practices
About this event
ONLINE IMPROV PLAYGROUND CLASS w/ Adam Rudder
This is an interactive virtual PLAYshop that facilitates personal growth and boosts confidence, using improvisation practices and purposeful play. Improv Playground workshops are designed so that participants can think quicker on their feet and be more effective in social situations.
This series focuses on personal growth through experiential games, group exercises and fun interactive activities that are designed to help boost self confidence, increase creativity and add more laughter into your life.
No previous experience required. Must be 17 years and up for this course.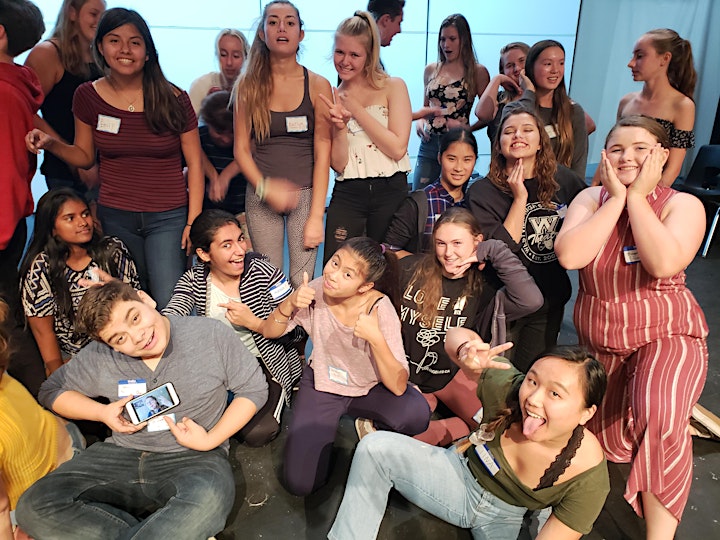 Students will learn the art of improvisation while partaking in fun, collaborative group exercises, skits, games and other artistic activities such as storytelling, drawing and creative problem solving... all from the privacy and comforts of their own home.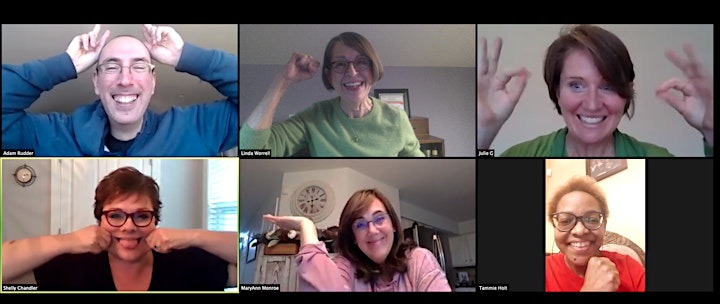 In this COURSE, students will get the opportunity to think quicker on their feet and develop deeper levels of self trust as they engage in fun, non-intimidating exercises that include theater exercises, art and the freedom to tap into their inner silly.
WHY IMPROV?
Improv is the ultimate art of creating on the spot and can benefit participants by giving them increased levels of confidence and providing the same tools for trust and collaboration that performers need to get on stage every day. Plus it is fun fun FUN!!!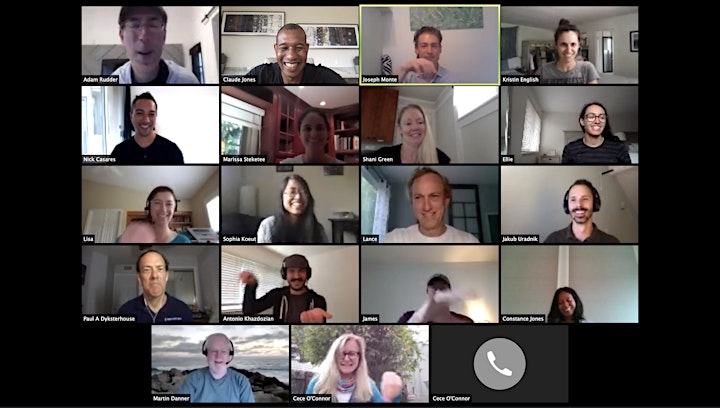 WHAT THE WORKSHOP LOOKS LIKE:
Workshops are taught online through experiential exercises, interactive improvisations, interactive multi-media, and real-life simulations. Improv Playground is presented online on Zoom, where participants will explore collaborative movement, short skits, games and creating "in the moment", all while having fun learning the fundamentals of improv in a playful and safe environment!
Students are encouraged to use either a desktop or laptop with a hands free web camera.
7 KEY TAKE AWAYS:
During this program, you will utilize purposeful play, experiential group activities and interactive games to help you learn skills and techniques that will:
 Examine habits & default responses & develop new ways to approach a situation
 Gain more confidence in using your voice on the spot (& on camera)
 Learn how to make mistakes...constructively
 Boost your ability to think quicker on your feet
 Spark creativity & more easily tap into your flow state
 Enhance communication and active listening skills
 Support you in feeling less stressed and less panicked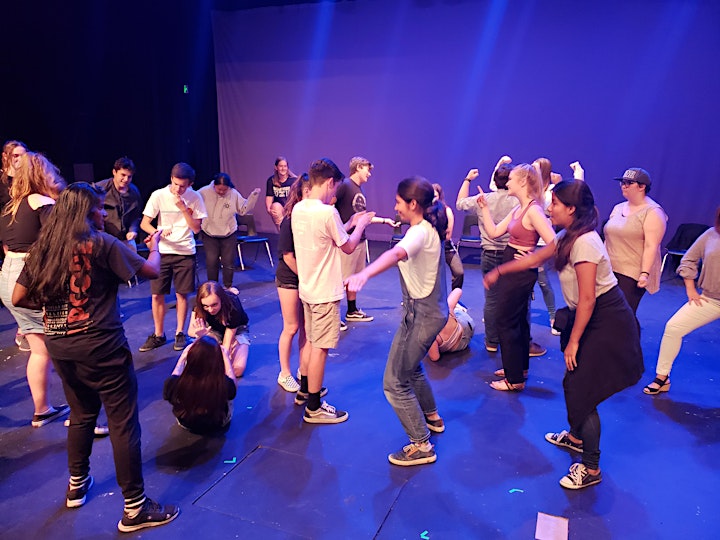 BENEFITS: Exercises are designed to help participants:
 Think quicker on their feet
 Increase self-confidence
 Improve communication
 Gain comfort in social settings
 Reduce stress
 Overcome fears of public speaking
 Think outside the box
 Become better listeners
 Embrace change
 Enhance creativity
 Improve leadership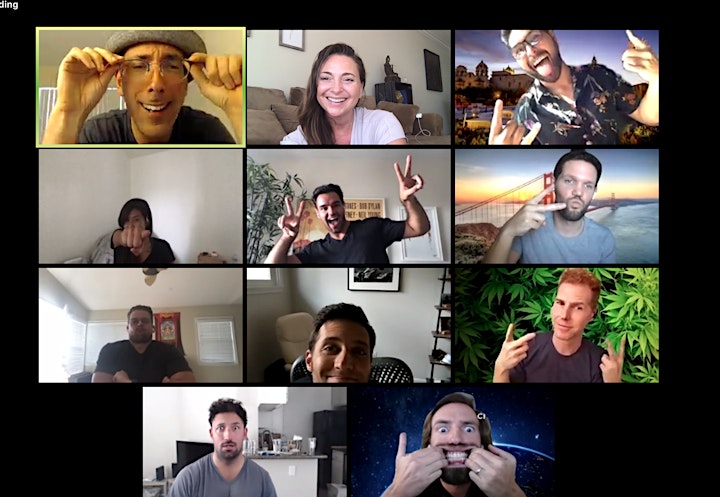 CLASS DETAILS:
This is a COURSE THAT MEETS 4 TIMES (Four 90 minute sessions)
DATES: Wednesdays Aug 11th, 18th, 25th, & Sept 1st
The course will take place on Zoom
Zoom details (link & login info) will be provided upon registration. We will send the login info to the email address connected to your Eventbrite account.
No previous experience required.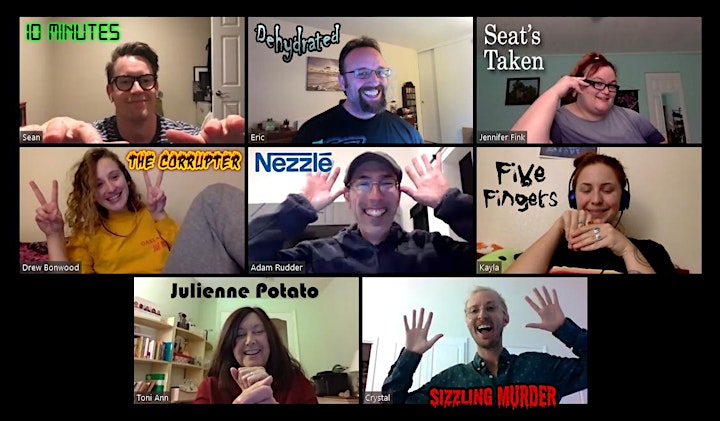 IMPORTANT:
We will email the Zoom course link and login info to the email address that registers for the course (aka the email address associated with your Eventbrite account). It is YOUR responsibility to check that account for the login info
You may also email us at adam@improv4companies.com (SUBJECT: "VIRTUAL IMPROV CLASS") If you wish to provide us with a different email correspondence.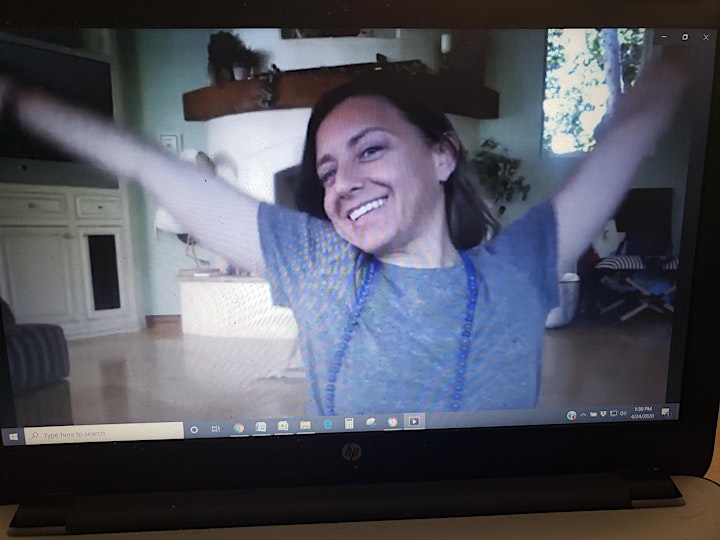 WHAT YOU NEED FOR THE COURSE:
GUIDELINES:
1. Please be in a private, well-lit room, on a laptop or desktop, with hands free web cam.
2. Please enter the Zoom portal solo (aka don't share the screen with a buddy)
3. If you are in the same home/location as another, please be in different rooms, as there will be distortion and disruptive feedback from the audios on two computers.
4. Upon entering, please change your view setting on Zoom to GALLERY view (important).
5. Make sure you have a working web camera and microphone.
6. Please login to the assigned Zoom portal 5-10 minutes before class begins to make sure your camera and microphone are working properly.
7. Please arrive on TIME!!! :) ( we cant start to everyone is online with us).
8. Being on a desktop or laptop is ideal, as phone access my limit a student's ability to partake in all of the class activities.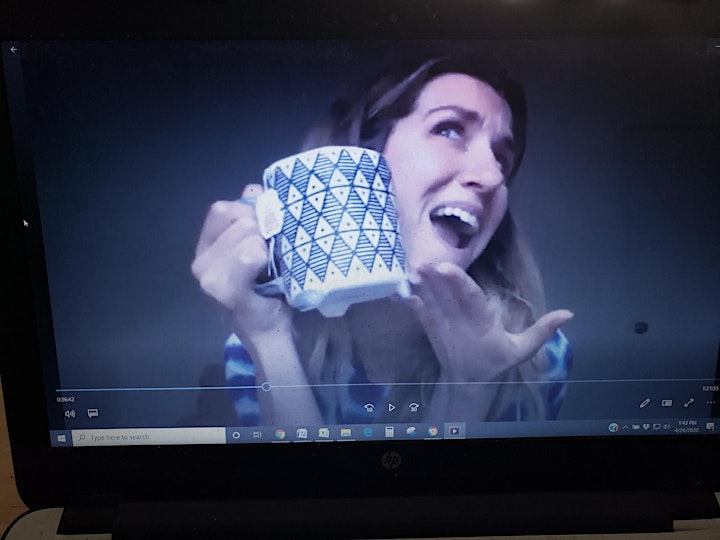 TESTIMONIALS:
"As promised by Adam, what I have gained in his workshops has transferred to all areas of my life. It has been a true life changer and there is always something new to learn and way to be challenged in Adam's workshops."
-- Michelle Puhek, Realtor, Coldwell Banker Residential Brokerage
"I have LOVED exploring new sides of my personality and unique self-expression with Adam. He is fun, articulate, and has a breadth and depth to his improv skills that comes easily across in all of his lessons and critiques. SO MUCH FUN!"
​-- Camille Macres, Founder & CEO, RecipeRx.com​
"I can't express enough how much fun I have taking Improv Playground classes with Adam. I get to be silly, weird, loud, obnoxious, and flow creatively all while tackling my fear of being wrong and speaking/ performing in front of an audience.
-- Erica Rose, College Student
"In workshops with Adam Rudder, I have seen people who have never done a bit of improv in their lives, people who, moreover, expressed nervousness and shyness at the thought of getting up and performing in front of others -- I have seen those same people get up and do terrific, hilarious work before the workshop was finished. Not only is Adam a master of the art of improvisation, he has the marvelous ability to put people at ease and create a safe environment where they can take chances and exceed their own expectations."
-- Sheldon Penner, Improv Student, Computer Programmer
​"The first time I took Adams class, I knew this was different than the other classes I had taken before. Adam had such a great way of explaining the process of Improvisation and made me feel instantly comfortable so that I had no fear of performing ridiculously funny scenes.
-- Christine Agresti, Actor, Writer, Mother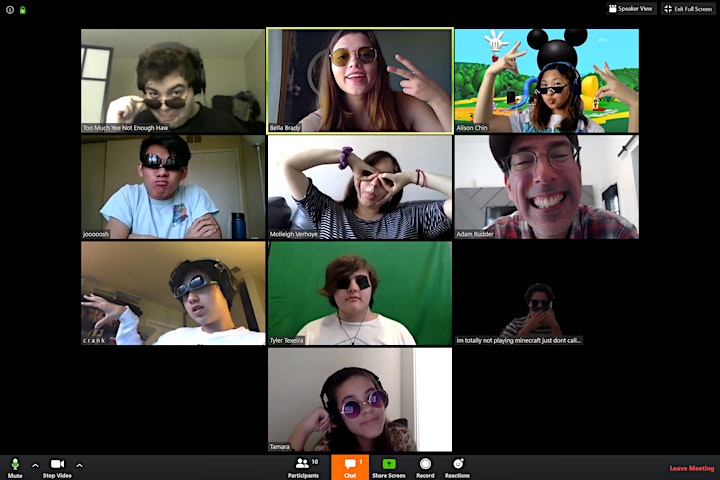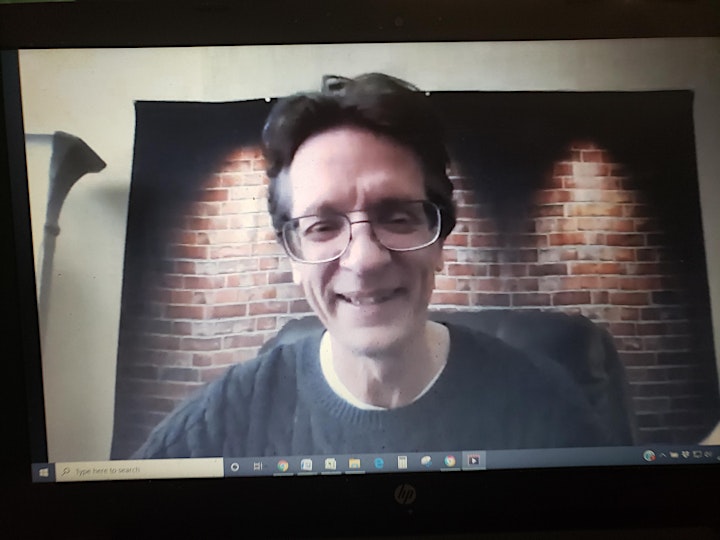 COST:
Regular Price: $497
Limited Earlybird Price: $397
DATES: Thursdays April 29th, May 6th, 13th, & 20th
5pm- 6:30pm PST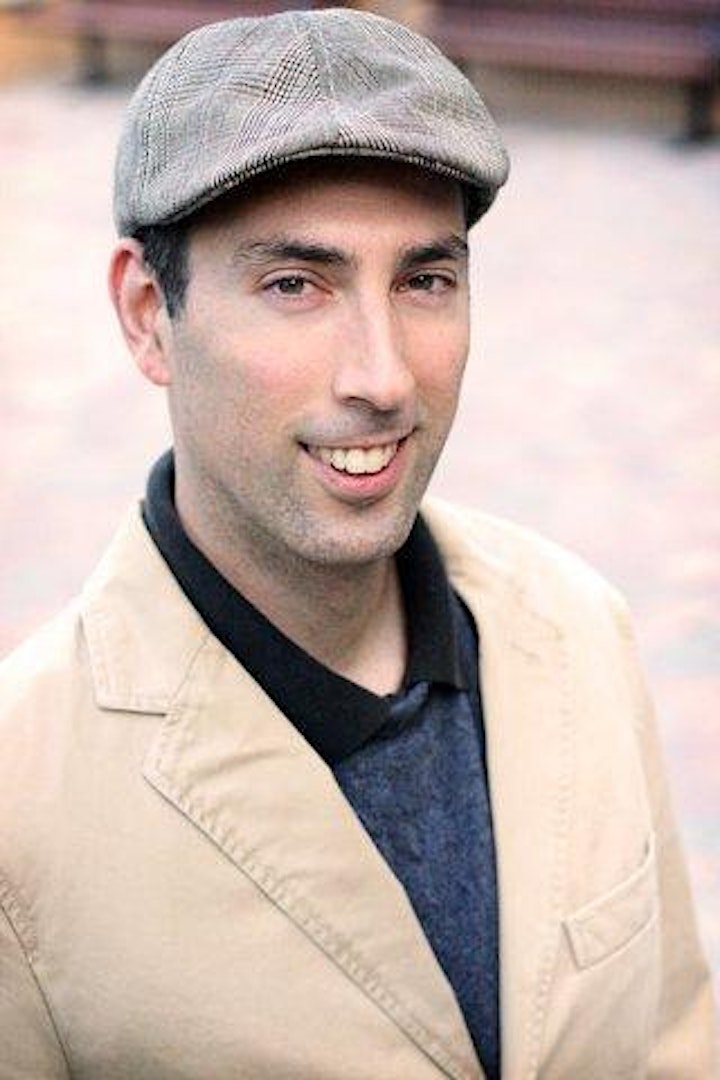 ABOUT THE FACILITATOR:
Adam Rudder is a witty, charming and engaging coach, located in San Diego California.
His students have learned to understand the importance of communication, teamwork, emotions, and other topics that are often overseen in both the classroom and in real life through their valuable interactions with him and their team.
With a background in Film, TV, and entertainment, Adam brings something completely new to the table to combat very old problems within the global classroom. He has a unique ability to help students change self-defeating mindsets and breakthrough limiting beliefs by helping them become non judgmentally aware of their own default patterns and habits while simultaneously providing them the tools and skill sets to help them continue to grow even after they leave the (virtual) classroom.
Adam has developed engaging and entertaining programs that provide an environment that fosters greater self confidence and more play. He is also an award winning Improviser and Team-building Facilitator, who has been leading his original improv-based trainings for nearly twenty years. In the process, he has coached thousands of students, many who have seen success in TV, film and garnered immense followings on YouTube and social media platforms.
In addition, Adam has served as a film producer, director and screenwriter for numerous projects ranging from feature films and national commercials to the emerging digital entertainment market for companies such as Disney and Google. During this time, he has partnered on ventures with some of the industry's top executives, including both the former Director of Development at Marvel Studios and former CEO of LucasFilm. Through both his Improv4Companies and Improv Playground platforms, he continues to teach the improv art form to train teams and individuals to shift their mindsets and take quantum leaps in both their professional and personal lives.