Description
Who's looking for a little more happiness in their lives? That's pretty much all of us! May's Happy Healthy Women Brampton's book club selection The Happiness Equation: Wanting Nothing + Do Anything = Have Everything reveals 9 Secrets to Happiness as we look at various aspects of our lives. Grab a coffee or a tea and join us for an inspiring discussion! (Official book description provided below)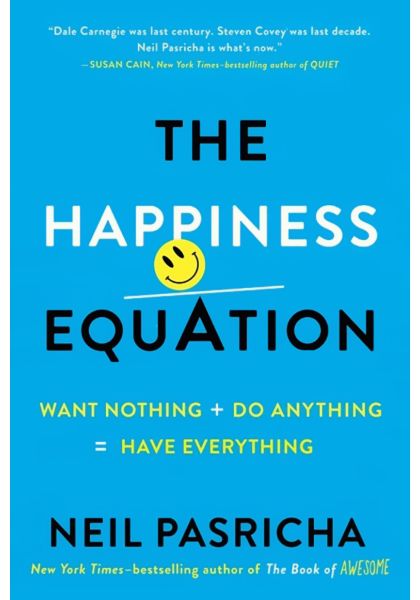 Personal Growth Book Club Notes:
• $5 secures your spot.
• Join us even if you haven't yet read, listened to or completed the book, but want to be part of a soulful, enriching discussion -- so much to share, so much to learn!
• We ask that you please support our venue by ordering a beverage at minimum.
• Feel free to share your book suggestions at our discussion -- bring a copy of the book with you, or share a synopsis so the group can get a sense of what the book is all about!
Looking forward to seeing you all!
xo
Official book description from Amazon:
What's the formula for a happy life?
Neil Pasricha is a Harvard MBA, a Walmart executive, a New York Times–bestselling author, and a husband and dad. After selling more than a million copies of his Book of Awesome series, he now shifts his focus from observation to application.
In The Happiness Equation, Pasricha illustrates how to want nothing, do anything, and have everything. If that sounds like a contradiction, you simply haven't unlocked the 9 Secrets to Happiness.
Each secret takes a common ideal, flips it on its head, and casts it in a completely new light. Pasricha then goes a step further by providing step-by-step guidelines and hand-drawn scribbles that illustrate exactly how to apply each secret to live a happier life today.
Controversial? Maybe. Counterintuitive? Definitely.
The Happiness Equation will teach you such principles as:
· Why success doesn't lead to happiness
· How to make more money than a Harvard MBA
· Why multitasking is a myth
· How eliminating options leads to more choice
The Happiness Equation is a book that will change how you think about everything—your time, your career, your relationships, your family, and, ultimately, of course, your happiness.