We're Mixing Goal Setting with Vision Boarding! You have to have a road map to get to where you want to go, sis.
About this event
Map Your Goals and Set them to Your Vision Board to get 'ish done in '22.
We know. You create a vision board every year and nada. Nothing happens or you get some of it accomplished only to forget about it by the end of February. Well, we're combining mapping your personal goals with setting your vision to get you where you want to go. Oh, and you have to do it all in bite-sizes. So, after you create your goals, we'll work on setting your 90-day plans.
Our live Personal Goal Mapping and Vision Board Workshop is a fun-filled working session with group exercises, DIY breaks, open discussions, 80s jams, and light bites and bevs.
Workshop Activities live at Clayton Membership Club:
Audit your life today
Determine key areas of focus
Craft your personal vision for the year
Set SMARTER goals w/ 90-day action plans
And create your vision board
Worksheets:
Personal Life Audit
Life Compass Balance Wheel
Vision Journal
SMARTER Goals Cheat Sheet
90-Day Planner Sheet
BONUS: Monthly and Daily Planner sheets
GOAL-GETTING CONTRACT: When you attend and you're committing to doing the work the entire length of your "contract" even it's as simple as learning to paint - you're making a plan to become your own Picasso."
"The habit of acting every day on one or more of your major goals is life-transforming."
Be an 8%'er next year.
Get this! 92% of people who set goals or resolutions for the new year don't stick to them. Shocker right. Okay, maybe not so much but grab your things, and let's get you set on the right path to getting more 'ish accomplished in 2022.
Get Started Now. Visit SecondActWomen to grab your Annual Reflection Worksheet and bring it completed to the workshop.
Bring:
Calendar, planner, time management devices
Brain dump of things you would like to accomplish (don't worry, you'll do a lot of this at the event too)
Magazine cut-outs, images, motivational quotes
Scissors
Tape, pushpins, glue sticks, and/or washi tape
An empty frame, corkboard, poster board, or planner to paste your Vision Board images to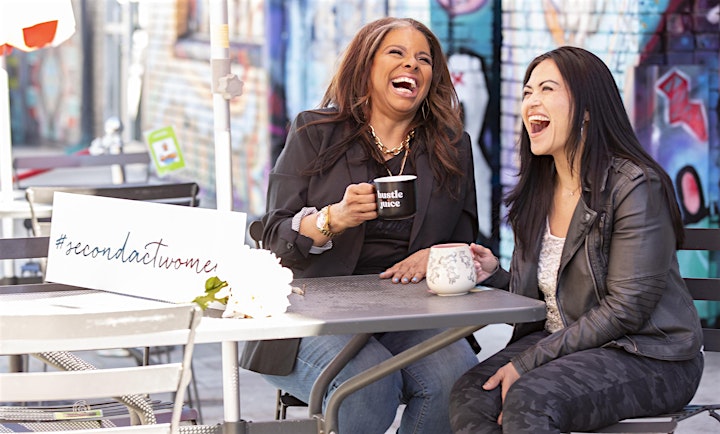 Hosts are SecondActWomen and Clayton Membership Club
Presenters are the founder's Barbara Brooks (55) and Guadalupe Hirt (48) www.linkedin.com/in/barbaralbrooks | www.linkedin.com/in/guadalupehirt
GET TICKETS BEFORE THEY SELL OUT!
Only 25 seats are available.
You're not going to just create a pretty board to sit somewhere only to be forgotten, eh hem, the back of your closet. You'll create your own MAP and Vision Board to get you where you want to go and place it front and center to keep you motivated throughout the year.
Organizer of Personal Goal Mapping and Vision Board [LIVE] Workshop
We're ReDefining Women 40 & 50+
We're a new type of membership community. SecondActWomen is a social enterprise providing live and virtual development programs, online tools, and monthly meetups to help women 40 & 50+ reimagine what's possible in businesses, career, and life...and do it!