Multiple Dates
Personal Brand Identity (TV/Film): Your Innate Character Archetypes
Event Information
Refund policy
Contact the organizer to request a refund.
Eventbrite's fee is nonrefundable.
Personal Brand Identity (TV/Film): Your Innate Character Archetypes
About this event
PURCHASE "WORKSHOP CREDITS"
BOJESSE CHRISTOPHER ONLINE ACTING STUDIO
Live Workshops Designed for TV/Film Actors
WORLDWIDE ON ZOOM
PERSONAL BRAND IDENTITY: YOUR INNATE CHARACTER ARCHETYPES
Identify, Develop, Define, On-Camera Wardrobe & Color Psychology
COACHED BY ACTOR BOJESSE CHRISTOPHER
(FOX's "Deputy", HBO's "True Detective", CBS' "NCIS", 20th Century FOX's "Point Break" & many more)
PRESENT YOUR BEST SELF
CRAFT YOUR BRAND
OUR WEEKLY LIVE WORKSHOPS
* Acting for Camera
* Acting Career Quickstart
* Scene Study
* Building A Character
* Acting Technique
* Emotional Confidence
* Personal Brand Identity
* The Perfect Self Tape
* Voice Acting
* Commercial Acting
APPLY PURCHASED CREDITS
TOWARDS ANY COMBINATION OF OUR LIVE WORKSHOPS
AVAILABLE AM AND PM | SEVEN DAYS A WEEK
ATTEND AT YOUR CONVENIENCE
BY RESERVATION ONLY
COST + CREDITS
8 Workshop Credits @ $50 each = $400 ($160 Savings)
4 Workshop Credits @ $65 each = $260 ($20 Savings)
2 Workshop Credits = $140 ($70 Each)
1 Observation of Workshop Credit = $30 (Non-Participating)
*Cancellations: 24 hour notice is required for any reason and will be noted.
**Credits & Workshops info below in flier.
A NOTE FROM BOJESSE
Based on 30+ years of experience as a professional film and television actor, the work is a journey into self-discovery to identify and take ownership of your unique emotional instrument, revealing your innate personal brand. I encourage each actor to make the teachings their own, and forge a path towards creative and economic success through inspired action.
CUSTOMIZE YOUR WORKSHOP EXPERIENCE - QUESTIONS? ASK US HOW
Phone: (310) 985-0465
Email: bojessechristopher@gmail.com
LIKE, SUBSCRIBE, SHARE, REVIEW!
IMDB - BoJesse Christopher - TV/Film Credits
VIMEO - Coaching Content
YOUTUBE - BoJesse Christopher | BoJesse Christopher Acting Studio
INSTAGRAM - @BoJesseChristopher  |  @BoJesseChristopherActingStudio
FACEBOOK - BoJesse Christopher  |  BoJesse Christopher Acting Studio
TWITTER - threalBoJesse | BJCactingstudio
YELP - BoJesse Christopher Acting Studio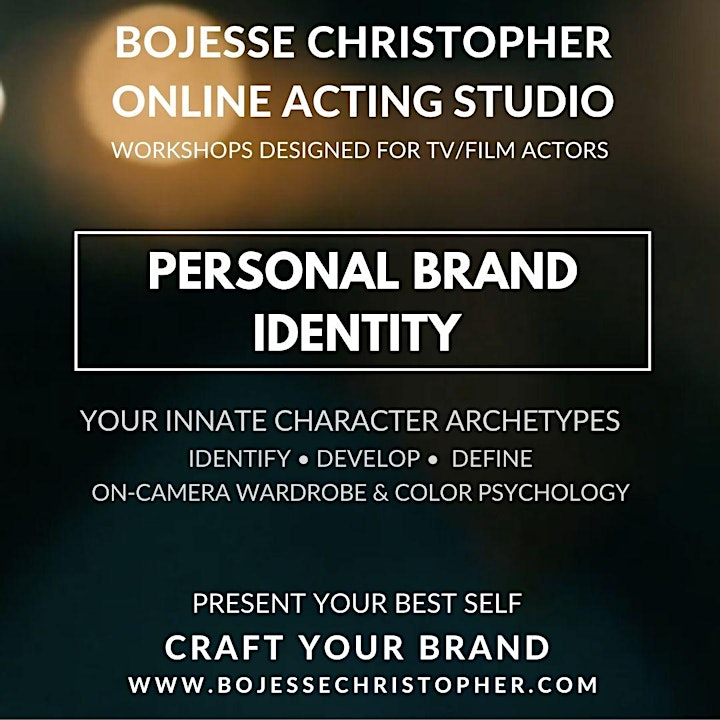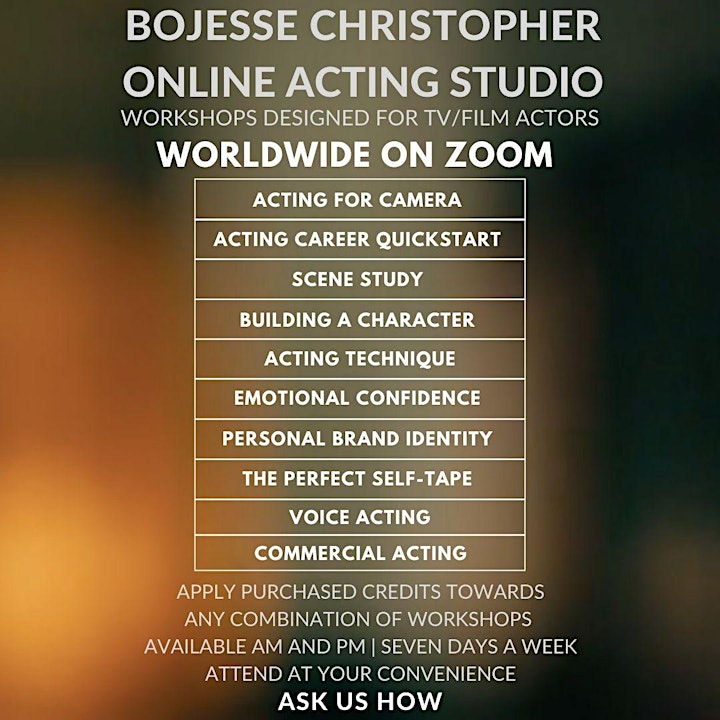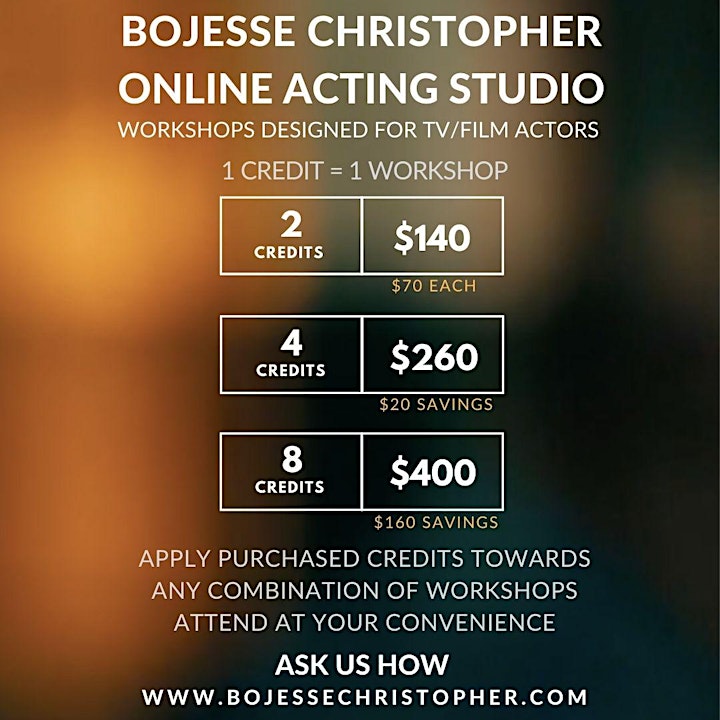 Location
Refund policy
Contact the organizer to request a refund.
Eventbrite's fee is nonrefundable.
Organizer of Personal Brand Identity (TV/Film): Your Innate Character Archetypes
American actor BoJesse Christopher was born and raised in San Francisco, Ca. BoJesse is based in Los Angeles, Ca. Currently, BoJesse plays LAPD Detective Johnson on the FOX hit TV series 'Deputy' (2020), and Detective Richard Kitting on HBO's hit TV series 'True Detective' season 3 (2019). BoJesse is best known for his portrayal of Grommet/LBJ, the reckless younger brother of Patrick Swayze in the 20th Century Fox classic original feature film 'Point Break' (1991), directed by academy award winner Kathryn Bigelow (The Hurt Locker, Zero Dark Thirty).
BoJesse also appeared as the Director of the FBI in the $100 million dollar re-imagined 'Point Break' directed by Ericson Core, distributed by Warner Bros. (2016) now on HBO and VOD.
Over a thirty year span in the industry, BoJesse has appeared in over 70+ film and television projects in collaboration with a wide range of notable talent, including Mahershala Ali, Keanu Reeves, Patrick Swayze, J.K. Simmons, Steohen Dorff and Neil Patrick Harris. He has recurred in memorable roles on hit shows Married with Children, Beverly Hills 90210, Picket Fences, Quantum Leap, Ferris Bueller and Land's End. BoJesse has also written, produced, and directed a number of projects, such as action crime drama Out In Fifty, starring Mickey Rourke.
BoJesse's training began with legendary acting coach, Stella Adler, at the prestigious Stella Adler Conservatory Theatre. He continued on to be privately mentored by Academy Award-winning actress, Shelley Winters, at the Actors Studio West and is honored to be a lifetime member. BoJesse later trained with acclaimed acting coach Sandy Marshall, immersing himself into the Sanford Meisner repetition technique. 
In 2012, BoJesse founded Truth Be Told Acting Collective to support disciplined actors in achieving emotionally connected work. His process consists of a strong foundation based on Strasberg's immersive Method, Stanislavski's preparation of building a character, combined with Meisner's repetition exercise in the moment.
More recently, BoJesse founded BoJesse Christopher Acting Studio where he coaches and directs the 'Truth Be Told' A Stanislavski/Meisner acting for camera collective and essential workshops for professional disciplined television and film actors. BoJesse offers private, group, and on-set coaching for adult, teen, and child actors. His coaching is available both on and off line.
BoJesse was named after legendary blues guitarist Bo Diddley and infamous cowboy outlaw Jesse James.
www.bojessechristopher.com

BOJESSE CHRISTOPHER ON IMDB
BOJESSE CHRISTOPHER ACTING REEL 2019
BOJESSE CHRISTOPHER DIRECTOR'S REEL