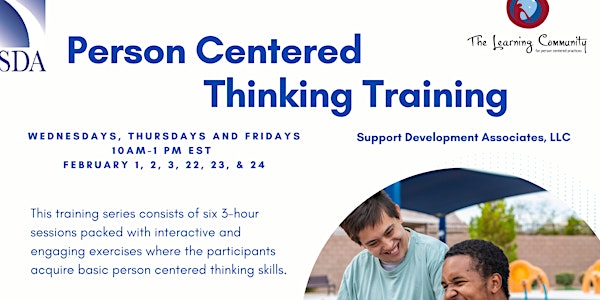 Person Centered Thinking Training February 2023
Person Centered Thinking Training Sessions
Refund Policy
Contact the organizer to request a refund.
Eventbrite's fee is nonrefundable.
About this event
Person Centered Thinking
This training series consists of six 3-hour sessions packed with interactive and engaging exercises where the participants acquire basic person centered thinking skills:
• The importance of being listened to and the effects of having no positive control
• The role of daily rituals and routines
• How to discover what is important to people
• How to sort what is important for people from what is important to them
• How to respectfully address significant issues of health or safety while supporting choice
• Side-by-side decision making
• How to develop descriptions that help people get more of what is important to them while addressing issues of health and safety
• Learning how the Home and Community Based Services Rule intersects with person centered thinking and planning.
This Person Centered Thinking series is approved for 18 credit hours of Person Centered Thinking by The Learning Community for Person Centered Practices, participants must attend all 6 sessions in order to receive a certificate of completion.
February 1, 2, 3, 22, 23, & 24.
10 AM- 1 PM EST 9 AM-12 PM CST8 AM- 11 AM MST7 AM- 10 AM PST
Please check your time zone to be sure that you are able to attend.
Michael Smull, SDA Partner: Michael has been working with people with disabilities since 1972. His extensive experience covers nearly all aspects of developing community services. Michael is the Chair of The Learning Community for Person Centered Practices (TLC-PCP) and a senior partner in Support Development Associates (SDA). He is the co-developer of Essential Lifestyle Planning and has worked in 48 states and seven countries. He has helped found three (3) community agencies, assisted existing agencies with the conversion from programs to supports, and helped states, regions, and counties change their structures in order to support self-determination.
Bob Sattler, SDA Partner: Bob's career for over 40 years has focused on building community supports. He began his career as a direct support professional and went on to redesign residential programs that create opportunities for fewer people to live together. Bob developed supported employment programs for a sheltered work center, which eventually led to establishing a service agency to support people with co-occurring needs (developmental disabilities and behavioral health challenges).
Tanya M. Richmond, MSW, LCSW, SDA Partner: Tanya has over 30 years of experience working as a licensed clinical social worker. She has expertise in direct practice with older adults; adults with mental health and behavioral health concerns; children and their families; people who are deaf or hearing impaired; children and adults with developmental and cognitive disabilities; and with individuals who are in crisis due to rape. She has directed program coordination and evaluation in both community service agencies and university settings.
Sherrie Anderson: Sherrie has worked in the field of disability services for over 40 years. A passionate interest in person centered and person directed living is at the heart of all her efforts. Starting in the early 1990's, Sherrie received her training and mentoring from a variety of internationally recognized practitioners, including learning Personal Futures Planning, MAPS, and PATH from John O'Brien, Judith Snow, Marsha Forest, and Jack Pearpoint. Sherrie also worked with Jack, John, and Lynda Kahn to bring the time-honored Summer Institute to Australia and New Zealand as The Down Under Institute just a few years ago.