Description
Zahra Mojdeh Zahiraleslamzadeh ("Mojdeh" to friends and family) left Iran in March 1978 for college at Utah State University in Logan, UT. She left home in a whirlwind, with barely three weeks from the college acceptance letter to departure, to get her affairs in order and bid farewell to family and friends. She has now lived almost 40 years in the US.

Coming from a family where food and communal meals were an integral part of daily life, she was 14 years old when she cooked her first meal for the family. As a student in Logan, she started making Persian food in the dormitory kitchen and invited the people she knew. In her words, "I brought people together by making Persian dishes all the time. I would often cook at my friend's houses just for the purpose of getting together and share a meal. Persian food is really about pouring your love into your food so that the people you share it with feel that love."
Tapestry Suppers is thrilled to share Mojdeh's story and culinary talent and we hope you will join us by purchasing a ticket. You can read more about her story on Beyond the Plate.

---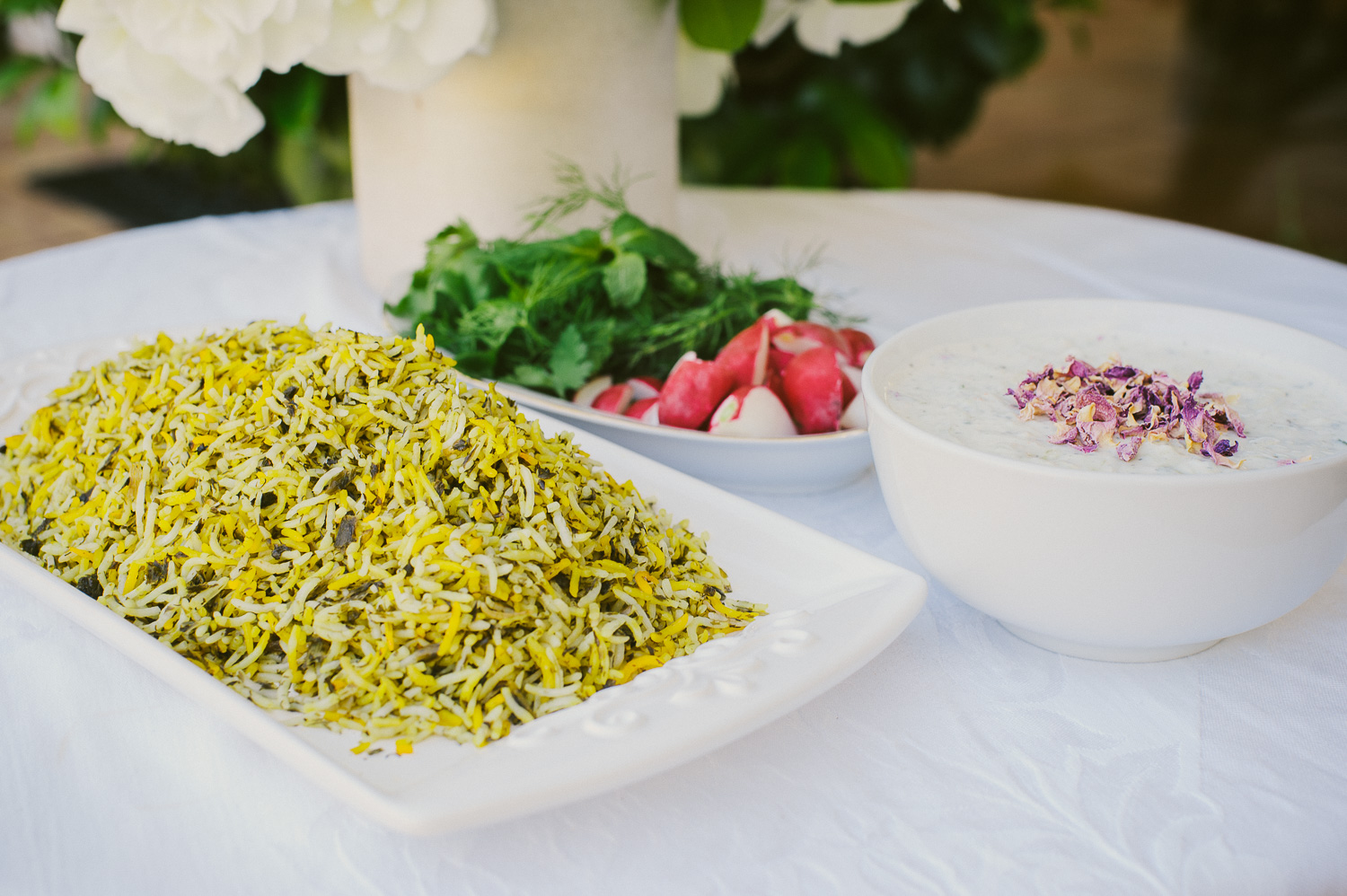 THE MENU*
Light bites:
Sangak Bread (W)
Feta Cheese (D)
Herb Plate
Green Salad
Shirazi Salad (NS)
Mast-o-Khiar (Yogurt & Cucumber Dip) (D)

Main courses:
Kashke Bademjan (Eggplant Dip) (NS)
Chelo (Saffron Rice)
Sabzi Polo (Herb Rice)
Shirin Polo (Jeweled Rice) (N)
Khoresht-E Bademjan (Eggplant Stew) (NS)
Khoresht-E Ghormeh Sabzi (Herb Stew)
Khorak-e Morgh (Chicken Stew)

Accompaniments:
Persian tea and sweets
*Allergen indicators: D = dairy, W = wheat, N = nuts, NS = nightshades.
---
MOMS AGAINST POVERTY (MAP)

Proceeds from this meal will benefit Moms Against Poverty, an organization that Mojdeh has supported for many years. MAP is dedicated to ending childhood poverty in underprivileged communities through Educational and Hunger Relief programs in the US and around the world. Read more about what they do at: https://www.momsagainstpoverty.org/our-work/
FAQs
Is my ticket transferable?
Yes. If you are unable to attend an event you are welcome to pass this along to a friend who can take your place. Please send a note to admin@tapestrysuppers.org informing us of this change.

What's the refund policy?
For cancellations up to a week (7 days) prior to event date: 100% refund minus $3 cancellation fee.
For cancellations up to 3 days prior to event date: 50% refund minus cancellation fee.
No refunds for cancellations made less than 3 days prior to the event.

How can I contact the organizer with any questions?
Send an email to: admin@tapestrysuppers.org.
Organizer of Persian Feast for Moms Against Poverty
Tapestry Suppers is a social enterprise that seeks to elevate underrepresented immigrant voices, educate the public about the diversity of food cultures and support charities that work with immigrant and underprivileged populations. We achieve these goals by using food as our platform to bring people together for a variety of food-centric experiences, from potlucks to tasting menus. Our events strengthen relationships in local communities by creating opportunities for real, in-person connection and conversation.
To learn more and stay updated about future events, sign up for our newsletter at this link: http://eepurl.com/cFMhND