Description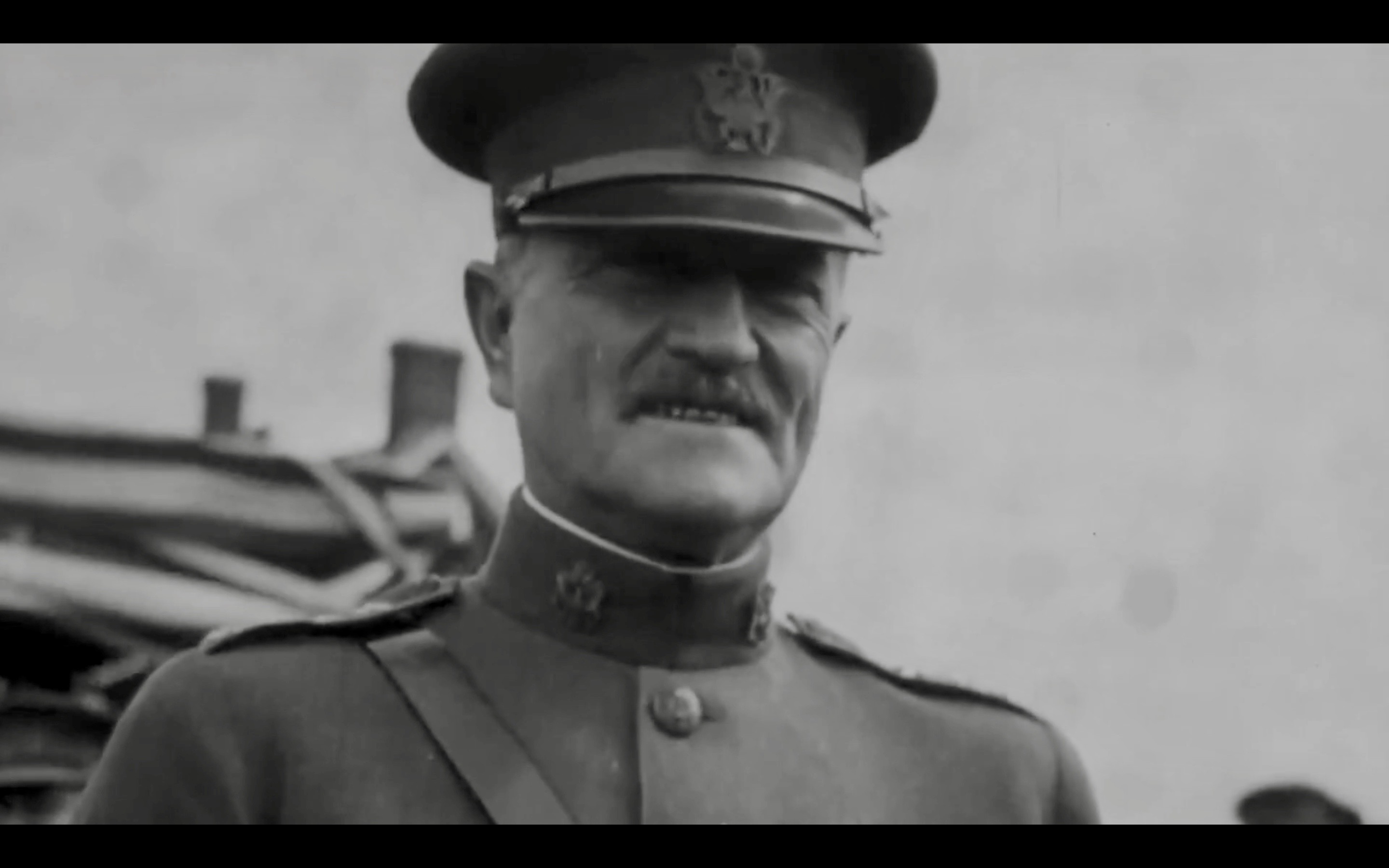 PERSHING'S PATHS OF GLORY HONORS MORE THAN 320,700 AMERICAN SOLDIERS WHO DIED OR WERE WOUNDED IN WORLD WAR ONE.
---

Proceeds from Pershing's Paths of Glory will help build this National World War I Memorial in Pershing Park, Washington, D.C.
---
PERSHING'S PATHS OF GLORY

The World War One Centennial Commission presents the World Premiere of a major documentary film about the great American Hero, General John J. Pershing.
The film's story is told by Pershing's living legacy, a diverse group of young people following the General's paths across the globe. Raised in a small town in Missouri, Pershing led African-American troops three times - on the American Frontier, in Cuba with Teddy Roosevelt, and against Pancho Villa in Mexico. Despite the sudden, tragic deaths of his beloved wife and three daughters in a fire, Pershing soldiered on to command the American Expeditionary Forces (Three million "Doughboys!") in WWI.
Because of General Pershing's efforts in achieving an Armistice in the War to End All Wars (Signed on November 11, 1918), he was elevated to the highest rank America has ever established, General of the Armies of the United States. In the film, the young Pershing Rifles, Pershing Angels, and Blackjacks are guided by combat veteran, David Poe, as they travel to the historic battlefields of France and experience Pershing's heroic deeds first-hand.

They learn how the General formulated military policy still in effect today, such as the first successful counter-insurgency campaign leading to a lasting peace with the Islamic Moro tribe in the Philippines. Observing Pershing's unique brand of multi-cultural respect, they come to understand why many consider him to be an early civil rights leader. Certainly, his racial empathy for Black Buffalo soldiers, Mexicans, Native Americans, and Muslim Moros sets him distinctly apart as a role model for leaders today.
The young "leaders-in-training" who walk in Pershing's footsteps exemplify his lasting values of honor, acceptance, and integrity.
---
PANEL MEMBERS (On Stage Discussion After Film)
Sandra S. Pershing, Granddaughter-in-Law of General Pershing, Executive Producer, Cast
Major General Alfred Valenzuela, (Ret.), Panel Emcee
Jack Lichtenstein, Pershing Rifles Pledge Brother of John Pershing III; Col. U.S. Army (Ret.), Bronze Star, Gulf War
David Poe, Pershing Rifleman; Fmr. Capt., U.S. Army, Purple Heart/Bronze Star w/Valor, Afghanistan, Cast
Roberto Duran, Pershing Rifleman; USAF Pilot [Special Operations], Cast
Kevin Collins-Nelson, Pershing Rifleman; Social Media Consultant, Cast
Victoria-Rose Reid, Pershing Angel, Vocalist, Cast
Jonathan Branch, Blackjack Cadet, Cast
Dayle Hartnett, Ph.D., Producer
Joe Hartnett, Director
---
SCHEDULE OF EVENTS
6:30 pm: Lobby Meet & Greet
7:00 pm: Major General Alfred Valenzuela - Welcome
7:05 pm: Pershing Rifles Color Guard
7:20 pm: Pershing's Paths of Glory Screening
8:05 pm: Major General Valenzuela Introduces Panel
8:15 pm: Panel Discussion & Audience Questions
9:00 pm: Closing Ceremony
---
DIRECTIONS & PARKING FOR AFI SILVER THEATRE AND CULTURAL CENTER
---