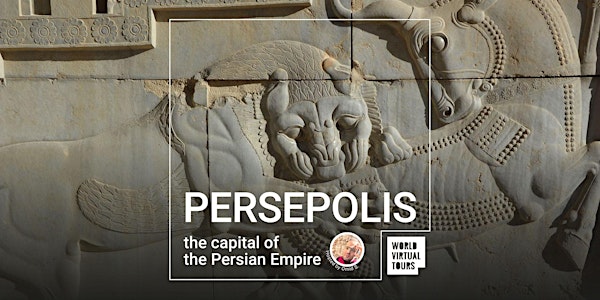 Persepolis: the capital of the Persian Empire
The capital of Darius destroyed by Alexander the Great: all its magnificence and its importance.
About this event
👷🏻‍♂️ Build this project with us:
Our Tours are FREE TO JOIN
the Event is TIP-SUPPORTED (read below ⭐)
⏰ Time is listed as Eastern Time (US/New York)
Language: English
Live stream event from Girona, hosted by OMID S.: Iran and Spain tourism PhD, expert in tourism industry, history and culture with over 25 years experience.
Summary
The city of Persepolis
Live Q&A
Contents suitable for children
Description
The legendary city of Persepolis, is the former capital of Darius the Great and founded in 512 BC. Although set on fire and destroyed by Alexander in a gesture symbolizing the destruction of Persian imperial power, its still impressive ruins permit a fairly complete reconstruction of its original appearance. 
The complex comprised nine structures, Apadana (hypostyle receiving hall), Trachara (Palace of Darius I), Council Hall, Treasury, Throne Hall, Palace of Xerxes I, Harem of Xerxes I, Gate of All Nations, Tomb of the King. 
The city's remote location kept it a secret from the outside world, and it became the safest city in the Persian Empire for storing art, artifacts, archives, and keeping the royal treasury. 
Persepolis as well was an official place for celebrating Persian New Year (Nowrooz). In this tour we will discover this complex together with interesting points that you have never heard before.
Special Instructions and Requirements
PC, laptop, tablet or smartphone
Stable internet connection
This experience will use Zoom
PLEASE NOTE: since is a Free Event with high demand, if you don't connect on first 10 mins from tour start, we reserve the rights to assign your reserved seat to someone else
Read Carefully Our TOS here:
https://worldvirtualtours.online/terms.html
You can TIP Omid here:
https://worldvirtualtours.online/tiptheguide.html?guide=Omid
⭐ Why donate to your Tour Guide
Our project is solely funded by your donations.
All our virtual tours are made possible only thanks to your support as part of our Community.
The majority of your tip supports the Guide, the rest lets our group continue to carry out our initiative.
THANK YOU!
#worldvirtualtours #tellHIST #persepolis #persia #ancienteast #persianempire #archaeology #monument #history #travel #art #immersiveexperience #virtualtour #virtualtrip #arthistory #culturalheritage #artandculture #culture #architecture