Music Festival at The Palms near Joshua Tree, CA Nov 1-3. Free camping on site. Perpetual Dawn/Athame/FM+/Handbag Factory/Tigerbeat6 +++
About this event
🌵Yes, it is really happening! 🌵
🎃A desert oasis awaits at The Palms Wonder Valley !!! 🎃
🎪Free camping on site all weekend!!! 🎪
Festival passes are $30 early bird, $40 advance, $50 the week of the fest. Daily tickets are $15 advance/$20 door. Parking and Camping included. We have a limited capacity for campers and all camping attendees must get tickets in advance. We appreciate you planning your weekend in advance and thanks for understanding!:)
+++++++++++++
☀️DAY: live bands/ambient/modern classical/experimental ☀️
🌙NIGHT: Dance/Techno/Electro 🌙
==============
⚡️A weekend festival curated by Tigerbeat6, Private Selection, Perpetual Dawn LA, Directory, FM+ , Athame, Modular on the Spot Los Angeles, Glossolalia, Resource Residency, Strange Frequency and more TBA ⚡️
~~~~~~~~~~~~~
Food and drinks served while The Palms restaurant is open.
<<<<<>>>>>>>
6:30pm Merz & Jed Ochmanek (Live AV SET), Sana Shenai (Leaving Records), GIVS, Derek Monypeny, Jean Paul Jenkins, Voluminous Sparks, Landon King, Live for Each Moon + more TBC
Midnight-Late FM+/Directory presents: Ghorba, They/Them DJ, Kaili, Kins
<<<<<>>>>>
6am The Zero Collective & Sleep Dep Productions Sunrise Sessions: J3M5, Poopdood, No Translation, Primal Swirlings, Brian Griffith
11am Dublab's PERPLEXAGON presents: Dntel, Gregg Kowalsky, MTN GRL, Ellen Phan, Live for Each Moon, Barry Conley, Brin
4pm Strange Frequency + Resource residency present: Felisha Ledesma, Stepf Atian, Omeed Norouzi, Legal Garden, Desiree Monique
7pm Less Bells, Arthur King, Kid606, Robedoor, One Child Policy, Zachary Paul, INTRCPTR, Jax Deluca, Angela Seo, Maymind, Corbo, Jax Deluca, Tar & Flowers, Dave Valdez, Noah Klein
1am Private Selections records presents: Dreams, Aerial, Arkitect
<<<<<>>>>>
6am The Zero Collective & Sleep Dep Productions Sunrise Sessions: Stephies Castle,The Zero Collective, NoisePoetNobody, Marlo De Lara, Modular Sound Bath
11am Modular on the Spot Los Angeles presents: Kittyspitt , C1t1zen, Mike Dobler, Teafela, Pablo Perez, Logreybeam, Legglake, Sequenox, Krān
4pm ATHAME presents: Dustin Wong & Takako MineKawa, Guy Blakeslee (Entrance), Nadoyel, Telomirror, Mirrored Fatality, Priyanka Ram, Derek Gaines, Patrick Shiroishi & the 2vvo
7pm Handbag Factory Presents: White Boy Scream, Loopgoat, Conscious Summary, Sobbing Honey, Gabie Strong, La Línea de la Concepcion
10pm-Late Perpetual Dawn Presents : OonceOonce, Give in, Knob Fiddler + Surprise guests.
Visuals: Alex Pelly, Knob Fiddler and Alex Brown
Projector sponsored by Future Lighting / Video
_____________________________________________________
Festival passes are $40 advance, $50 the week of the fest. Daily tickets are available in advance at Eventbrite.
$10 Friday/$25 Saturday/$15 Sunday
https://www.eventbrite.com/e/perpetual-dune-music-festival-tickets-74924901397?ref=elink
or
https://restlessnites.com/perpetualdune
Parking and Camping included. We have a limited capacity for campers and all camping attendees must get tickets in advance. We appreciate you planning your weekend in advance and thanks for understanding!:)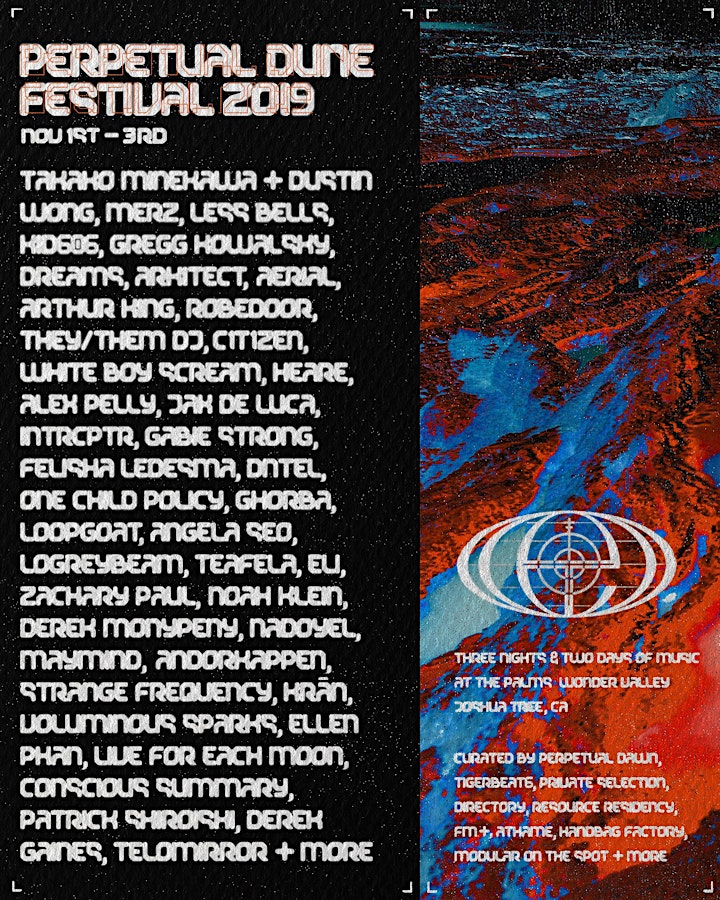 Organizer of Perpetual Dune Music Festival
I agree to accept full responsibility relating to injuries that may occur during the Faultline campout. By purchasing this portable toilet share I agree to hold the Faultline campout organizers entirely free from any liability, including financial responsibility for injuries incurred, regardless of whether injuries are caused by negligence.
I also acknowledge the risks involved in the campout. I swear that I am participating voluntarily, and that all risks have been made clear to me. Additionally, I do not have any conditions that will increase my likelihood of experiencing injuries while engaging in this activity.
By purchasing this portable toilet share I forfeit all right to bring a suit against the Faultline campout organizers for any reason. I will also make every effort to obey safety precautions listed at http://www.wilderness.net/NWPS/wildView?WID=349 I will ask for clarification when needed.