Permission to Pause (P2P) - Philadelphia
Description
ThigPro Balance and Relationship Management Institute presents
Permission to Pause
Micro-retreat for Entrepreneurs and Executives with an Entrepreneurial Mindset
Balance Your Business Boldly
We know you're extremely busy, holding up the multiple hats you wear and right now, you can only dream of carving out time for a getaway. That's why ThigPro Balance and Relationship Management Institute created our signature micro-retreat, Permission to Pause! This fall, step into a 3-hour escape from the ebb and flow of life's demands, the constant expectations of work and the world and get accountable to yourself.
Step into a room that allows you to be a little selfish and unapologetically embrace your boldness to release your inner brilliance as we tap into the person inside your professional self.
Get ready to connect, relax, release, relate and recalibrate.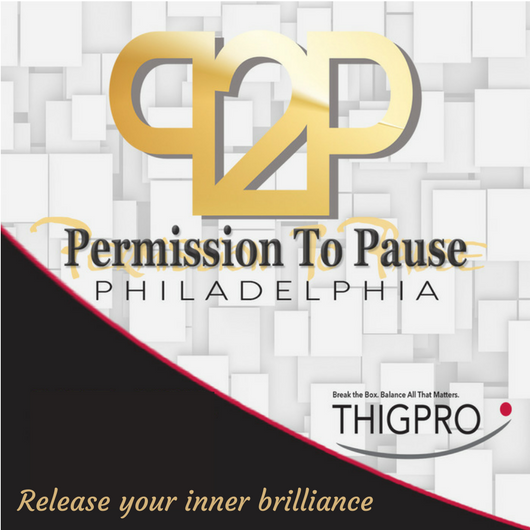 All attendees can expect a stimulating environment where they are able to connect, pause and play!
Featured Expert from the Balance Boldly Podcasts, Amy Leis, Financial Advisor and Accredited Wealth Management Advisor®, will share powerful tips on the Psychology of Money and how understanding the implications and impact can help us to pause with ease....
There will be wine tasting, interactive games, purposeful relationship building, energy management techniques and things you will simply need to be in the room for to understand...
Imagine a space where you can refuel your mental and physical energy tank, and play a round of darts while making targeted connections with other incredible women.
You Can't-Miss This Experience If:
You're an entrepreneur or an executive with an entrepreneurial mindset.
You're an expert in your field and a go-to guru for when problems need solving.
You can multitask and juggle countless demands on a daily basis.
You're a professional woman who cares about the tiny details.
You have the talent and will to make your career into a success.
You're not making time for yourself.
You have a wide professional circle, but when it comes to close friends, it's a lot smaller.
You would love to strike a balance between your professional and working lives, but you find it hard to switch off.
Your personal relationships are not as fulfilling as your professional ones.
An Exclusive Event - Seating is Limited.
Sponsored by Tactix Real Estate Advisor
Powered by ThigPro
Date and Time
Location
2 Logan Square - Tactix Real Estate Advisors, LLC
100 N 18th St
Suite 520
Philadelphia, PA 19103