About this Event
"Vulnerability is the birthplace of innovation, creativity and change."
– Brene Brown
Innovation is a hot topic in education today. 1:1 learning programs are largely ubiquitous, makerspaces are popping up everywhere and many curricular initiatives now promote startup and entrepreneurial endeavors for students.
Yet sometimes we miss the key ingredient that is required for successful innovation; a culture where the stakeholders feel they have the space to try, fail, and grow from mistakes. When trying something new, failure is integral to the learning process. When a community lacks compassion, transparency and the capacity to be vulnerable, innovation is stifled and people are reluctant to engage. It's therefore critical that compassion is at the bedrock of all the work we do so that agency is restored and new ideas can flourish.
In this workshop, participants will take a deep dive into a model that places compassion at the center of all we do in school and explore the practical strategies required to bring it to life.
Who is it for?
Educators who are interested in building compassion into their learning community
Educational leaders looking to spark creativity, innovation and change in their schools?
Community and parents interested in helping students realize their untapped potential
Students +13 interested in helping cocreate compassionate learning communities
What will you do?
Appreciative Inquiry and storytelling to explore the roots of compassion and trust
A framework that explores how compassion lies at the center of innovation and creativity
How to develop indicators for compassionate action, courage, and innovation
A design thinking protocol to create personal and professional action plans
A Future Search that includes a Best Hopes/Worst Fears protocol and explores the "monsters" that may get in the way of implementing our action plans
About the Facilitator
Passionate about innovation in education, Tara is committed to increasing meaning and relevance in schools. Tara is co-founder of the Compassion Summit, a global movement committed to building a coalition of compassionate schools. Her additional interests include positive psychology, fostering mission-driven schools, and using a systems approach to schooling.
A TCK herself, Tara began her teaching career in Phoenix, Arizona before moving into international education where she has spent 20+ years in Bahrain, Saudi Arabia, Kuwait and Taiwan serving in numerous leadership and teaching roles. She has volunteered for ISTE as the chair-elect of the Digital Storytelling Network, for NESA as a PDAC member and for COETAIL as a coach. Tara holds an MA in Educational Leadership, an MFA in Poetry, and two graduate certificates in educational technology and future-driven schooling. Currently, she serves as Superintendent of Riffa Views International School.
You can follow her on Twitter or through learn more about her here.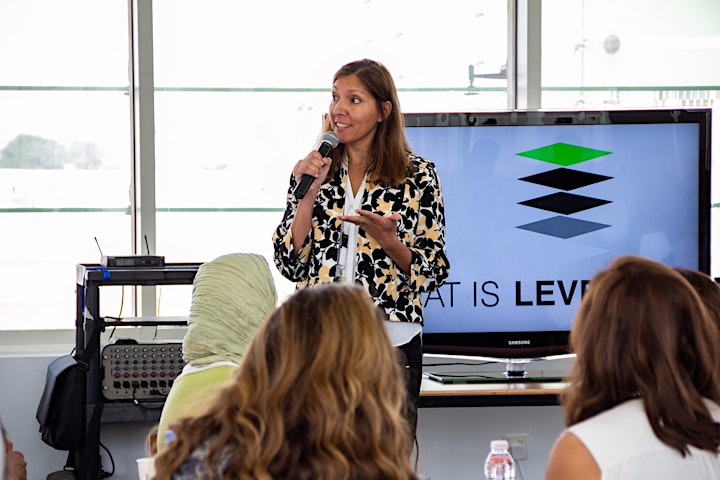 Schedule and Information
Friday and Saturday - 9:00 - 4:00PM
Coffee/Tea and lunch will be provided.
Full hotel, travel and visa information can be found here.
Payment Details
Ticket prices are in USD. Local bank transfer in Bahraini Dinar (140 BHD) or Saudi Riyals (1,400 SAR) can be arranged. For more information about this or anything else please contact us at level5bh@iss.edu
When booking through PayPal, you do not need to create an account. You can check out as a guest and pay via credit card. If it doesn't give you the option, you may already have a PayPal account linked to your email so please sign in.
Click here for details on LEVEL 5's cancellation policy.