Description
PLEASE NOTE: THIS IS NOT A FREE CLASS. PLEASE VISIT THE WEBSITE FOR ALL CLASS PRICING AND FOR A LIST OF ALL OTHER CLASSES OFFERED BY LUX LASH & BROW CO.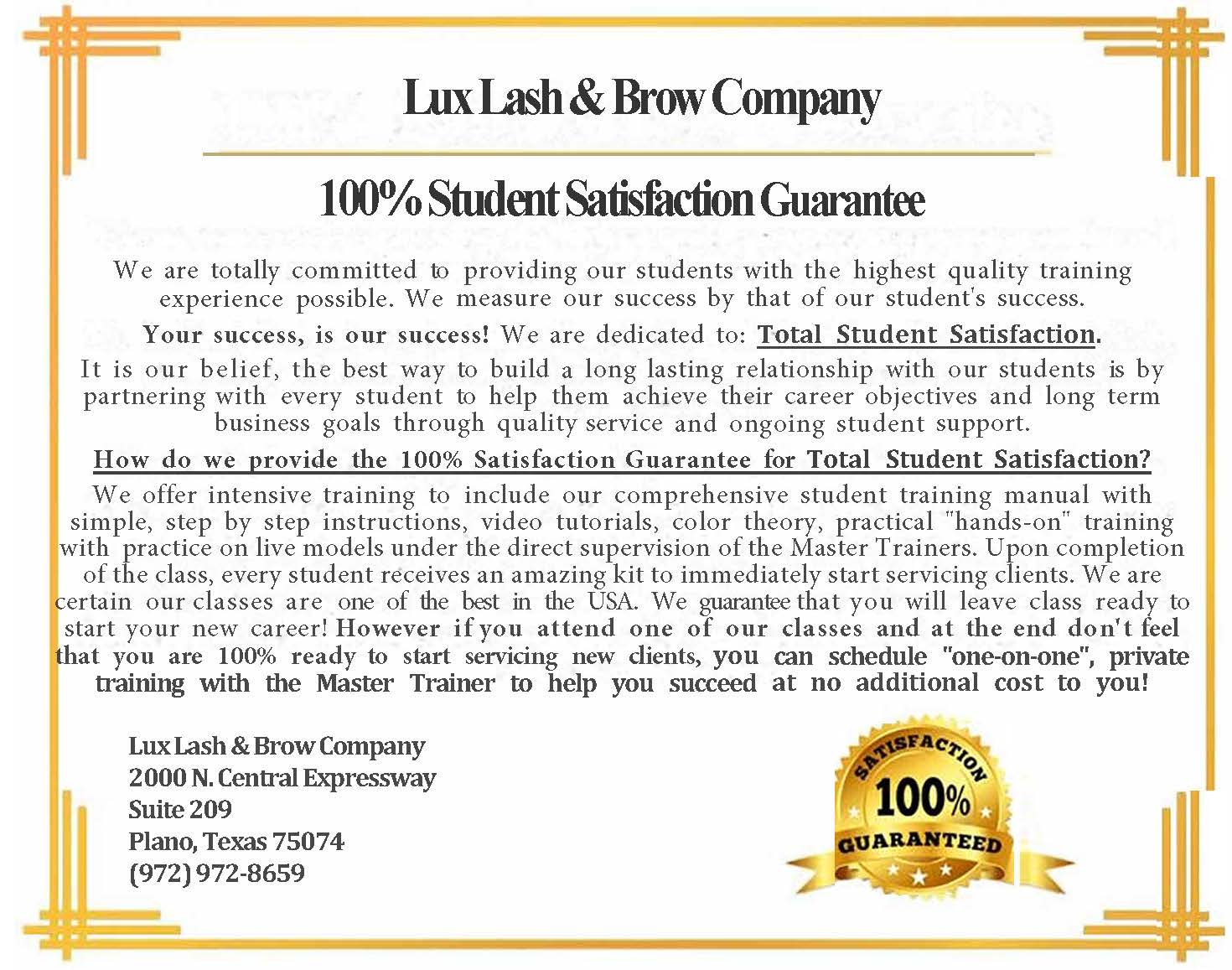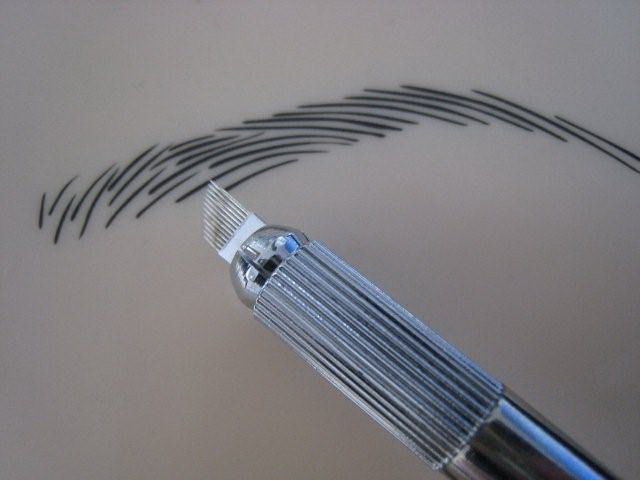 *****Disclaimer: Please note, Lux Lash & Brow Company is officially licensed as a "Permanent Cosmetics/Tattoo Studio" with the Texas Department of State Health Services.*****
LUX LASH & BROWS BY DESIGN™ - 3D Microblading Technique
is a relatively new, manual hand method for creating natural looking eyebrow hairs. It is considered to be a semi-permanent method, as compared to the traditional permanent makeup, hairstroke technique. The results vary and can last up to 1 year with minimal touch-ups. The longevity will depend on the client's maintenance and skin type. One touch up once per year is recommended to retain the natural shape and color.
FOR ALL CLASS DATES AND COMPLETE CLASS INFORMATION, PLEASE VISIT THE OFFICIAL WEBSITE @ www.luxlash.co
Lux Lash & Brow Company teaches this method using a very fine blade to deposit pigments into the epidermis. The strokes replicate a natural hair-line. Once you've completed this brow course, you will be able to offer this brow treatment to clients who are looking to enhance the look of their natural eyebrows. The results are natural looking, hair-line strokes, regardless of the amount of natural brow hairs the client has present. People suffering from alopecia, trigonometrical or any other condition that causes hair loss benefit greatly from Microblading, as well as people who simply aren't happy with their eyebrows.

The results are a natural, flawless, fuller looking brow. Initially, the brows appear darker, but fade significantly over a 30 day period. It is absolutely crucial to have a touch up done, as it is very difficult to predict how well the skin will retain the pigment.

LUX BROWS BY DESIGN™ 3D Microblading Technique is performed without using a machine! Using the unique manual technique, the pigment is applied with a hand tool that has a small, fixed blade with disposable needles. The needles are three times thinner than those used in machines while the depth of pigment injection does not reach the dermis. An effect of extremely fine and natural looking hair strokes is achieved.

LUX BROWS BY DESIGN™ - The Art of Permanent Makeup & 3D Microblading Technique Course Outline:

​The complete class includes:
Basic Sanitation with Bloodborne Pathogen Certification

Brow Mapping, Design and Artistry

Color Theory

Eyebrow Symmetry


Skin problems that prevent good results from microblading


The Fitzpatrick skin types


Color Correction & Removal


Different post-treatments that vary depending of skin type


The correct depth and pressure of hand tool on the client's skin


Design natural looking hair strokes to create the most natural looking brows


Before and after care....

And much more!
Techniques learned in class:
Student will learn Brow Mapping & Design to create beautiful, natural eyebrow sets.

Student will learn the Microblading and Permanent Makeup Techniques for eyebrows, eyeliner and lips by using a variety of manual hand tools and different needles.

Student will learn how to use the digital Permanent Make-Up machine to create beautiful eyebrows, eyeliner and lips.

Student will learn various techniques to apply the Ombre Brows "aka" Shadowy & Powder Brows; to create thin and thick eyeliner; to apply lip liner and full lip shading & coloration

Student will learn how to apply the Pigment Removal Technique to remove and extract old gray, faded pigment from brow eyeliner and lips .

Basic Starter kit to service over 100 clients is included with all training classes.

Upon completion of the course(s), each student receives their official Certificate of Completion.
​​MAIN ADVANTAGES OF LUX BROWS BY DESIGN™ 3D MICROBLADING TECHNIQUE:
The procedure is less painful and much quicker than the machine method

A very soft and natural look is achieved.

It does not look fake, harsh or drawn on, like a tattoo.

The procedure cost is less expensive.

The thin disposable needles are 3 times thinner than the needles used for the permanent makeup machines.

Organic, plant-based pigment does not change color, instead it slowly fades over time.

Making corrections is easy and less painful

Very easy to apply over old washed-out permanent make-up eyebrow tattoo.
​
Permanent Makeup & Microblading Class Schedule
Three "3" Day Class for The Art of Permanent Makeup Training with The Art of Microblading Technique Classes are scheduled on Monday through Wednesday for the dates as stated. The classes include: learning various manual hand techniques, learning how to use a digital PMU machine, learning the fundamentals in "The Art of Permanent Makeup and The Art of Microblading", color theory, brow mapping, learning the usage for various types and size needles for both the manual hand tool and digital machine, learning to create powder/shading/ombre brows, learning how to remove old washed out tattoo pigment, practical training and work on live models under direct Instructor supervision.
Bonus Class: "Business 101": how to launch, build and maintain your business, business insurance, permanent makeup/tattoo insurance, social media marketing, domain name and website building.
Please note: If you are seeking to enroll for the Eyeliner Training, add one additional day to the dates stated below. If you are seeking to enroll for both the Eyeliner & Lip-Liner & Color Training, add two additional days to the dates stated below.
In comparing our class to other programs, please compare "apples to apples". Our classes include learning various methods for the manual microblading technique and learning how to use the permanent cosmetics machine for even longer lasting results. You will learn the Ombre & Shading Techniques as well.
Make sure the companies you are reviewing for training are officially licensed by the Texas Department of State Health Services.
To register for the upcoming LUX BROWS BY DESIGN™ 3D Microblading Technique Class call us at (210) 960-5274 (LASH) or simply complete the simple form on the right of this page. You will be contacted within four (4) business hours. If you've contacted us after normal business hours or over the weekend, you will be contacted on the next business day.

IF YOU ARE READY TO REGISTER AND PAY TO RESERVE A SEAT FOR THE CLASS, YOU CAN CALL THE OFFICE DIRECTLY MONDAY THROUGH FRIDAY FROM 10:00 AM UNTIL 6:00 PM.
​If you have additional questions, you make also contact us via email @ ​luxlashbrow@gmail.com​
*****Disclaimer: Please note, Lux Lash & Brow Company is officially licensed as a "Permanent Cosmetics/Tattoo Studio" with the Texas Department of State Health Services.*****