Description
Gaia Ashram Permaculture Design Certificate Course
26th of November until the 9th of December
Gaia Ashram in the North-East of Thailand is organizing a two weeks Permaculture Design Certification (PDC) course. Gaia Ashram is a community, sustainable living learning center & a farm founded in 2013 with a vision to create a living & learning space that deepens our connection with nature and learn to work with nature. In this PDC there will be a lot of opportunity for us to connect on a deeper level with nature.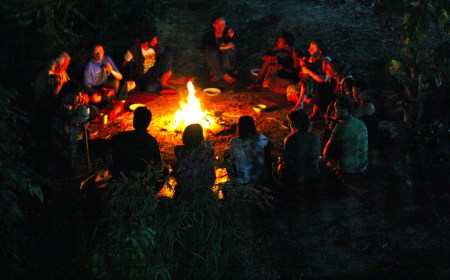 What is Permaculture?
Permaculture is a design system that reconciles human communities with the ecological imperatives of a living planet. Permaculture is a way of organizing knowledge, a connecting systems that integrates science, art, politics, anthropology, sociology, psychology, and the diverse experiences and resources available in any community.
Gaia Ashram Permaculture Design Course This Permaculture Design Course will be held in the spirit of Gaia Ashram where community living is the foundation of the learning. Like every program held at Gaia Ashram, we will build a sense of community among all the course participants and the people who live at Gaia Ashram.
There will be space for skillshare, deep sharing and well being check - ins. Course participants are welcome to join the daily meditation & yoga/dance. Apart from deepening our connection with each other we will also take time to connect to wider community of all beings and to attune ourselves to the land. The PDC course contains 72 hours of theory.
The course will consist of a broad range of topics applicable to life anywhere on this planet, yet will be tailored to the needs of the students present as well as their climate zones. As part of the course, participants will help to co-create designs for real world projects that include elements such as food forests, permaculture-style gardens, natural building, water catchment, earthworks and social systems. Apart from the theory participants will be able to get their hands dirty and get practical experience in implementing some of the theory on Gaia Ashram's land.
The following topics will be discussed in class:
Philosophies and Ethics underlying Permaculture
Basic Permaculture principles
Patterns in Nature and how to use that in holistic design
Methods of design.
How to apply permaculture design tools and strategies to your design problems.
How to increase your chance on a successful design by following a well defined design methodology.
Climactic factors and microclimate design.
Learn how to grow plants outside of their hardiness zones
Trees, forests and Forest gardening.
How to mimic natural forest systems to create an abundance of food, fiber and fodder.
Water: catchment, usage, importance, and conservation.
Soil structure, minerals, microorganisms, building new soil and preventing erosion.
Learn to work with the soil food web to create a healthy ecosystem and regenerate degraded land.
Earthworks. How to shape the land to help it achieve the goals we are aiming for.
Natural Building. How to build structures with materials available on-site.
Alternative systems. Community living and other ways of living differently that works well for people and the planet. Bioregional organization, community development, alternative economic systems, permaculture as aid
Additional Topics Ecovillage living & Ecovillage Design :
We will receive an introduction on Ecovillage Design & Ecovillage movement as Gaia Ashram is part of the bigger global ecovillage movement.
Holistic Worldview & Deep Ecology : We will learn what is a holistic worldview and why a holistic worldview is important and Introduction to Deep Ecology.
Who is this course for?
 Anyone interested in living a more sustainable lifestyle, creating health and well-being for their community, and working towards an abundant, ecologically responsible future
 Backyard gardeners
 Farmers and agriculturalists
 Landscape designers seeking a more sustainable dimension for their work
 Environmental Studies students
 Homeowners who want to invest in the long-term productivity of their property
 School garden organizers
 Educators Activists
Dates: 26th of November-9th of December, 2017
Location: Gaia Ashram, Nong Khai
Facilitators:
Main Facilitator:
Ben Ben Murray
Ben is a permaculture designer, consultant and teacher with a background in organic and biodynamic gardening / agriculture, natural building, horticulture and landscape architecture. Ben has been actively practicing and teaching Permaculture for the last 5 years in England, Thailand and India and has been managing the gardens at the Panya Project, a well known certified Permaculture Education center and international community. He loves community living, natural building and is most often to be found with his hands in the earth working in the plant realm. When Ben is not teaching you will find him in the garden deeply absorbed and fully connected with the plant realm. Ben through his many years of experience as a gardener has developed a deep sensitivity to the plant realm & all the being that are found in the garden. Supportive Facilitator: P1280621_face1
Om Sunisa Jamwiset Deiters
Founder of Gaia Ashram & Gaia School Asia. Lived and worked at Wongsanit Ashram in Thailand for 8 years. Wongsanit Ashram is a intentional community for simple living and for engaging in social action and spiritual practice founded by socially engaged buddhist activist Sulak Sivaraksa . Here she was trained as and started working as a facilitator. After that she spent one year living and working at the Panya project which is a permaculture based community in Thailand. Involved in NextGEN (Next Generation of the Global Ecovillage Network) as the current representative of NextGEN Oceania and Asia. She teaches and facilitates courses such as Ecovillage Design Education (part of Gaia Education), Socially Engaged Buddhism/Spirituality and Training of Trainers. She has facilitated courses for NGO workers, young Buddhists activists, international students, children and teachers. She uses participatory teaching methods and her focus is on deep ecology and nature connection. And the Gaia Ashram Community Members will support & also will share some of their knowledge and skills…
Facilities: Interns should not expect much comfort as we are still an emerging project and a lot of infrastructure is in development. Basic facilities and needs will be provided for.
Gaia Ashram Sala Accommodation:
Dormitory of the Gaia Sala. For those who would like more privacy there are some separate rooms available for 250 thai bath per day. The rooms have enough space for two people to stay. We have not so many rooms available so those that book early will get the rooms.

Space for sessions:
Indoor sessions will be held at the first floor of Gaia Sala, other session will be held underneath big trees and practical session will be happening on the land.
Toilet and Shower:
Compost toilets are at the most basic form i.e. buckets and seperate shower for men and women.
Internet: Internet Shop is nearby in the next village and is usually available everyday. We will provide a trip to internet on Sundays.
Food: There will be a local cooking team cooking delicious vegetarian Isaan & Thai food for us. There will be opportunity for those who want to learn how to make these dishes to do so.
Course fee
The course fee is 550 US Dollars Price includes: Food, Accommodation (dormitory), teaching fee. We try to keep our course fees low to make this knowledge available to all. We have a few discount available for Thai people. 5 % of the profit from the course will go to support NextGENOA activity (Next generation of the Global Ecovillage Network of Oceania & Asia = NextGENOA) Most of the rest of the profit from the course will be spent on water harvesting and irrigation at Gaia Ashram (building water tanks, installing gutters, buying pumps and installing solar energy system for the pumps etc.)
Fundraise for Your Tuition:
If you are interested in a creative way to come up with funds for this course, look into fundraising for it through WeTheTrees.com. It is a great way to reach out to your family and friends, let them know what you are up to and give them a easy way to contribute to your education. Don't let a lack of resources stop you from obtaining this important information! Click below to learn more: wethetrees
We expect this course to fill, so get your spot locked in. Community is very important to us, so class size will be limited.
Please send all inquires to : gaiaschoolasia@gmail.com