Permaculture & Aquaponics Intensive in Eco-Paradise 2011

Sunday, December 4, 2011 at 5:00 PM

-

Wednesday, December 14, 2011 at 2:00 PM (PST)
Event Details
Course Description

This bilingual Aquaponics and Permaculture 10-day intensive December includes 10 days of outdoor classroom instruction, and hands-on experience at the Aquaponics mini-farm located at the beautiful Ecovillage Resort of Finca Las Nubes. Students will learn about Aquaponics, Permaculture, experience luxurious eco-village living, and much more from experienced trainers & professionals sharing their knowledge and experience in Aquaponics, Permaculture, land restoration, tropical food forest, social justice and self sufficiency. You will learn the skills needed to design and create sustainable Aquaponics systems and Aquaculture farms that integrate Permaculture principals through out. All this while, we will be staying in an amazing Eco-village Resort with gorgeous luxury accommodations, permaculture gardens, views of the ocean, amazing wildlife, monkeys, nearby beaches, horseback riding, hiking and much more.
Advanced Aquaponics Intensive

In addition to this amazing location and the  Permaculture skills you will learn. enjoy. and participate in, this course will take a thorough look at different kinds of Aquaponics systems and empower you with some of the most cutting-edge information in the industry to maximize efficiency and sustainability. This valuable information is a combination of skills, knowledge and first hand experience gained from several professionals operating Aquaponic farms, projects and training centers. You will have all your questions answered, and our trainers will make sure you understand every detail completely.
Course Details

This 10 day intensive includes:

A detailed Aquaponics Course manual covering all aspects of Aquaponics including:

 

Day-to-day operation of the system

 

Design checklist

Field tested formulas, calculations, estimates and guidelines.


Complete designs, plans and materials lists.

And much more in this nearly 100 page manuel.

NorCal Aquaponics Systems step-by-step construction manual with variations and site specific applications intended to make it easy for anyone to build an Aquaponics system.

A set of detailed construction plans, including site plans, and piping schematics.This training will be custom tailored to meet the dreams and desires of you, our students as we welcome you into our  growing community of Permaculture & Aquaponics pioneers and prepare and empower you with all the most cutting-edge information we have in this promising new Green Career of the Future.
* This is a rare opportunity to learn from an operational Permaculture inspired Aquaponics system with the addition of tropical Permaculture in paradise at ridiculously affordable rates. It's an opportunity not to be missed!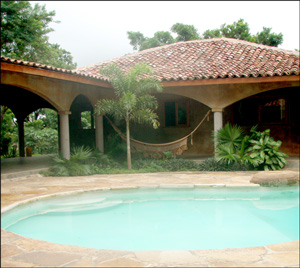 Aquaponics Facts
AQUAPONICS USES 98% LESS WATER THAN CONVENTIONAL FARMING DOES!


AQUAPONICS IS ENERGY-EFFICIENT: IT REQUIRES ONE-THIRD OF THE ENERGY OTHER FARMING SYSTEMS USE!


AQUAPONICS HAS EIGHT TO TEN TIMES MORE VEGETABLE PRODUCTION IN THE SAME AREA AND TIME!


LABOR IS REDUCED AS MUCH AS 40% AND MANY USEFUL BYPRODUCTS ARE CREATED THAT CAN BE USED TO FARM OTHER CROPS, TREES, SOIL, WATER AND ENERGY!


A PERMACULTURE INSPIRED SYSTEM PRODUCES ALL OF THE SYSTEM's NEEDS (WATER, ENERGY, FISH FEED, HEAT, ETC.) ON SITE!


PRODUCTS OF THE SYSTEM INCLUDE; SOLAR ELECTRICITY, HEAT, FISH, PRAWNS, VEGETABLES, AQUATIC PLANTS, ALGAE, SNAILS, WORMS, FERTILIZER, EVEN METHANE GAS!
Permaculture & Aquaponics

Aquaponics is one of the most sustainable and productive farming systems in the world. It combines Aquaculture and Hydroponics to create a truly self-sufficient closed loop system that uses only a fraction of the water, labor, energy, etc. that other methods use. Combining Permaculture Design with Aquaponics creates an even more sustainable, dynamic, productive & regenerative system. In this intensive training you will learn some of the most cutting edge pioneering aquaponics systems and gain a solid foundation from which to create your own Aquaponics System, Farm & thriving Green Business. By fusing Permaculture and Aquaponics truly sustainable closed loop systems are created that provide all the needs for the system with in the system itself. Max Meyer focus is on aquapionics systems that that produce virtually all of the system's needs (water, energy, fish, feed, heat, gas, etc.) onsite! Products of the Meyers systems include; Solar electricity, Solar heated air, Solar heated water, fish, prawns, vegetables, fruit, aquatic plants, algae, minnows, snails, worms, dry and liquid fertilizers, even methane gas!
Contact

For questions and more information regarding the course:
Visit the course website at LivingMandala.com

e-mail: aquaponics@livingmandala.com or

 phone: 707-634-1461
When & Where

San Juan Del Sur
Nicaragua

Sunday, December 4, 2011 at 5:00 PM

-

Wednesday, December 14, 2011 at 2:00 PM (PST)
Add to my calendar
Permaculture & Aquaponics Intensive in Eco-Paradise 2011