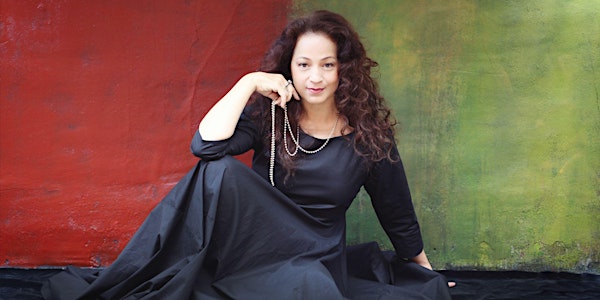 Perla Batalla in the House of Cohen - Concert (in Person)
An evening of live music, storytelling, and humor with the incredibly talented Perla Batalla - celebrating Leonard Cohen's birthdate.
When and where
Location
Schultz Cultural Arts Hall Oshman Family JCC 3921 Fabian Way Palo Alto, CA 94303
Refund Policy
Contact the organizer to request a refund.
Eventbrite's fee is nonrefundable.
About this event
In 2015, Grammy nominated singer Perla Batalla began pondering songs to include in a follow-up CD to her 2007 tribute release to friend and mentor Leonard Cohen. As a longtime touring band member with the legendary songwriter, Perla knew there was much of Cohen's body of work she still wanted to perform and record.
Batalla's first Cohen CD, "Bird on the Wire" was produced with Leonard's blessing; he attended the recording session, weighed-in on material, arrangements, and uncharacteristically participated in a photo session at his Los Angeles home to promote the project. (Says Perla, " Leonard was having so much fun - at the last minute he ran to his closet for a silk ascot to look more suave in the photos!")
Cohen's passing in November 2016 reaffirmed Batalla's mission of sharing the lesser-known songs of Canada's poet laureate to a younger public mostly familiar with the well-covered, "Hallelujah". She also wanted to dispel the too common mischaracterization of Cohen as "The Godfather of Gloom". The man she knew was more often than not, motivated by sly humor and the absurd. Perla Batalla in the House of Cohen features selected songs and rare personal anecdotes that serve to reveal Cohen's lighter side (like Mr. Cohen's deep affection for the .99 Cent Store and his delight at dining on hot dogs at Home Depot).
The evening reveals the timelessness of Cohen's art through Perla Batalla's signature cross-cultural style, to convey her sincere respect and deep love for the music, the poetry, and most of all for her dear friend, Leonard Cohen.
"In this show, there are times when I ask my audience to sing with me," Batalla says. "I feel that the coming together of voices has the power to touch Leonard's spirit and with it, his lifelong devotion to art and the mysteries of the human heart. Live music is about being in the moment, and I always have this secret expectation that as we lift our voices up as one we will feel Leonard all around us…and we usually do."
Bio:
Perla Batalla was born in Los Angeles, California, and raised by a family immersed in music; her father, a Mexican singer and D.J., and an Argentine mother who ran a bustling record store called Discoteca Batalla. At the family record shop Perla was exposed to an education of non-stop music that cut across genre and language. After recording and touring with Leonard Cohen for over 10 years on multiple world tours, Perla launched her solo career with Cohen's encouragement. Since then she has recorded seven albums, been featured in film and television, and performed and recorded with artists such as Lou Reed, k.d. lang, John Cale, Sonny Rollins, Jackson Browne, Duquende, Luz Casal, Laurie Anderson, David Sandborn and George Duke.
The L.A. times writes, "Batalla is brilliant performing in both English and Spanish, proud of her mestiza heritage, musically adventurous, and always accompanied by impeccable performers…. above all, she is a born storyteller with a rambunctious sense of humor." Perla's original musical (Co-written with David Batteau) inspired by the journals of Diego Rivera and Frida Kahlo was selected last year for presentation at the prestigious Ojai Playwrights Conference and is currently in pre-production for a 2018-19 L.A. premier.
Perla's mission of honoring her roots and exposing young audiences to the beauty of poetry and music is ongoing in her outreach endeavors throughout some of the poorest communities in the U.S. She is the recipient of the United Nation's Earth Charter Award for "extraordinary devotion to social and economic justice".
* Free parking is available at the venue, through the entrance of Fabian Way
** For more info please contact Michelle Shabtai : mshabtai@paloaltojcc.org
Spellbinding!" -San Francisco Chronicle
"Batalla brings the house down!" -The Guardian
Perla Batalla is the unofficial ambassador of Leonard Cohen in Spain -El Pais (Madrid)
"Beautifully conceived and executed, Bird on the Wire is a rewarding listening experience I find myself returning to frequently. It is every bit the equal of Jennifer Warnes classic Cohen tribute album Famous Blue Raincoat. For those uninitiated to the glories of the songs of Leonard Cohen this is a wonderful introduction. For the rest of us it is simply heavenly." -Sing Out Magazine
"...Batalla has a glorious, supple voice, with the vocal power to sing the bluesy, Bonnie Raitt-styled "Holy Roses" and the finesse needed to bring new shadings to Leonard Cohen's "Bird on a Wire…" -Variety
"Onstage, offstage, digital or analog, I love Perla Batalla." - Leonard Cohen
"This singer has become a perfect example of the new Latina woman in the U.S. - proud of her heritage, perfectly fluid in at least two languages, and an expert in translating cultural traditions from distinct places in the world." -La Opinion
"…Dealing with such issues as race and loss of identity, Batalla has created a musical voyage well worth taking… " -Newsday