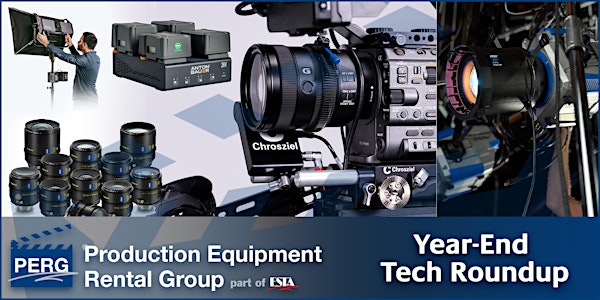 PERG Year-End Technology Roundup -Panel Discussion
The fourth and final event, a panel of industry experts discussing the next wave of technological evolution.
About this event
Riding the Next Wave of Technological Evolution
From four experts at the forefront of technology, this 60-minute panel discussion focuses on the future of remote collaboration and connectivity in production and virtual production.
Brandon Cooper, Visionary FirstMile Technology,
Michael Cioni: Futurist, Chief Technologist, Frame.Io / Adobe
Stephan Ukas-Bradley: VP Strategic Business Development and Technology
Gary Adcock (moderator): DP, technology consultant, and speaker on digital cinema workflows.
Other Sessions
Registration is open for all sessions for PERG members and friends:
Nov 4th, Lighting and Grip. Apture, ASTERA, ARRI, Kino Flo, Ratpac Controls, Litegear, LumenRadio, Prolycht, Rob's Rain Hats, Litepanels/Quasar Science.
Nov 9th, Camera and Camera Accessories. Anton Bauer, ARRI, BlockBattery, CORE SWX, Chrosziel, First Mile Technologies, RED, RipTie, SmallHD, Teradek, and others (to be confirmed soon).
Nov 11th, Lens and Lens Accessories. ARRI, Angenieux (Band Pro), Atlas, Cooke, Chrosziel, Duclos, Fujifilm, Zeiss, and others.