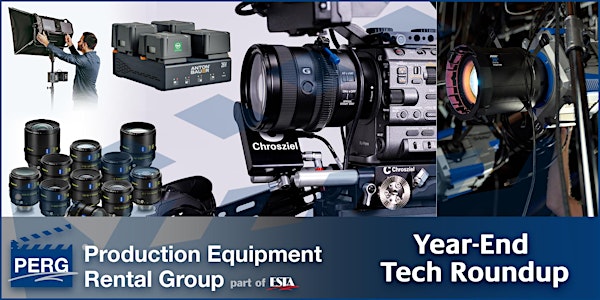 PERG Year-End Technology Roundup, Lighting and Grip
The first of PERG's Year-End Technology Roundup events, focused on innovations and new product from Lighting and Grip manufacturers
About this event
Join PERG for our Year-End Technology Roundup, a series of short online presentations from the industry's top vendors and manufacturers focusing on what's new. The format is a fast-paced sixty-minute session featuring succinct presentations from up to ten manufacturers followed by an opportunity for more leisurely one-on-one conversations and demonstrations in their breakout rooms.
Presenters (so far):
Aputure. Brandon Le discusses their next-level LED lighting technology.
ARRI. John Gresch gives updates on the Orbiter and SkyPanel product lines.
ASTERA. Jesper Soerensen demonstrates two very cool new products, PixelBrick and NYX Bulb, from the company that brought you the ever-popular, remote-powered, remote controlled Titan Tubes and AX Pixelbars.
Kino Flo. Frieder Hochheim, founder of Kino Flo lighting systems, will provide a glimpse into the future of LEDs.
Litegear. Paul Royalty explains the benefits of the latest Spectrum Litemats firmware updates.
LumenRadio. Sean Dane will discuss "The Next Generation" of wireless DMX products--Stardust, Aurora, and Luna. LumenRadio chips are used in wireless-enabled lighting instruments across the industry.
Prolycht. Mitch Gross, North Americal Strategic Sales, will present the benefits of RGBACL LEDs with the Orion 300 FS Spotlight.
Ratpac Controls. Craig Brink and Nick Stabile take on the hottest topic in lighting right now, data distribution and Ratpac's Data Sphere and Unity boxes.
Rob's Rain Hats. Derek Hammer describes a wide range of carefully designed, custom-fitted rain protection for today's sensitive electronic lighting units, generators, ballasts, and so on.
ROSCO/DMG. Emily Stadulis will be speaking about the DMG DASH CRMX.
Vitec. Tim Duff gives an overview of the new Gemini 1x1 Hard, and updates on Vitec's acquisition of LED-tube innovator Quasar Science, and describes how they can all be controlled using the Apollo App control platform.
Additional vendors to be confirmed soon.
Other Sessions
Registration is open for all sessions for PERG members and friends:
Nov 9th, Camera and Camera Accessories. Anton Bauer, ARRI, BlockBattery, CORE SWX, Chrosziel, First Mile Technologies, RED, RipTie, SmallHD, Teradek, and others (to be confirmed soon).
Nov 11th, Lenses and Lens Accessories. ARRI, Angenieux (Band Pro), Atlas, Cooke, Chrosziel, Duclos, Fujifilm, Zeiss, and others.
Nov 18th, Tech Panel Discussion. Riding the Next Wave of Technological Evolution. From experts at the forefront of technology: Brandon Cooper (Visionary FirstMile Technology), Michael Cioni (Futurist, Chief Technologist, Frame.Io / Adobe), Stephan Ukas-Bradley (VP Strategic Business Development and Technology at ARRI), join moderator Gary Adcock to discuss the future of remote collaboration and connectivity in production and how it will affect rental companies.