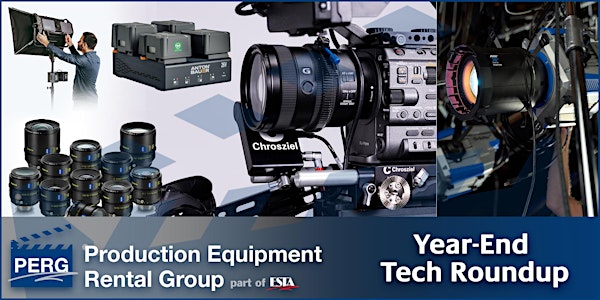 PERG Year-End Technology Roundup, Lens and Lens Accessories
The third of PERG's Year-End Technology Roundup events, focused on innovations from manufacturers of Lenses and Lens Accessories
By The Production Equipment Rental Group
Date and time
Thursday, November 11, 2021 · 1 - 2:30pm PST
About this event
Join PERG for our Year-End Technology Roundup, a series of short online presentations from the industry's top vendors and manufacturers focusing on what's new. The format is a fast-paced sixty-minute session featuring succinct presentations from up to ten manufacturers followed by an opportunity for more leisurely one-on-one conversations and demonstrations in their breakout rooms.
Presenters (so far):
ARRI: Art Adams will focus on ARRI's Signature Zooms.
Angenieux (Band Pro): Randy Wedick will magnify the subject of Angenieux Compact Zooms.
Atlas: CEO Dan Kanes details the unique characteristics of the expressive and dynamic Orion Series anamorphic primes and Orion Silver Edition.
Cooke: Eric Johnston describes the Anamorphic/i full frame plus primes.
Chrosziel: Timm Stemann has exciting news to share about the Zoomer (FX6&FX9 Universal Servo Drive), the Fujinon Premista Servo Drive and Chrosziel's lens test projector and collimator.
Duclos Lenses: Matthew Duclos, one the of the industry's top lens experts, will give an update on products, services.
Fijifilm: Stosh Durbacz will speak about the Premista 28-100 Zoom lens.
Leitz. Seth Emmons brings updates on the new full frame Elsie lenses and other products.
Musashi Optical. Michael Burnham (National Sales Manager) will be presenting the Takumi 2, 29-120mm T2.9 large format lens and announcing a brand new lens accessory.
Zeiss: Snehal Patel distinguishes the characteristics of ZEISS Supreme Prime Radiance Lenses.
Other Sessions
Registration is open for all sessions for PERG members and friends:
Nov 4th, Lighting and Grip. Apture, ASTERA, ARRI, Kino Flo, Ratpac Controls, Litegear, LumenRadio, Prolycht, Rob's Rain Hats, Litepanels/Quasar Science, and others.
Nov 9th, Camera and Camera Accessories. Anton Bauer, ARRI, BlockBattery, CORE SWX, Chrosziel, First Mile Technologies, RED, RipTie, SmallHD, Teradek, and others (to be confirmed soon).
Nov 18th, Tech Panel Discussion. Riding the Next Wave of Technological Evolution. From experts at the forefront of technology: Brandon Cooper (Visionary FirstMile Technology), Michael Cioni (Futurist, Chief Technologist, Frame.Io / Adobe), Stephan Ukas-Bradley (VP Strategic Business Development and Technology at ARRI), join moderator Gary Adcock to discuss the future of remote collaboration and connectivity in production and how it will affect rental companies.
About the organizer
About PERG
PERG (Production Equipment Rental Group) members are professional camera and lighting & grip rental companies serving the motion picture/television/commercial production industry. PERG is part of the international entertainment trade association ESTA. PERG's industry initiatives include fighting fraud and theft , maintaining security for electronic images, working toward fair and effective rental contracts , monitoring regulatory changes and more recently, developing Safe Return to Work Guidelines for rental companies. PERG works with industry partners to focus attention on issues and create a stronger industry.