Description
EXPOSURE: A Series of New Developments in Disability Arts & Culture
Presented by Bodies of Work, 3Arts, UIC's Department of Disability and Human Development, and the Disability Resource Center at UIC, EXPOSURE considers ongoing projects and works-in-progress of the 2015 - 2016 3Arts University of Illinois at Chicago Fellows. Featuring the work of Riva Lehrer, Arlene Malinowski, and Barak adé Soleil, this new series offers insight into the practices of artists exploring the intersectionality between disability, art, and culture. Through this series of programs, EXPOSURE intends to continue the dialogue around issues of disability aesthetics in cross-media artistic modes of production and the cultural space, which the 3Arts Fellows occupy.
the "good" body (Chicago edition) is a performative lecture centered within the intersection of disability and race. Through this multifaceted lens, award-winning artist Barak adé Soleil offers personal insights and poetics excavated from his deep engagement with the profound traditions of the African diaspora, disability culture and their interwoven aesthetic; instigating further dialog surrounding the current social and political tensions present today. As a queer disabled artist of color, he is committed to exposing the nuances of the intersectional body as an inherent reflection of humanity; while questioning the historical contexts in which live art is created and interpreted.

Gallery 400 is located at 400 South Peoria.
This series is free and open to the public.
ASL interpretation, real-time captioning, audio description and personal assistants will be provided.
This is a wheelchair accessible space.
Please refrain from wearing scented products.
This series is supported in part by an award from the National Endowment for the Arts to 3Arts. Bodies of Work and UIC's Department of Disability and Human Development are proud to partner with 3Arts to present these unprecedented fellowships and public programs in support of disability culture.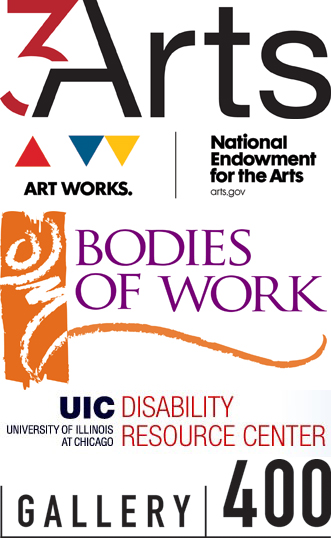 Organizer of Performative lecture the "good" body (Chicago edition) by Barak adé Soleil