Sales Have Ended
Ticket sales have ended
Tickets sales for this performance have ended. A limited number of tickets may be available at the venue on a first come first serve basis. Exact cash sales only or purchase through the Eventbrite app on your personal mobile device. To purchase tickets for another performance, check out the Bates Dance Festival 2021 Performance Series at: https://www.batesdancefestival.org/performances/ Or contact the Festival Box Office, Wed-Sat., 12-5pm bdfboxoffice@bates.edu (207)786-6161 phone
Sales Have Ended
Ticket sales have ended
Tickets sales for this performance have ended. A limited number of tickets may be available at the venue on a first come first serve basis. Exact cash sales only or purchase through the Eventbrite app on your personal mobile device. To purchase tickets for another performance, check out the Bates Dance Festival 2021 Performance Series at: https://www.batesdancefestival.org/performances/ Or contact the Festival Box Office, Wed-Sat., 12-5pm bdfboxoffice@bates.edu (207)786-6161 phone
Created by a canary torsi, audience members will engage with the work one at a time. Each ticket is for a 20-minute time slot.
About this event
a canary torsi's collaborative project (Yanira Castro, Kathy Couch, Stephan Moore and Julie Wyman), Performance | Portrait is a responsive video installation that invites spectators to an intimate encounter with a performer, projected at life-size in a video image. One of four performers (the selection rotates) "meets" and holds the gaze of the spectator, responding to their movement by a Kinect V2 sensor. The effect is of time arrested and manipulated. Because of COVID-19 restrictions, one participant at a time will enter the gallery for the 20-minute performance slot while others watch through the gallery's windows.
Performed by Anna Azrieli, Leslie Cuyjet, Peter B. Schmitz, David Thomson
"an experience to be seduced by, to breathe with" – Eva Yaa Asantewaa, InfiniteBody
"Castro is calling into question the gaze, audience expectation, the interplay before performer and crowd, and performer expectation…" – This Week in New York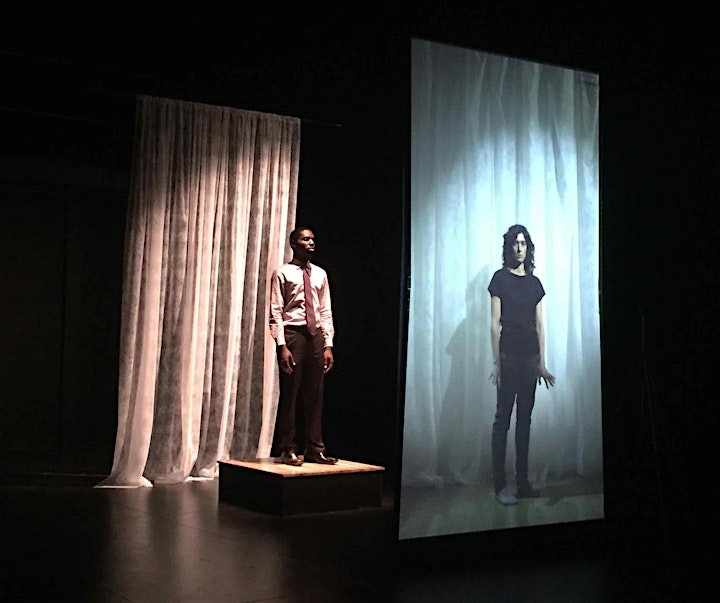 Organizer of Performance | Portrait
The Bates Dance Festival is an international destination for dance located in Lewiston, Maine.
2021 Bates Dance Festival: July 10-August 1, 2021
The Bates Dance Festival brings together an international community of choreographers, performers, educators & students in a cooperative community to study, perform & create new work. www.batesdancefestival.org.
---------------------
Ticket Sales for 2021 Performance Series currently On Sale!
New Box Office Hours and Summer Location:
Wednesday-Saturday 12noon-5:00pm
L/A Arts Gallery, 221 Lisbon Street
email: bdfboxoffice@bates.edu
phone: 207-786-6161