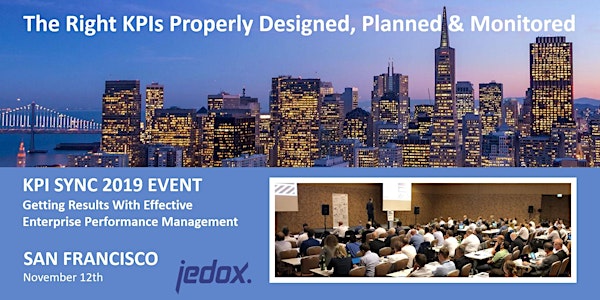 Performance Mgmt SFO: Designing, Planning & Monitoring the Right KPIs
Gain insights into selecting the right KPIs for your business, designing reports for company-wide comprehension, and unifying planning/EPM.
When and where
Date and time
Tuesday, November 12, 2019 · 9am - 12pm PST
Location
Hotel Nikko San Francisco 222 Mason Street San Francisco, CA 94102
About this event
Change the way you think about KPIs and Enterprise Performance Management. Join Finance leaders and top industry professionals at KPI SYNC 2019 for powerful presentations, discussions and high-value networking. Hear from International guest speakers and experts on how to design, plan and monitor the right KPIs to keep your organization competitive in today's rapidly-transforming digital business environment.
New Insights You'll Gain
Understanding and mapping the strategies needed to track and achieve your business goals
Selecting and designing the most effective KPIs to measure achievement
Facilitating greater understanding of reports and key messages across your organization
Reporting progress and predicting results efficiently
Leveraging proven best practices to reduce risk, improving FP&A productivity, and maximizing the ROI from your existing CRM, ERP, and BI tools
Harnessing knowledge buried in your datasets and increasing the effectiveness of your EPM
Who Should Attend
VP/Director/Manager of FP&A
VP/Director/Manager of Finance
Director/Manager of Financial Reporting
CFOs
Controllers
Senior Financial Analyst
Director of Financial Systems
Director of Financial Operations
CMAs, CGAs, CPAs
NOTE:
Participation is complimentary and exclusive to Planning, Analytics, Finance and FP&A practitioners at CFO, FD, Manager and Head of Finance level, actively employed at medium to large organisations. Regrettably, we cannot confirm the registrations of vendors, salespeople, recruiters, or unemployed individuals, or registrations without fully completed attendee details.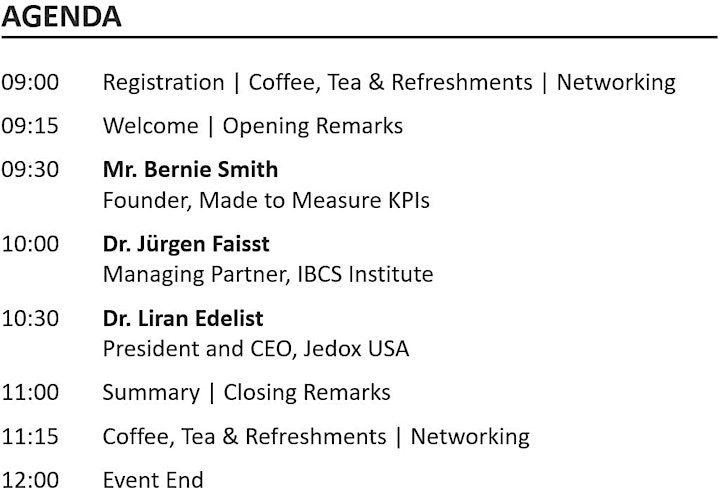 The Resulted-Orientated KPI System (ROKS)
Learn how organizations like HSBC, UBS and AirBus avoid the pitfalls and hazards resulting from poorly designed Key Performance Indicators (KPIs). See how the Results-Orientated KPI System (ROKS) can save you time and effort, and help you create the right measures to achieve your desired results.


Semantic Notation for Better Report Comprehension
Learn how organizations like Coca-Cola, Swiss Post, Volvo, Lufthansa, Swarovski and Philips benefit from the semantic design of their reports and dashboards. See how applying the free-to-use International Business Communication Standards (IBCS) results in faster report creation, greater comprehension, and better decision-making across the organization.


Unifying Planning, Performance Management and Everything Between
Learn how organizations like Canon, Heineken, Siemens and Mercedes-Benz unify planning and performance management across their organization. See how Jedox helps you leverage your existing technology investments and unifies your tools into an end-to-end enterprise solution to plan, analyse and report your numbers, and empower your decision-makers and provide insights to stay ahead of the competition in today's fast-paced, digital business environment.

NOTE:
This registration page and agenda is for our San Francisco event on November 12th. For our New York event on November 5th or our Chicago event on November 7th pick here.
About the organizer
Tana-Maria M., FP&A and Commercial Finance Manager: "The speakers were outstanding – interesting, knowledgeable, energetic and believable – I find myself thinking about what I'm going to change and improve in my work in the reporting area, and most definitely do a quality check of our KPIs."
William H., Chief Financial Officer: "Thank you to the presenters for really informative presentations."
Carlos R., Finance Director: "Excellent presentations with an invigorating approach to choosing the right KPIs aligned to your business goals. All three (presentations) together work very well and could change the business managing and reporting landscape."
Anastasia M., Performance Manager: "Brilliant presentations and lots to think about going forward. Thank you."
Luigi L., Senior Manager/PMP: "Three very interesting sessions that helped me think and see the BI/Analytics world from another angle: effective, pragmatic and straight to fulfill the end-user needs. Inspiring."
Dillan H., Finance Director: "Great presentations. Thank you to all three speakers. Very informative."
Gary G., EPM Consultant: "An intelligently crafted event. Three speakers each presenting their part of an overarching story. Excellent."
Julia T., FP&A Consultant: "Great presentations, enjoyed the event."
Nicolas M., Finance Manager: "Great presentations on KPIs and Business Intelligence. Many thanks."
Bradley D., Director of Finance: "Thanks for a well-organized event. Great speakers and helpful content."
Gabriele M., FP&A Professional: "Very informative presentations. I really enjoyed the event."
Jan V., Senior ERP Specialist: "Very interesting seminar by excellent speakers! Started with KPI definition for your organization, then defining value-added dashboard reports... We will definitely explore the tools and techniques shown and how we can use this in our company."
Davey H., BI Consultant: "I enjoyed every minute of the day. Platinum+ quality presentations."
Philip O., Analytics Specialist: "The speakers know their subject inside-out, and their enthusiasm is infectious."
Enrico D., ACCA/FCCA: "Brilliant, thanks for organizing and for leaving us with great food for thought!"
Liam B., Chief Executive Officer: "Thought I knew it all. Learnt plenty. 3 awesome presentations."
About 4D Promotions/Solutions Inc.
4D Promotions advocates the Results-Orientated KPI System (ROKS), the free-to-use International Business Communication Standards (IBCS), and the Jedox Planning, Analytics and Performance Management platfrom.
4D founder Mike Fritz, has over 30 years of business experience, primarily in planning, budgeting, forecasting, analytics, business intelligence and corporate performance management. Mike's passion is travelling the globe for business and pleasure, spreading the word on innovative new technologies and best practices, and building business and personal relationships with like-minded professionals around the world. Mike's experience includes hosting and presenting dozens of awareness events around the globe, on various topics, which has allowed him to build a personal network of over 20,000 business professionals across Europe, North America, Latin America and the Asia-Pacific region.