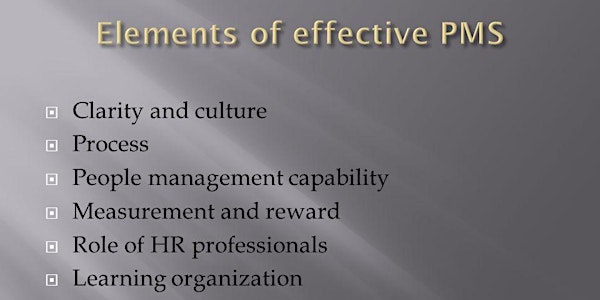 Multiple dates
Performance Management 1 Day Certification Training in Chicago, IL
Performance Management System (PMS)
Date and time
February 24 · 9am - February 28, 2025 · 5pm CST
Location
Chicago, IL Regus Bussiness Centre/Hotel Chicago, IL 60007
Refund Policy
Contact the organizer to request a refund.
About this event
Performance management is the process of ensuring that a set of activities and outputs meets an organization's goals in an effective and efficient manner. Performance management can focus on the performance of an organization, a department, an employee, or the processes in place to manage particular tasks.
Performance management is an ongoing process of communication between the management and the employee that occurs throughout the year, in support of accomplishing the strategic objectives of the organization.
Expert training to improve Performance Management is often treated like a box-ticking exercise, effective performance management is actuamental to achieving a successful future. Performance management is not a fixed sequence of events, but a continuous process that constantly adapts to the needs of the team.
Course Topics:
The key aim of the performance management process is to develop the team to assist the organization in achieving its objectives.
The main content of this training:
What is Performance Management? – Developing an understanding of what Performance Management is and how we embed it into the culture of the organization.
The Performance Management Cycle – Showing that Performance Management is a cyclical process and demonstrating the requirements at each stage. Including the need for ongoing reviews
Key Skills:
Objective Setting – Ensuring that objectives are clearly defined, describe performance requirements, and are SMART.
Ability or Motivation? – A simple tool to help assess the best approach to take to develop an individual.
Adapting Your Leadership Style – Applying the ability/motivation tool to a specific work-based example.
Feedback – Identity what positive feedback is, and is not.
Giving Difficult Feedback – Providing some key tips on this topic.
Judgemental or Behavioral Feedback? – Ensuring that our feedback is on specific, observable actions rather than 'feelings'.
Performance Reviews – Taking delegates through a six-stage process.
Performance Reviews Practice – An opportunity to put the skills to the test.
Using the GROW Model to Joint Problem Solve – Looking at the GROW framework from a Performance Management perspective and providing specific questions to aid the process. With practice.
Managing Poor Performance – Identifying which actions to take and when with some key skills.
Dealing with Poor Performance – A defined process to use.
Ten Ways to Improve Your Team Performance – Tips for analysis and Review. How can we implement these in the workplace?
At the end of this performance management training course, you will be able to:
Explain your role in managing the performance of your team
Describe the key stages in the performance management process
Use performance management skills and techniques practice to create a development plan
Develop techniques to address poor performance
Review the challenges that face them within your specific team
Follow an action plan of their key development points.
Why global Corporates prefer Leaning Zone Inc as a training partner
A provider of Enterprise Learning Solutions (ELS), Learning Zone Inc creates industry-fit talents through training, coaching, and consulting by globally-acclaimed trainers. Much of Learning Zone's repute in co-creating business value stems from:
Training delivered in 45+ countries.
250+ industry-relevant courses.
Consulting and coaching to transform organizations.
Trainers with experience in Retail, E-commerce, Energy & Utilities, etc.
We stand out because
Best value for time & money invested.
Get trained at the best fee compared to other vendors
Discounted fee offered for 5 and more attendees
Training delivered by the industry expert
*We do conduct corporate training in your preferred location and dates with no additional cost.
Contact us for more information:
Name: Debbie Riel
Email: debbie.riel@learninzone.com
Phone: +1 302.251.9769
About the organizer
Our trusted and certified courses set us apart from our competition - we, at Learning Zone Inc, pride ourselves on our extensive global coverage, with the capability to deliver over 3,000 courses, in 700+ locations, across 190 countries.
Learning Zone Inc, is a leading high-quality certification training organisation for working professionals in the areas of Certified ScrumMaster (CSM), Certified Scrum Product Owner (CSPO), Project Management (PMP), Quality Management, IT Service Management, Digital Marketing, Agile and Scrum, DevOps, Big Data & Hadoop, Data Science, Tableau, Conflict Management among others.
We have worked with thousands of professionals and companies across the United States, Canada, Mexico, Australia, Singapore, Dubai, and the United Kingdom to acquire certifications and up-skill their employees. Learning Zone Inc, now helps professionals across various domains with the help of our strong instructor panel; a panel of certified instructors that play a crucial role in identifying and covering development needs for working professionals and delivering a 98.7% success rate.
We choose subject matter experts with plentiful industry knowledge, who know how to make their topics engaging to create a memorable and valuable learning experience.
We believe in enhancing your career, skills, employment opportunities and achieving professional goals.